Your Dynamic Snippet will be displayed here... This message is displayed because you did not provided both a filter and a template to use.

Understanding Acrylic Inks and Their Differences from Fountain Pen and Alcohol Inks



What are Acrylic Inks?
Derivan Acrylic ink is a versatile and vibrant form of fluid acrylic paint. They boast bright, colourful pigments mixed with an acrylic emulsion to enhance their flow. These archival and lightfast pigments ensure the colours won't fade over time. Derivan Acrylic Inks stand out from alcohol and fountain pen inks due to their acrylic binder. They are non-toxic and suitable for various surfaces, including canvas, paper, wood, and plastics. Artists can mix and match with multiple colours and shades to create unique colour palettes. Apply these inks using a brush or dip pen, or pour them over your desired surface.
What is Fountain Pen Ink?
Fountain pen inks lack binders as they have small capillary holes leading to the nib, which can clog when used with acrylic ink or other ink containing binders. Historically, fountain pen inks were used with dip pens, and only black ink was allowed for signing legal documents due to blue ink's tendency to fade. This practice continues to this day.

What is Alcohol Ink?
Alcohol inks often contain binders, but their durability differs from Derivan Acrylic Inks due to the type of pigment used. Derivan Inks employ inert, solid pigments that are lightfast, while alcohol inks use dyes that are not lightfast and may fade when exposed to sunlight or regular indoor lighting. Although acrylic inks are unsuitable for fountain pens, they work well with dip pens and brushes thanks to their easy clean-up process and absence of capillary holes.


Derivan Acrylic Inks have been formulated as a safe, non-toxic acrylic ink for various projects, including calligraphy, painting, card-making and scrapbooking. Use straight from the bottle or thin with water. Available in 36ml twist lid bottles or economical 500ml bottles.
All the colours may be intermixed to form an endless array of colours for your use. As colours are transparent, they are also suitable for creating colour mixes through layering techniques.

ACRYLIC INK FOR CALLIGRAPHY
Looking for water-based ink for calligraphy? You can create detailed line work and bold swaths of colour that can be layered without smearing or bleeding. Its uniform consistency makes it perfect for pen and ink calligraphy techniques.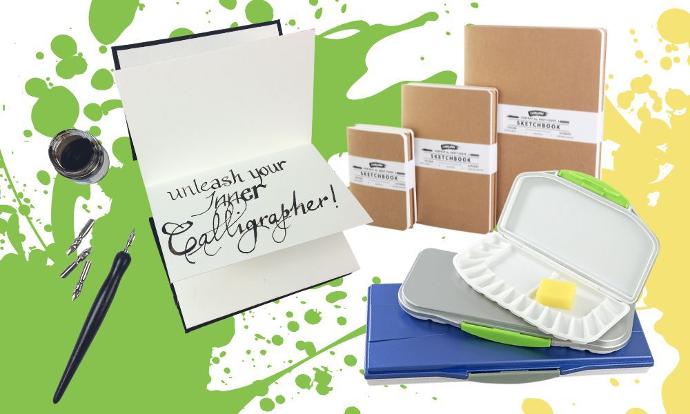 Hot Colour Mixing Tips | Mastering Colour Mixing with Derivan Acrylic Inks
Unlock the full potential of Derivan Acrylic Inks by exploring the endless possibilities of colour mixing. These versatile inks can be combined to create various colours and shades, allowing artists to craft unique, personalisedd palettes. Discover expert tips and techniques for mixing your acrylic inks to achieve stunning results in your artwork.
Remember to experiment with your colour combinations, and be bold and think outside the box. With practice, you'll develop a keen sense of colour harmony and balance, enabling you to take your art to new heights.
Stay tuned for more colour-mixing ideas and inspiration, and remember to share your discoveries with the Derivan Acrylic Inks community!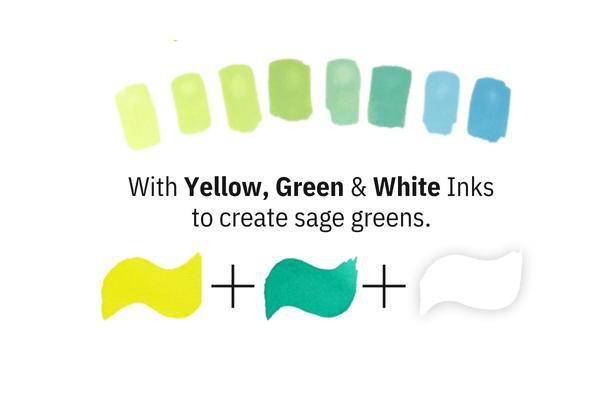 ACRYLIC INK TECHNIQUES
You can use acrylic inks for various applications, from creating mixed media pieces to rendering finely detailed drawings with dip pens. The pigments in the Derivan ink are finely ground into a surfactant base and combined with an acrylic binder that is tough yet flexible and dries to create water-resistant colours. This water resistance makes acrylic inks perfect for wet-on-dry techniques, making them easier to handle.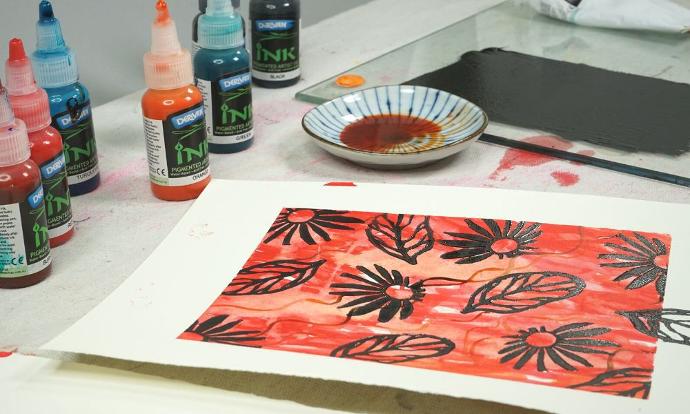 ACRYLIC INK CLEAN UP
Derivan Inks are washable in water making clean-up quick and easy. Brushes, pens and airbrushes all clean easily in water; however, the nature of Derivan Ink's water-resistant properties means dried ink will need to be cleaned in Derivan Brush Restorer. Simply soak dirty equipment in Derivan Brush Restorer, then wash up in warm soapy water to finish.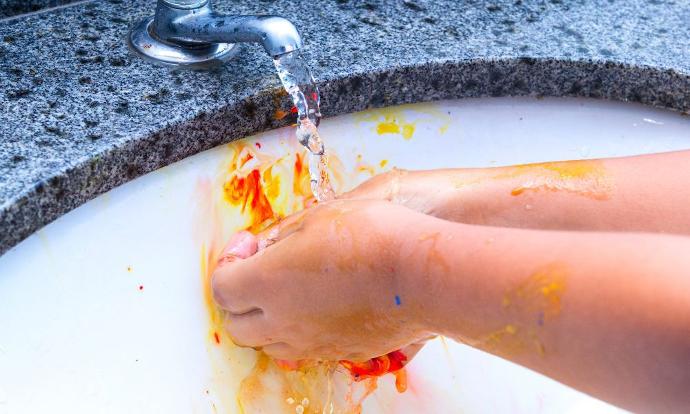 Acrylic Ink Stain Removal
Derivan Ink is hard to remove from clothing when dried like any high-quality ink. Use the following method to remove stains as soon as you find them:
Wet Stains: Place the stained area of the garment under a tap of cold running water, holding the garment above the stain, so it does not spread. After removing the surplus ink, place the wet garment on a towel and rub ordinary household soap into the stain, working the heavily soaped wet cloth area between your fingers in a rolling action using the thumb and forefinger of each hand on either side of the stain. Do not rub the stain directly.
Wash the area under cold water and repeat the procedure 2 or 3 times until all colouring is removed. Dry out wet garments by wrapping them in a towel and twisting them to remove excess moisture.
Dried Stains: Prepare a bucket or sink with lukewarm water, using plenty of household or laundry soap. Immerse the garment and let it soak for 15 minutes to get it out properly.
With the thumb and forefinger of each hand, slowly work the stain in a rolling action, releasing the ink and colour into the soapy water. Change the water as necessary and repeat the washing action. DO NOT USE HOT WATER. Some stubborn stains may need to be soaked overnight. Other cleaning methods will generally only act to drive the stain in deeper. Do not boil, dry clean or use chemical solvents or thinners. Do not iron over a stain. Do not machine wash. Keep stained garments separate from other washing.