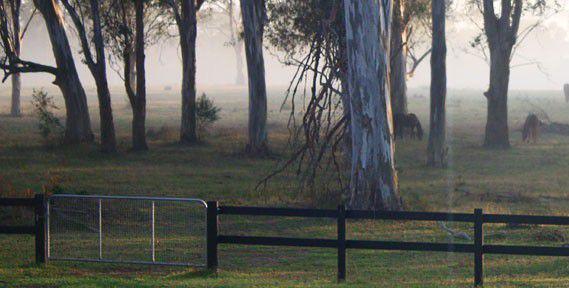 Anti Crib Paint - Derivan
It started with an interest in horses…
One of our sales representatives brought something that concerned her to our attention. She is an avid horse fan and noticed that some of the horses at her stud farm were destroying the posts and palings of fences by demonstrating a behavior known as "cribbing" .
Cribbing refers to the process whereby horses gnaw or chew repeatedly on fences, slowly causing extensive damage to the wood and increasing the risk of potential health problems in your animals, such as stomach ulcers and tooth erosion. The reasons behind cribbing are not fully understood but suggested triggers include boredom, stress and digestive problems. It can easily lead to costly repairs and ongoing monitoring and maintenance.
So…, our sales representative came to us with the idea of creating paint for fence posts, palings, trees and stables that would discourage this behaviour. Of course, being the horse lover that she is, she also wanted it to be harmless to the horse and other animals, as well as long-lasting and easy to apply. As Derivan has a strong commitment to sustainability and green issues, we also felt that it had to be environmentally friendly and non-hazardous.
After much testing and development, we are proud to offer Derivan AntiCrib, anti-cribbing paint, as a premium paint solution that protects your fencing by discouraging the development of cribbing behaviour in your horses.
Derivan AntiCrib, anti-cribbing paint is an environmentally preferable product and, of course, horse and human friendly!
How does Derivan AntiCrib Paint work?
Derivan AntiCrib has an environmentally preferable water-based formula of bitterants and a naturally derived oleoresin.
How to apply
Derivan AntiCrib Paint can be used straight from the container. It does not need to be thinned or diluted with water. The product must be thoroughly stirred before use and can be applied to stable doors and fences with a standard paintbrush, roller or spray gun. Also, Derivan AntiCrib is a great way to prevent tree chewing on your property, the best method is to apply with a spray gun. Protective clothing and equipment must be worn when spraying. Do not administer or apply directly on animals.
Surface Preparation
Derivan AntiCrib paint is only suitable for application over raw wood, as the anti cribbing ingredients need to penetrate the surface in order to be effective. If the surface is already painted, any loose, flaking paint will need to be removed. Unpainted surfaces do not require sanding or priming.
New timber must also be exposed to the elements for approximately 4-6 weeks to encourage the release of any resins, oils or excess moisture, all of which may hinder the absorption of Derivan AntiCrib. Surfaces should be clean and free of dust and any plant materials. As the fence must also be as dry as possible, we recommend a waiting period of at least four weeks after heavy rain and avoid applying during wet or humid seasons.
Wood freshly painted with oil-based paints cannot be coated with Derivan AntiCrib Paint as the paint will not adhere correctly to the surface. The only exception is if the timber has been
Drying Time
Derivan Anti-Crib will take approximately 6 hours before re-coating under normal conditions, although additional coats are best applied after 24 hours. Horses can be exposed to the painted finish 24 hrs after application. Once dried, it will not wash or rub off.
Cleaning up
This product is easily cleaned up with soap and water. However, for a superior clean, we recommend the use of Derivan Brush & Hand Cleaner.
Finish
Matte, opaque finish is achieved after two coats.