What is Lino Printing?

Lino printing is known as lino cutting. It is a simple and economical method for producing multiple copies of artistic work using linoleum. A linoleum block is carved to create the print. You then cover the block in a thin layer of ink. Paper is pressed on top to transfer the image. In areas where you have carved, don't print and raised layers of the block to create high-contrast prints.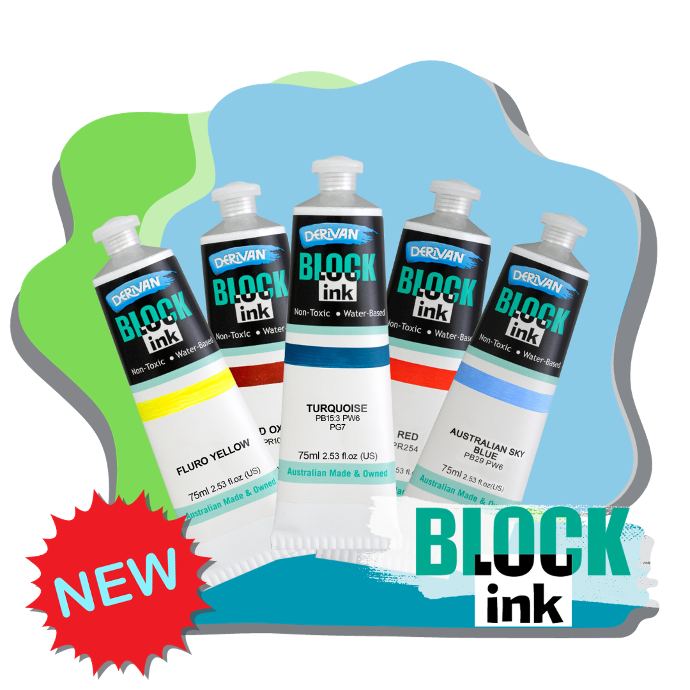 Ease into Printmaking: Our 75ml Tubes are a Game-Changer.
Welcome to the new era of printmaking with our freshly launched 75ml tubes of Derivan Block Inks. As we broaden our spectrum, we bring you a dedicated palette of Lino Inks perfect for carving out your imagination on linoleum blocks. Our new collection ensures that every stroke of colour tells a story and builds a lasting impression. Get ready to dip your lino cut into tubes full of potential and watch your creations come to life like never before.
Convenient 75ml Tubes: Perfectly sized for artists who love to have a generous amount of ink at their fingertips.
24-Tube Range which includes Block Ink Medium, Metallics, and Fluros:
Optimal Consistency: Ensures sharp, precise prints every time.
Water-Based and Non-Toxic: Safe, easy to clean, and environmentally friendly.
Versatile: Ideal for use on lino, wood, and soft block surfaces.
High-Quality Pigments: Ensures bright, lasting colors for stunning prints.
Professional Results: Achieve sharp, clear, and vibrant prints effortlessly.
Easy Cleanup: The water-based formula makes cleanup a breeze.
safe for All Artists: A non-toxic formula ensures it's safe for artists of all ages.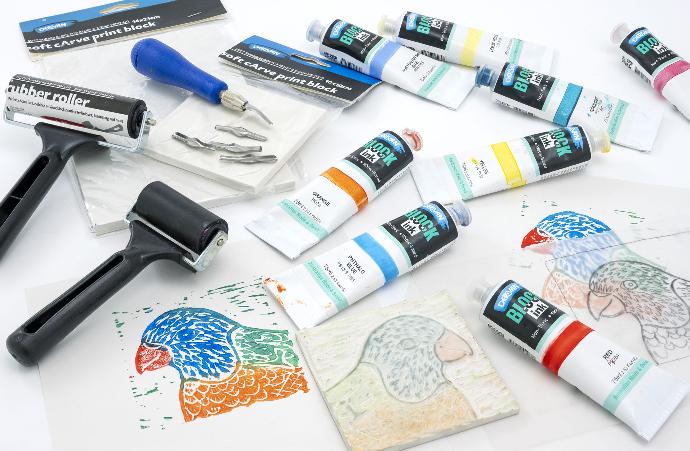 Your Dynamic Snippet will be displayed here... This message is displayed because you did not provided both a filter and a template to use.

Essential Supplies for Lino Printing

Do you want to delve into the world of lino printing? Ensuring you have the right supplies is the first step. From lino plates to cutting tools and brayers, we provide everything you need for crafting your lino prints. Make your designs stand out with high-quality Derivan Block ink.
Derivan Block Ink – The Perfect Choice for Lino and Block Printing

Specially formulated for printing on paper using lino or wood blocks, Derivan Block Ink boasts optimal consistency. This water-based lino printing ink is non-toxic and easy to clean, making it an excellent choice for beginners and seasoned lino printing enthusiasts.
Features and Availability of Derivan Block Ink
Derivan Block Ink ensures your lino prints are sharp and precise every time. We offer both 250ml jars and 75ml tubes to cater to your specific needs. So why wait? Get started with your lino and block printing journey today with our top-quality Derivan Block Ink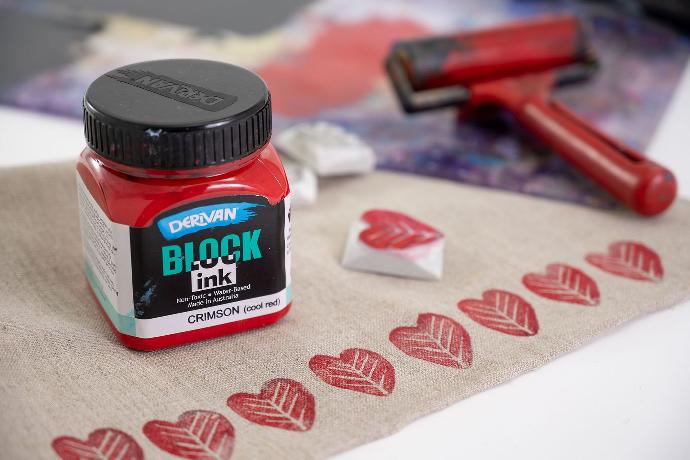 Clean Up In Water
To meet the demands of art and craft students, Derivan created a solvent-free block printing ink. While still providing the performance of professional-quality oil-based printing ink, it is non-toxic and simple to clean up.
Extend Open Time
Derivan Block Ink has been formulated for lino and wood-block printing on paper. Derivan Block Ink will remain open on the block for some time but, once printed, will dry quickly to facilitate the stacking of prints after each class. If a longer open time is required, mix the ink with Derivan Drying Retarder to slow the drying time.
There are 250ml jars and 75ml tubes of Derivan Block Ink available. The constancy of Derivan Block Ink will guarantee you precise, sharp prints.
Fixing Lino Prints For Multi Plate | Multi Colour Lino Cut Printing
When printing multiple colours or plates, you must either let the block ink dry thoroughly between prints or heat-fix the block ink if you wish to print immediately.
Before printing another edition over the top, use a heat gun or an oven to lightly heat the print before printing another edition on top to achieve heat fixing.
*TAKE CARE NOT TO BURN THE SUBSTRATE WHILE DOING SO -Aim to bring the print to over 60C for 60 seconds. This will allow subsequent prints to be applied without "wetting" or sticking to the previously printed colour.
All colours available in 75ml. A selected range of colours available in 250ml indicated by *

Lino Printing Step By Step
You can do simple designs or stamps or spend more time doing intricate designs, but once you have completed your design, you can create many prints quickly and easily.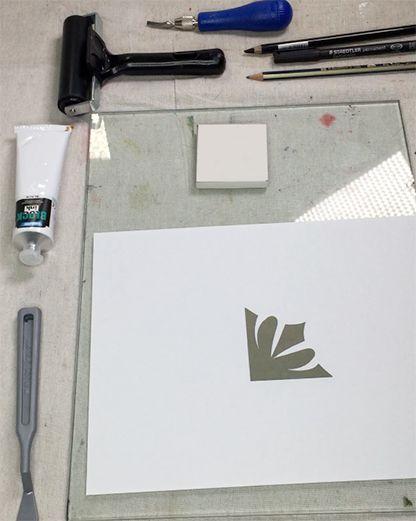 WHAT LINO TOOLS WILL YOU NEED?
There are many methods of making prints—everyone has different preferences for substrates, brayers, inks, and techniques. You'll need a lino, soft carve, a pencil, a hard surface to roll on, block ink, a lino cutter, a lino roller, and a pallet knife and Derivan Block Ink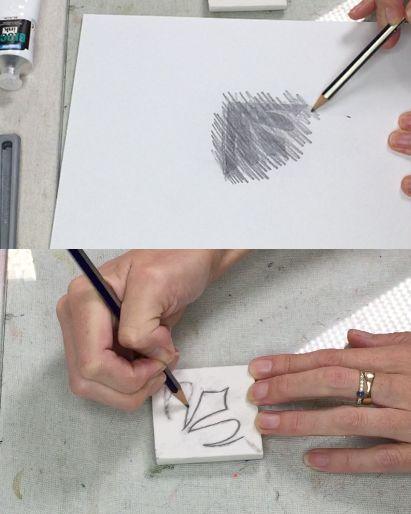 HOW TO TRANSFER YOUR DESIGN TO LINO
Use a soft graphite pencil to transfer your design onto the lino. Use a B graphite pencil on the back of your design and fill the design area with graphite. Flip your design face up. Then place it on the soft carve and start tracing.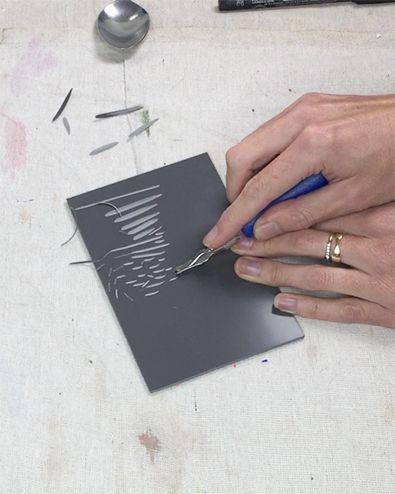 PRACTICE WITH YOUR LINO TOOLS

It's a good idea to experiment with your lino cutting tools if you're unfamiliar with them; the larger U blades are suitable for removing more extensive areas, while the V blades are suited for finer details. Always cut away from yourself, or you might injure yourself, and the more you practice, the better you'll get.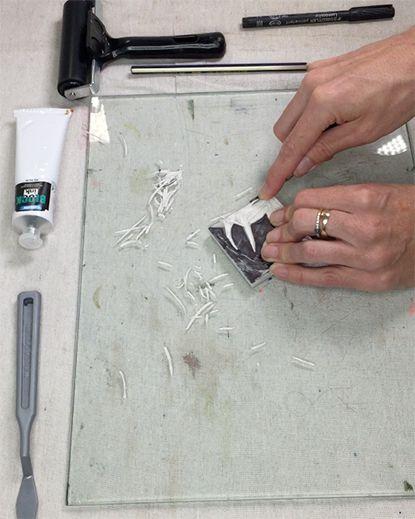 CARVE YOUR DESIGN
Now you know how to use your tools it's time to carve your lino design. Carefully carve away from yourself, turning the block around. Start by making shallow cuts and carve away little by little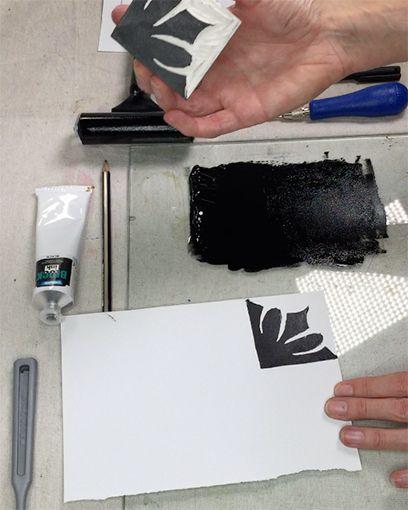 ARTIST PROOF YOUR LINO DESIGN
An artist's proof is a test print. It allows you to trial your design and make any alterations if necessary. If you are not happy with a line in your artwork, you can alter it and print again until you are completely satisfied with your print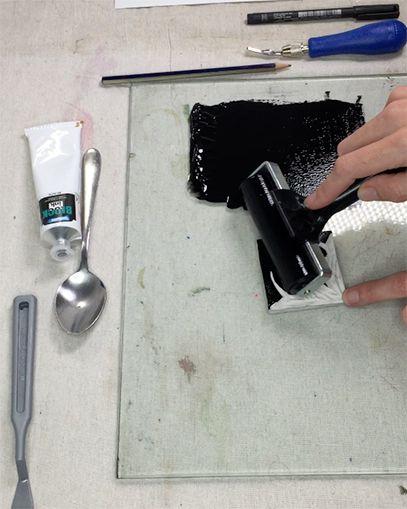 PREPARE YOUR INK
Using a small amount of block ink on a flat surface, roll out your ink using your lino roller back and forwards until you have an even application of ink on the whole of the roller; once loaded correctly, roll your roller over the top of your carved design.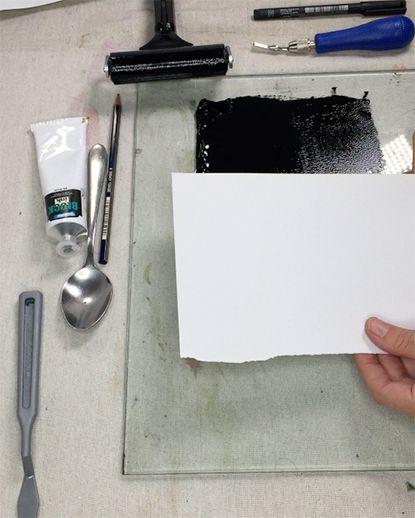 PRINT YOUR LINO PRINT
Place your paper carefully over your block. Think about your placement.
If you want to ensure you register your print. Place a piece of paper under the block to give you a guide as to where to place the paper to be printed on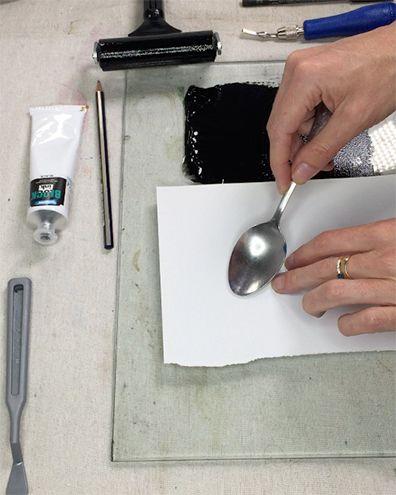 RUB WITH BACK OF SPOON/BARRON
Grab the biggest spoon from your cutlery drawer to burnish the paper to ensure you get the best amount of ink into your print. You can do a sneak peek by pulling one section of the paper up to check the quality of your print before pull off your completed print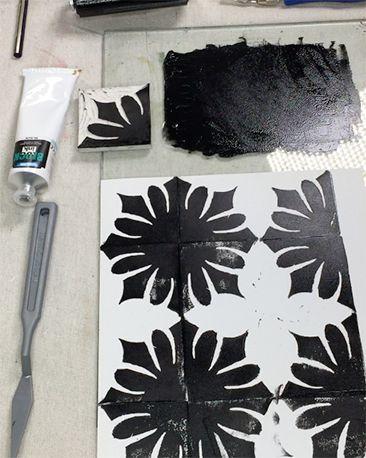 PULL YOUR LINO PRINT
In this example, the stamp has been used multiple times to create the continuous pattern
LINO PRINTING TOOLS
Check out the essential tools you need for creating linocuts; we have two types of lino to choose from the soft carve, which is excellent for making stamps and the battleship grey lino, which is excellent for larger art prints. We also have the all-in-one lino cutter with six interchangeable lino blades, the V gauge, and the U gauge, perfect for larger areas.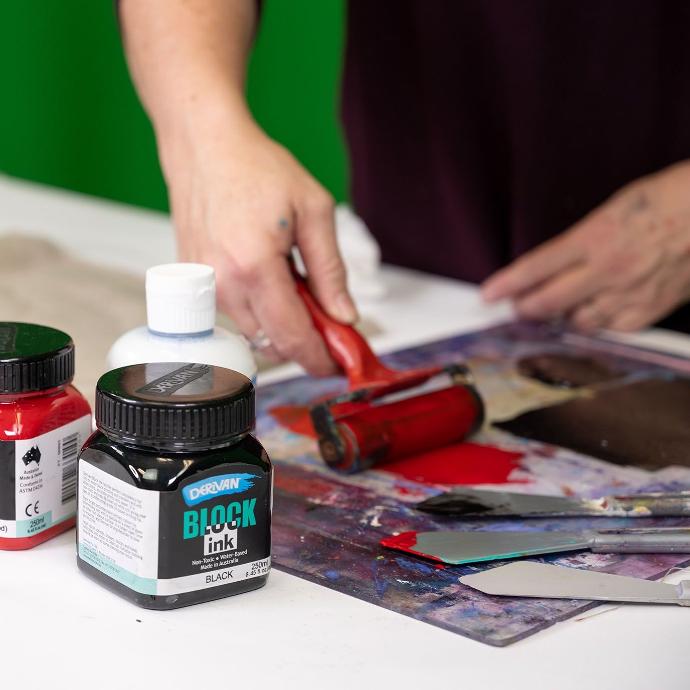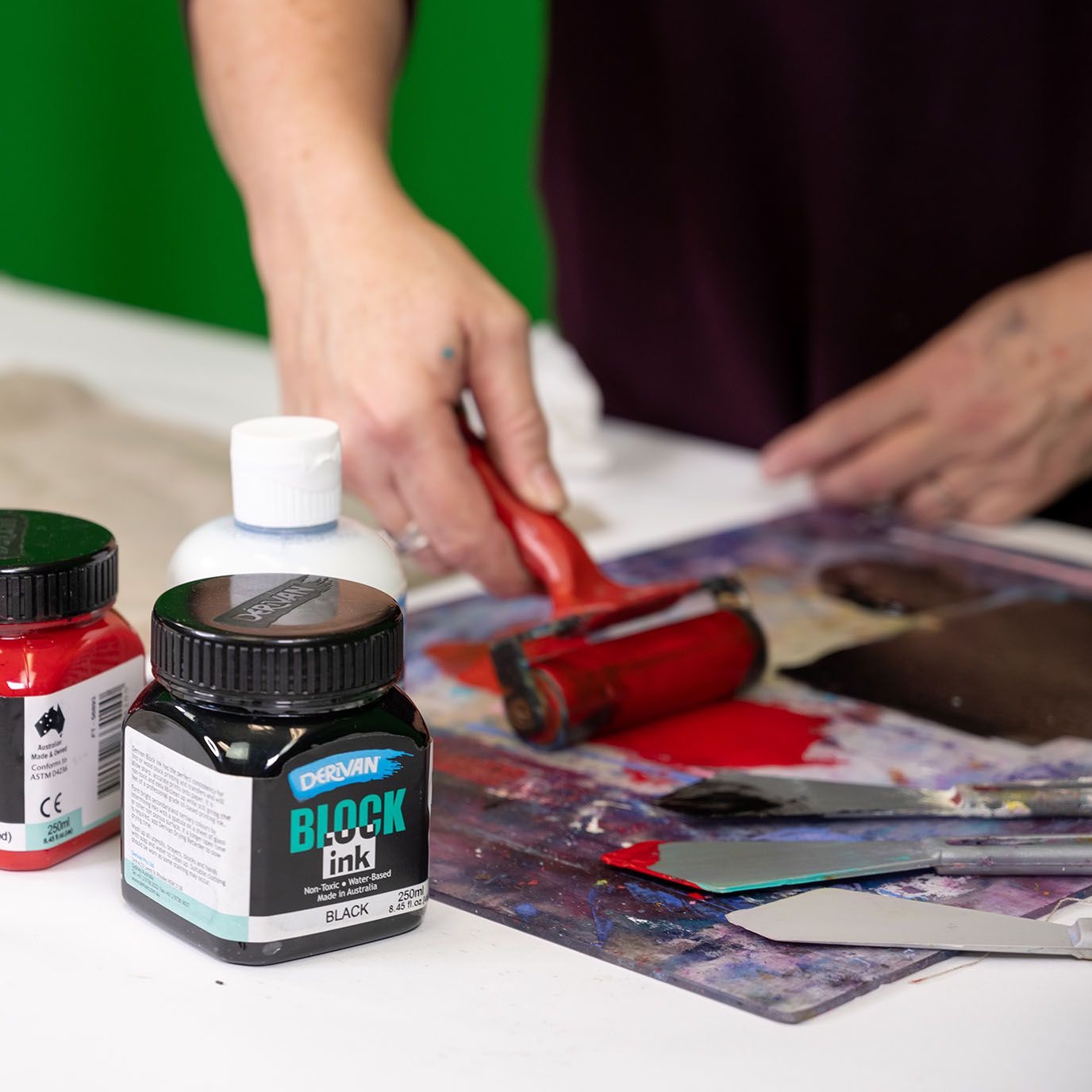 LINO PRINTING KITS & SETS
Are you looking for Lino Printing Sets? The Derivan lino starter set is excellent for novices or students who want to study block printing. The 5x75ml Intro Block Ink Tube Set comes with five inter-mixable colours. Great for experimenting with colour mixing in your printmaking. Looking for a project-based set? Check out our Dog Design Lino Project Set.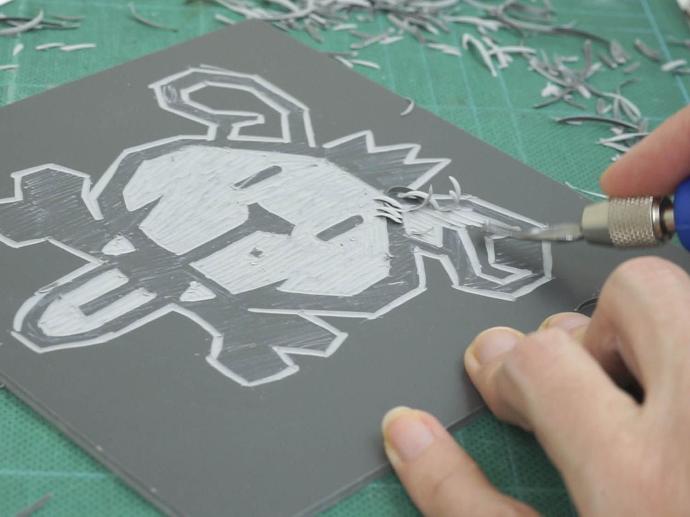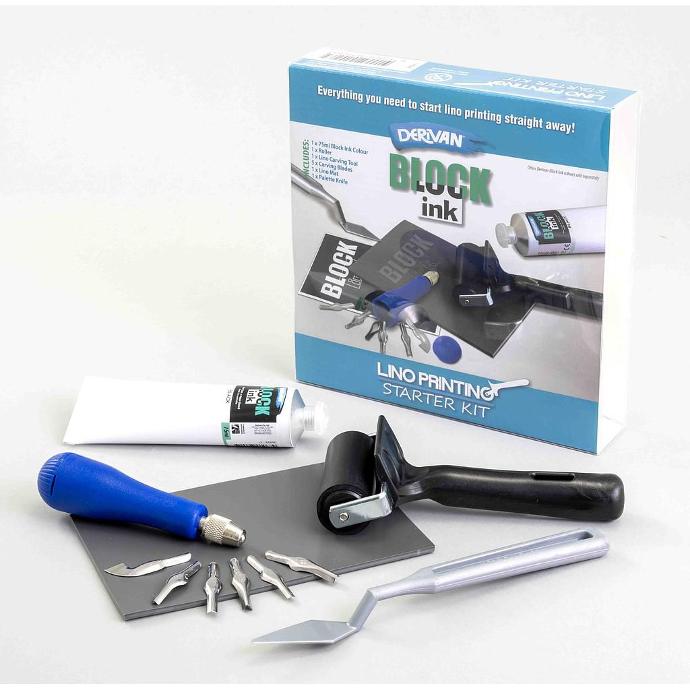 LINO PRINTING KIT

This Derivan Lino Starter Set has everything you need to start producing unique prints.
This set is perfect for mixed media art, card-making, journaling, scrapbooking, and homemaking projects, among other things!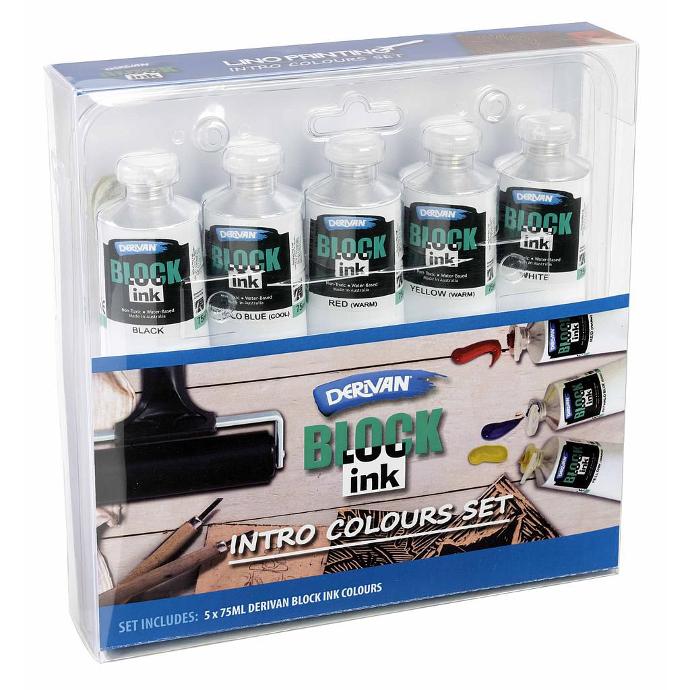 BLOCK INK INTRO SET

This block ink dries to a beautiful satin finish and is water-soluble. It provides even coverage and reliable outcomes with each application thanks to Derivan Block Ink's superior adhesion. Cleans up easily with water and soap. Non-toxic. This pack includes five 75ml tubes. Yellow, Blue, Red, Black and White.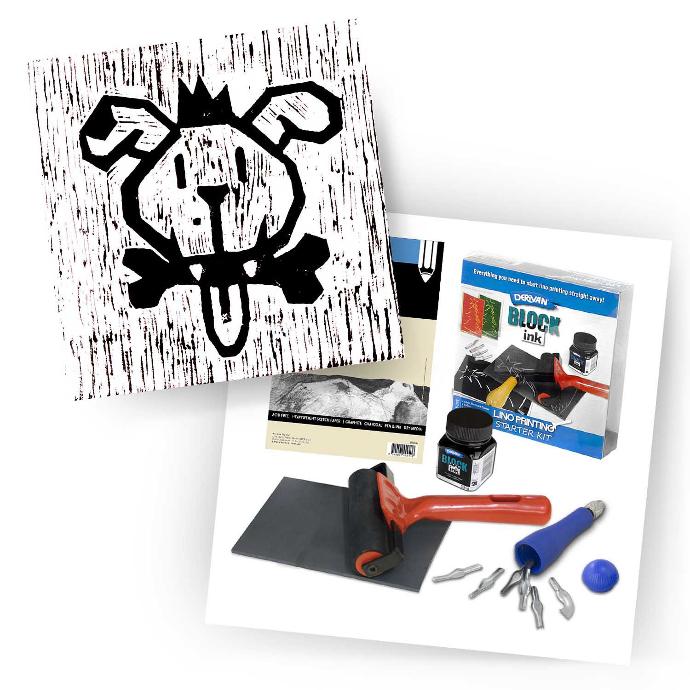 LINO PRINTING SET CARD MAKING

Lino printing is a fun and straightforward way to get introduced to the world of printmaking.
This kit comes with all lino tools and instructions to create a simple dog print. Lino Print making allows you to make several prints while learning some important foundations of this established process.