Gesso is an excellent primer for canvas, board or even paper. The solid white ground gives an excellent tooth for easy paint manipulation. It dries to an attractive, brilliant white, which provides excellent support for other colours. Derivan Gesso can also be tinted with acrylic colours to create coloured grounds.


Derivan Gesso can be thinned down with water if desired. If working on canvas, Derivan Gesso will tighten the canvas when dry giving a taut ground to paint. Derivan Gesso can be used to paint over old acrylic works to give the artist a new surface. If more than one coat is desired, then it is advisable to sand lightly between coats to obtain a smooth finish.
Key Features:
Opaque, Matt

Titanium white acrylic gesso

Improves adhesion & durability of canvas

Archival

Quick drying
Perfect For:
Traditional or coloured ground

Artists, crafters, students

acrylic, oil, acrylic inks

Wood, canvas, mixed media paper and card
Available in 250ml, 500ml, 2 Litre and 4 Litre sizes.
DOWNLOAD SAFETY DATA SHEET HERE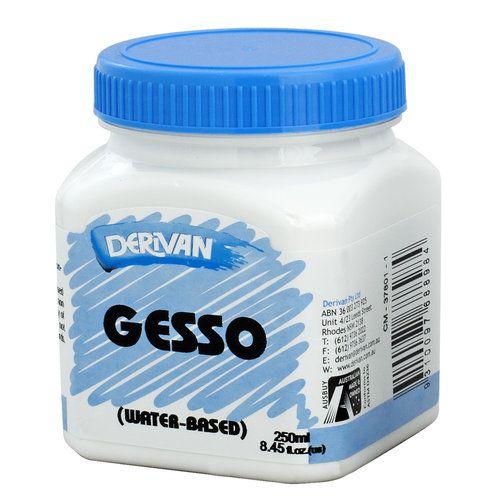 With Derivan watercolour ground, you can create paper-like, highly absorbent ground for your work. The perfect addition to your arsenal of artistic supplies.
Derivans NEW watercolour ground is a great way to add a perfect watercolour surface for creating fluid watercolour and mixed media paintings. You don't have to be limited to traditional surfaces anymore - let go of any boundaries or limitations! Derivan watercolour grounds transforms most substrates into an absorbent watercolour surface which features different textures and depths depending on how it's applied. This watercolour gesso makes all sorts of techniques possible on non-traditional surfaces such as wood panels, canvas boards or mixed media if desired. The possibilities are endless!
Key Features:
Absorbent watercolour ground

Works on multiple surfaces

Archival and acid-free

Holds up to vigorous scrubbing
Perfect For:
Watercolour Artist

Mixed media applications

Canvas & Masonite

All types of paper

Glass & Plexiglass


Metal

Pastic
Available in 250ml and 1ltr
DOWNLOAD SAFETY DATA SHEET HERE


CHALK PAINT FOR FURNITURE, GARDEN POTS, UP-CYCLE PROJECTS
When we think of blackboards, most of us picture them as being either black or green. We at Derivan wanted to take it one step further, though, so if you're bored with the traditional use of chalkboards, then you will be excited about our new chalk paint products! With eight brilliant colours available, there is a colour perfect for everyone.
Key Features:
Ultra-matte finish available in 6 mixable colours

Built-in primer

Adheres to slick surfaces and is easy to distress

Water-based and easy to clean up
Perfect For:
Refurbishing vintage furniture

Home decor DIYers

Distressing new furniture

Mixed media artist
DOWNLOAD SAFETY DATA SHEET HERE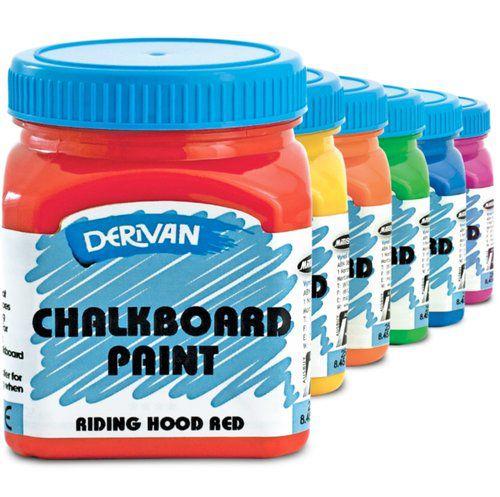 Derivan Clear Sealer helps prepare your surface by forming a transparent sealant layer to substrates. Applied on raw wood prevents tannins from absorbing into the paint and causes discolouration. Derivan Clear Sealer is perfect for various substrates because of its flexible properties as it dries completely transparent, so perfect medium for craft projects like painting on glass or candles.

Key Features:
High-quality base for acrylic painting

Excellent for paint adhesion

Fast drying properties

Archival
Perfect For:
Priming canvas, wood, metal, glass, candles

Excellent ground

Professional artist

Providing a sealed, stabilized surface

Ideal protection from wood tannins and discolouration
Available in 250ml size.
DOWNLOAD SAFETY DATA SHEET HERE

MM12 Clear Sealer can also be used to seal canvas while allowing the texture of the canvas to remain visible. Although acrylic paint can be applied to raw canvas, sealing the canvas is advisable, so the paint has a consistent surface to cling to and prevent the paint from bleeding. Natural canvas can also discolour easily, and sealing helps to keep the fabric clean and free from mould and bacteria.