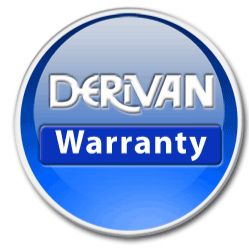 When you buy a Derivan Product you can be assured that...
Our goods come with guarantees that cannot be excluded under the Australian Consumer Law. You are entitled to a replacement or refund for a major failure.
You are also entitled to have the goods replaced if the goods fail to be of acceptable quality and the failure does not amount to a major failure.
We will honour this warranty by replacement of any defective goods and compensate you for reasonable freight costs to return the goods.
You should return the goods to us within 3 months of the date of purchase with a statement of the defect which you consider exists.
Forward to us with the goods, the receipt or invoice for your payment for the goods to the following address:
REPLY PAID 84430
DERIVAN PTY LTD
PO BOX 3695
RHODES NSW 2138
Our Business Address is: 4/23 Leeds street, Rhodes NSW 2138
(however all postal communication must be sent to the PO Box)
Our phone number is: (02) 9736 2022
Our email address is: [email protected]

"The benefits of this warranty are in addition to any other rights and remedies which are available to you under any law which relates to the goods to which this warranty relates."
The information supplied pertains to Derivan and Matisse products only. The research carried out by Derivan and subsequent instructions and application information is only provided as a guide to consumers and - While Derivan understands and encourages consumers to experiment and test materials and techniques - and in so doing pushing the limits to better inform their practice, -the information supplied is done so to give an understanding as to how the products might react and behave under particular conditions/techniques/applications. The supplied information is in no way meant to replace the requirement for the consumer to test their chosen technique/application and products to satisfy themselves as to the suitability of those products to the required task. Derivan shall not be liable for any damages or repairs arising from the use of its products other than to replace product that is not within specification within 3 years of manufacture.
Derivan Pty Ltd © 23 Leeds Street, Rhodes NSW 2138 Australia
Site ©2019 Derivan Pty Ltd.