WHAT IS LIQUID PENCIL?
Have you ever been sketching and wanted to cover a larger area quickly? Or wanted to variegate the tone very subtly, similar to using a watercolour? Well, Derivan Liquid Pencil is capable of all these things and more. It's a truly revolutionary way to create sketches.
Derivan Liquid Pencil is available in Permanent and Rewettable formulas in six subtle graphite shades - Yellow, Red, Blue, Sepia, Grey 3 and Grey 9 in 12ml tubes.
DERIVAN LIQUID PENCIL
All hues in the Derivan Liquid Pencil range were created using natural graphite powder, just like those used in the more familiar solid form and most commonly known as the active ingredient in lead pencils.

Graphite is a common, naturally occurring form of carbon, non-toxic. When carbon compounds are subjected to extreme pressure and heat, it converts to crystalline graphite. However, not all graphites are equal.
There are different types of natural graphite, each sourced from different types of ore deposits and each intended for various uses like lubricants, batteries, household and automobile paints and, of course, as artist mediums.
Graphite in multiple grades of softness or hardness results in different qualities and tones when used in artist media.
Different regions on the planet produce graphite with unique properties. For example, the graphite powder used in Liquid Pencil Grey 3 is sourced from China and has a partially formed structure that contains additional compounds, which give it a deep black colour with a blue undertone. In contrast, the graphite used in Liquid Pencil Grey 9 comes from Sri Lanka and has a more uniform chemical structure that imparts a silver metallic sheen to the finish.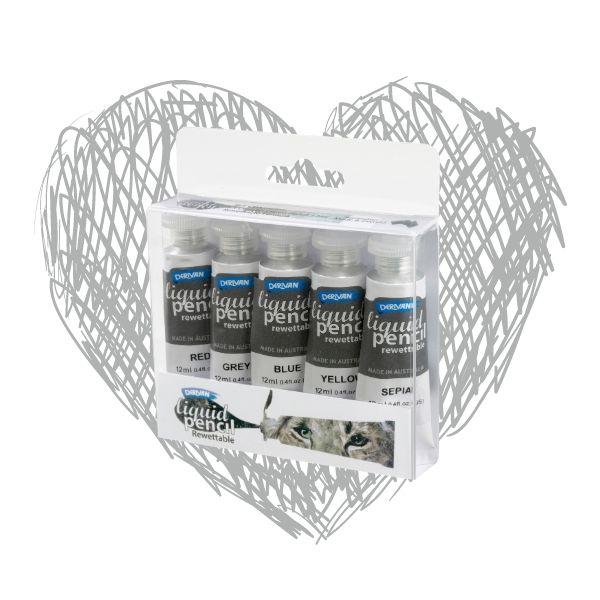 HOW TO USE DERIVAN LIQUID PENCIL
Derivan Liquid Pencil is an innovative new product that allows you to create authentic graphite pencil effects and sketches using a liquid. It has been formulated so you can thin it with water or MM9 Acrylic Painting Medium (to maintain permanency).
Derivan Liquid Pencil has a creamy consistency and different rheology (flow of liquid matter). Artists now have a broader scope for creating sketches.
Lighter or darker results can be obtained by mixing in a combination of water and Medium and the effective layering (glazing) of different shades. Water will allow you to spread it more efficiently, and the addition of MM9 Medium will maintain the intrinsic structure of the product
Due to a precisely balanced formulation, another great benefit of the Permanent liquid pencil is that it will "burnish up" in a similar manner to traditional graphite but will not smudge.
The Rewettable formula will also allow you to remove areas using water – similar to watercolour techniques. A standard eraser can also be used, and while it will remove some of the graphite, it will not erase back to clean paper. Another advantage of using Derivan Liquid Pencil is that large areas can be easily built up and covered. This product can also is entirely compatible with the traditional solid form of graphite.
Each shade variation gives each colour in the Derivan Liquid Pencil range unique properties. There are distinct undertones such as blue, yellow, red, and sepia, in addition to neutral grey in two different finishes - to allow a great range of options for artists – Grey 3 and Grey 9. The number indicates the final rendered layer's undertone (cooler or warmer grey ) rather than lightness or darkness.
DERIVAN LIQUID PENCIL | CLEAN UP
Brushes, utensils, and hands can then be washed with soap and water.

Wash stains out immediately with cold water and household soap, taking care not to spread the stain. Dry stains will need to be soaked overnight in lukewarm soapy water. Do not use hot water, chemical solvents, or thinners. Other cleaning methods will generally only act to drive the stain in deeper.
Suitable clothing should be worn as some staining may occur.
Derivan Liquid Pencil is a non-toxic water-based product containing water and graphite powder dispersed in an acrylic polymer emulsion. Please view or download the Safety Data Sheet document here for further information.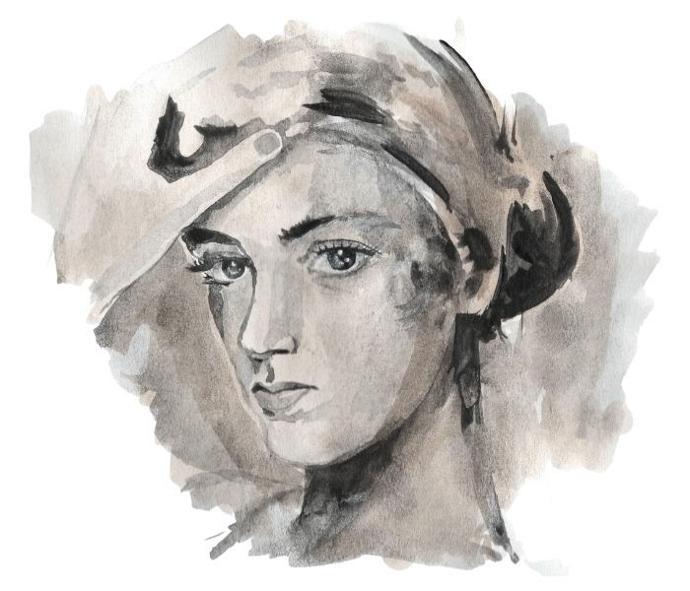 DERIVAN LIQUID PENCIL
REWETTABLE
The re-wettable liquid pencil formula behaves like a watercolour. It utilises a similar binder. Easy to reactivate even if it has been dry for months. The Derivan Rewettable colours have excellent granulation characteristics. There are six different undertones to choose from.
ESSENTIAL INFORMATION
DERIVAN LIQUID PENCIL CHART ​​​​
DOWNLOAD SAFETY DATA SHEET HERE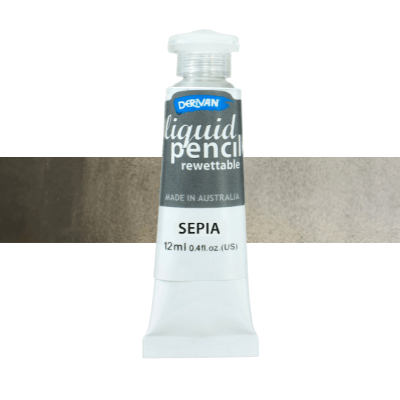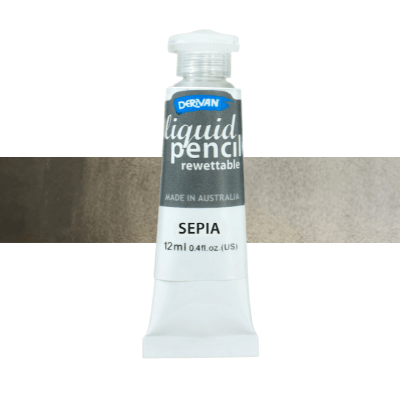 DERIVAN LIQUID PENCIL SETS
Liquid Pencil is now available in convenient sets of five X 12 ml tubes. There are two sets, permanent and rewettable. Great for students, teachers, architects, and designers who wish to express their creativity with liquid graphite.
ESSENTIAL INFORMATION
DERIVAN LIQUID PENCIL CHART ​​​​
DOWNLOAD SAFETY DATA SHEET HERE