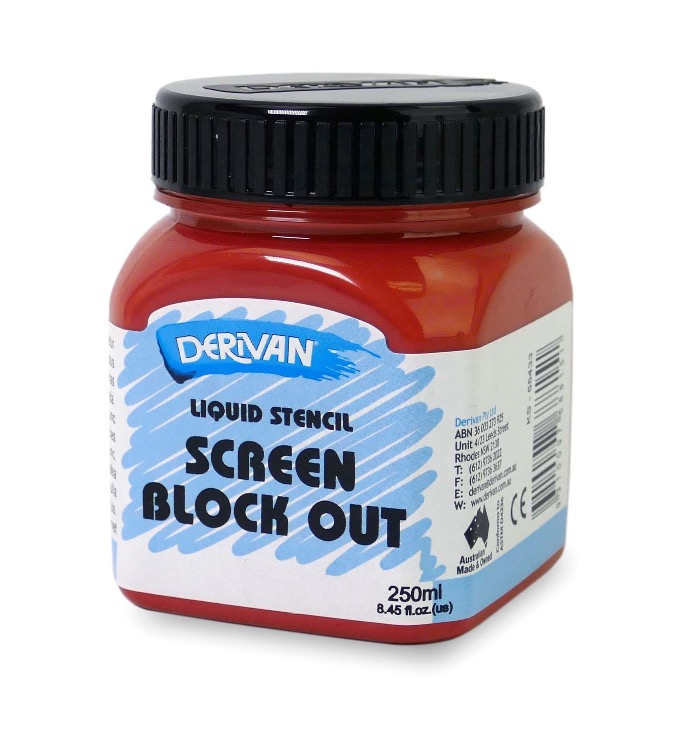 ESSENTIAL INFORMATION
Available in 250ml
SCREEN PRINTING BLOCK OUT
Derivan Block-Out is a medium used to cover over areas of a screen you do not want to print. You should use medium after drawing your design with Derivan Drawing Fluid on the Derivan Silk Screen Frame.
*Note the longer you leave the block out on the screen (more than five days) the harder it becomes to remove .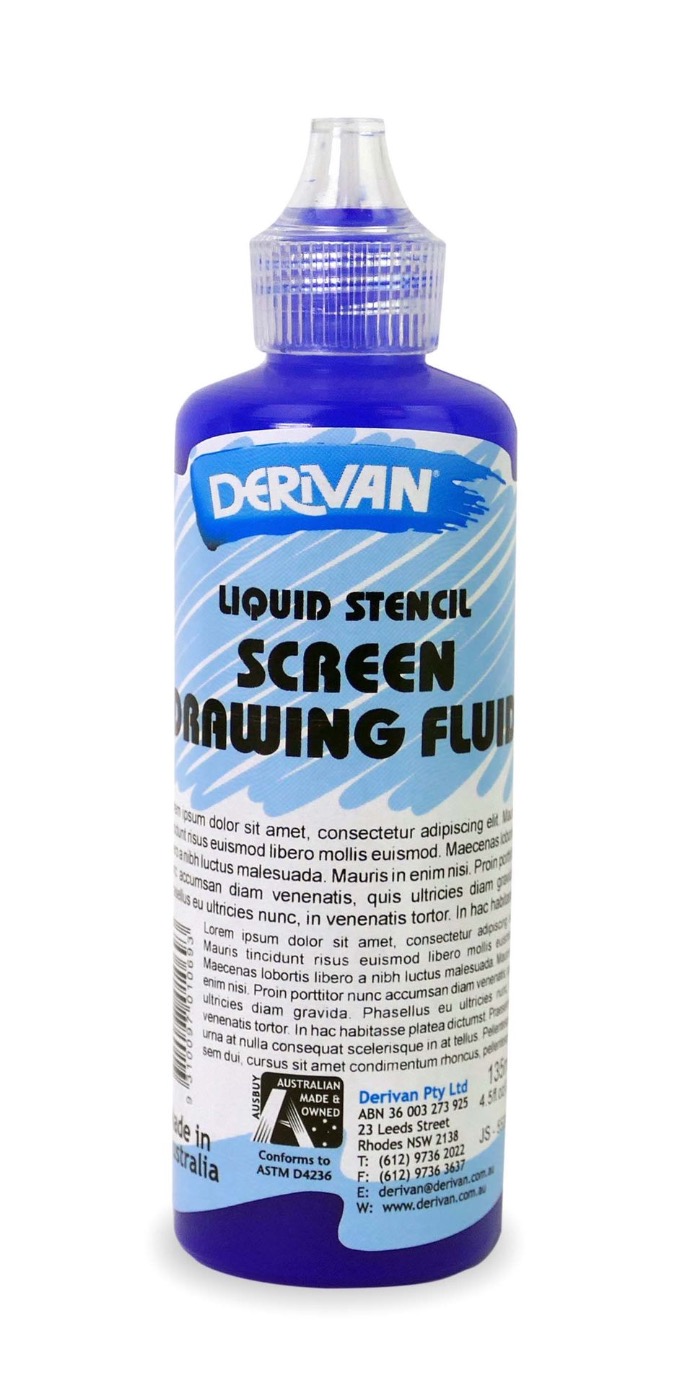 SCREEN PRINT DRAWING FLUID
This water-based drawing fluid is used in screen printing and acts as a resist to Derivan Block out. Use with a brush or nib to create stencils or drawings on your Silk Screen frame *leave to dry once the Drawing fluid is touch dry, coat with Derivan block and allow it to dry for 72 hours. Rinse off any remaining drawing fluid by running warm water over your image until all traces are gone. You're now ready for printing!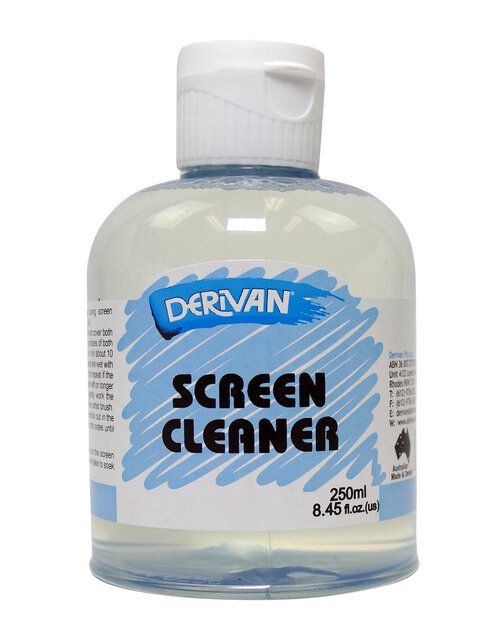 SILK SCREEN CLEANER
Derivan screen cleaner is specifically formulated to remove dried ink and filler from screens. To use, apply the liquid evenly on both sides of the screen and scrub with a nylon brush. Leave it for 3-5 minutes before running under hot water while you wash with a nylon brush again if necessary.
RECOMMENDED TO USE GLOVES WHILE USING DERIVAN SCREEN CLEANER.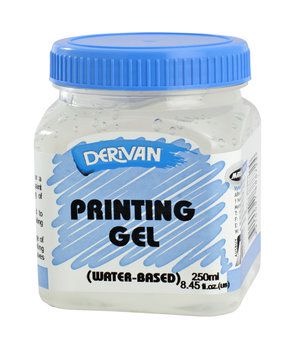 PRINT PASTE | SCREEN PRINTING GEL

Derivan Printing Gel is used in silk screen printing with Both Derivan Student and Derivan Acrylic can be mixed with Derivan Printing Gel to keep the colours from drying and clogging the screen mesh. Using this medium, many prints can be made at one time without having to clean the mesh between every print. Screen printing can be done on paper or board.
Printing Gel is also used to reduce colour strength when transparent colours are required for printing. Mix the Printing Gel into the colour until desired transparency is reached.
Printing Gel is also an excellent inexpensive craft glue for paper.

How to Screen Print With Acrylics
Derivan Print Gel
The best inks you can use for screen printing on paper are acrylics; however, you want to add a medium with them to make things a little bit easier. One of those mediums is printing gel, so you mix the printing gel in with the paint acrylics. You can use either Derivan Acrylics or Derivan Student using Derivan Print Gel. It will help slow the drying time of the acrylic and allow you to wash it out more easily when you clean the screen. Acrylics are fantastic on paper because they are water fast, lightfast and permanent, and of course, quite economical. Using Derivan Print Gel for screen printing means you don't have to go out and buy special printing inks; you've got them there ready to go. Adding printing gel to the acrylics will slow the drying time in the screen, so you've got a bit more time to work and make it easier to wash the inks out when you come to the end of your printing.
It will also reduce the colour down depending on how much printing gel you add to the paint. It will increase the transparency of the colours, and so, therefore, you can layer different colours over each other. I.e. put a yellow over a blue and get a green and that sort of thing so you can get some exciting effects just by reducing the strength of the colour. If you use a small amount, say five per cent printing gel, you'll get a pretty opaque sort of colour. For example, let's say you're putting a black down for an outline or with text you want it to be as strong as you can get it pretty well, so you may only add 5% to help slow the drying time helps lubricate it through the screen help wash it out that's fine. Or if you've got black and want to turn it into grey, you can mix it up to about 20 or 30 per cent printing gel or one-part printing gel to two parts paint. Note if you add any more than that, the paint may become water sensitive because you're reducing the binder content of the colour now. That's fine if you're going to treat the work knowing that it's water-sensitive, you can add 99 printing gel and one per cent paint but keep in mind that it goes from being water fast; in other words, it won't wash off your paper to being a little water-sensitive, and that happens with the progression of the ratio so don't add any more than one part printing gel to two parts paint and you'll be fine please do keep in mind though the printing gel is only for paper.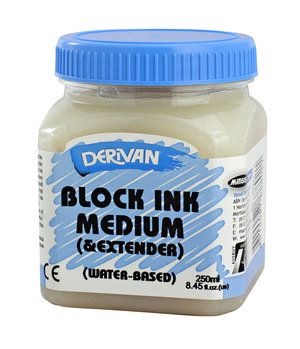 BLOCK INK MEDIUM
USE TO TURN ACRYLIC PAINT INTO LINO INK | USE TO MAKE YOUR COLOURS TRANSPARENT
Derivan Block Ink Medium and Extender is a versatile medium which can be used in two ways to create fantastic relief prints.
Used as an Extender
As an extender - add to derivan Block Ink colours to extend and make your colours more transparent without losing the body of the paint as would it happen when adding water.
When using as an extender add from 1:9 to 9:1 ratio of Block Ink Medium & Extender to Derivan Block Ink colour. Up to about 3:7 ratio the colour will be extended, after this the colour will start to become more transparent. Tackiness may also increase.

Used as a Medium
As a medium - add Derivan Acrylic paint colours to Block Ink Medium and Extender to create block ink from the paint.
When using as medium to turn acrylic paint into block ink a ratio of 6:4 Block Ink Medium & Extender to Derivan Acrylic colours is recommended.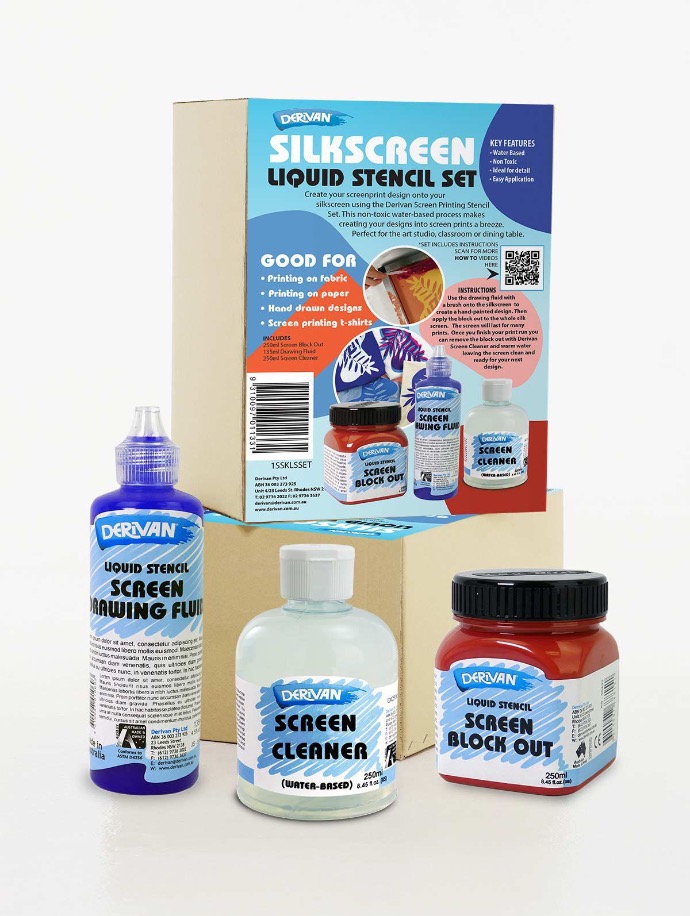 SCREEN PRINTING KIT
DRAWING FLUID & SCREEN PRINT BLOCK OUT KIT
DERIVAN LIQUID STENCIL
Screen printing with the new water-based Derivan Screen Printing Stencil System is a non-toxic process. Makes creating your hand-drawn prints a breeze. This straightforward process is ideal for all ages, perfect for the art studio, classroom or dining table.
GREAT FOR :
Screen printing t-shirts

Hand-drawn designs

Printing on fabric

Printing on paper
Application
Use the drawing fluid with a brush onto the silkscreen to create a hand-painted design. Then apply the block out to the whole silk screen. The screen will last for many prints. Once you finish your print run you can remove the block out with soap and warm water leaving the screen clean and ready for your next design .