What Acrylic Varnish Should I use?
When selecting a varnish, one of the first questions that arise is the gloss level required. The gloss level is essential because it can determine how shiny or flat the finish will be on top of your painting. Derivan Acrylic Paints and Derivan Student Paints offer a shine that's similar across their ranges, but mixing them with water or other mediums can change this dramatically! In the Derivan range of varnishes, we offer two different sheen levels: glossy and matte. Need to know more about varnishing techniques? check out our Varnishing how-to page
GLOSS VARNISH
Derivan Polymer Gloss Varnish - Can be used as a gloss finishing varnish and an acrylic gloss medium. - Mixed with Derivan colours, it increases the gloss and flows characteristics of the paint.
Key Features:
Non-Yellowing

Water-based Technology

archival and acid free

Excellent levelling properties

Water-based

High Gloss
Perfect For:
Acrylic varnishing techniques

Use with a heavy body and soft body paints

Mixed Media

Acrylic Glazing techniques

Decoupage

Used as a gloss varnish, it produces strong, protective, clear film free from tackiness or stickiness.
Available in 250ml, 500ml and 2 Litre sizes.
DOWNLOAD SAFETY DATA SHEET HERE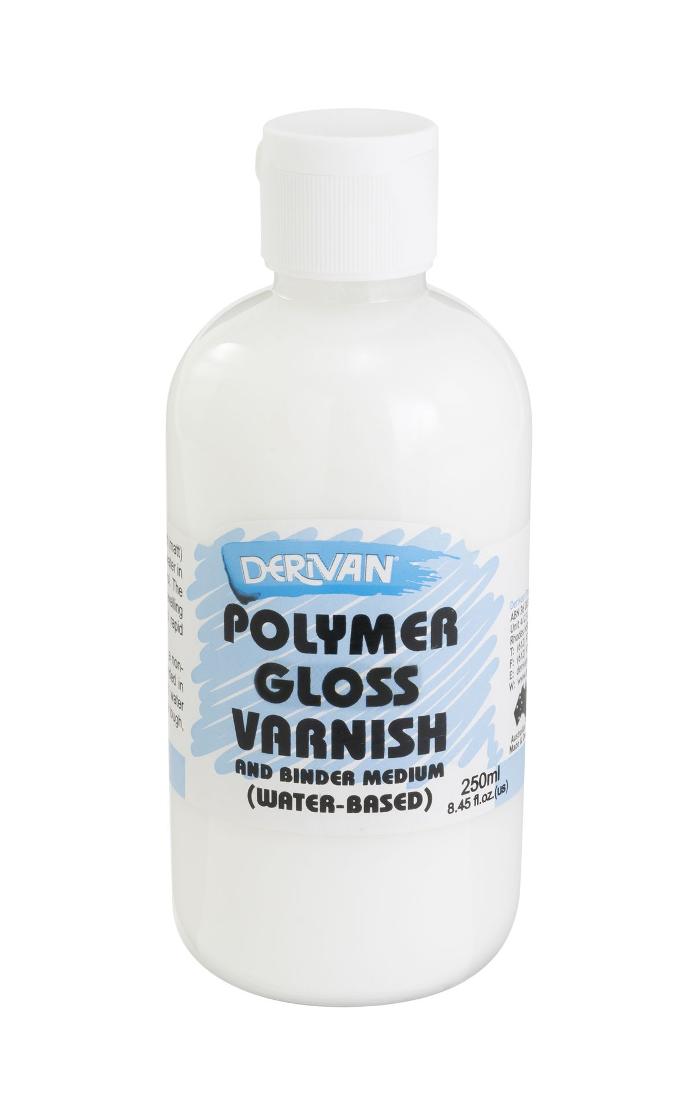 Application
As acrylics dry very rapidly, care should be taken to apply varnish pre-diluted with water (as per directions on labels). Polymer Gloss Varnish applied in very thick layers on a hot day could trap moisture, resulting in a cloudy film which would be very difficult to correct, e.g. all Derivan painting mediums are freely intermixable - Polymer Gloss Varnish will intermix with Spreader Medium to give a glossy glaze effect (however, do not mix turps varnishes with other mediums). Nevertheless, painters are advised to use some discretion in pre-determining their selection of mediums to avoid unwanted effects.

More Information
Pictures treated with Polymer Gloss will appear to look like work done with oil paints or shiny enamel. Polymer Gloss Varnish is freely intermixable with Derivan Acrylic.
It is water-based and may appear slightly milky whilst wet. This is an optical effect produced by light refraction of acrylic particles suspended within the water-based film. The effect disappears when the film is dry.
ACRYLIC MATT VARNISH
Use Polymer Matt Varnish as a final varnish over a dried, well-cured acrylic painting when a flat, matt or very low sheen is required. This acrylic varnish will enhance colour while adding a non-glare, low sheen finish.
Most suitable as a protective coating, particularly over large works exposed to damage in public galleries, commercial paintings required for floodlit photographic reproduction and paintings that would be improved by eliminating unbalanced glossy highlights.
It is water-based and may appear slightly milky whilst wet. The effect disappears when the film is dry.
Key Features:
Non-Yellowing

Provides stable support
Permanent and durable

Excellent levelling properties

Non-reflective
Clear matt finish
Perfect For:
Use with a heavy body and soft body paints
Mixed media
Works that will be hung under flood lights
For photography that needs low reflection
Available in 250ml size.
DOWNLOAD SAFETY DATA SHEET HERE