​PUPPY DOG FACE PAINT DESIGN
This puppy dog face paint is super cute and easy, and can be a perfect costume for so many different occasions. This design may look complex initially but thanks to this guide, you'll be able to perfect it in no time, with only a little bit of practice. This cute design can be a fun bonding activity to practice with family and friends, or the perfect design to use as a professional face painter.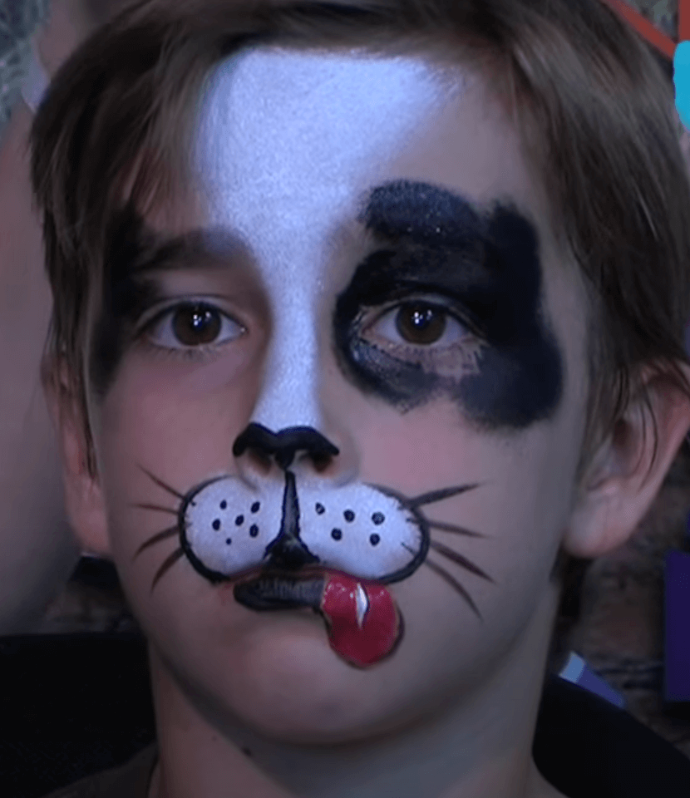 YOU WILL NEED
Before starting your puppy dog face paint design, ensure you have all the necessary supplies.
A clean, well-lit workspace

A disposable surface to protect your workspace

A mirror for easy visibility

Smock or apron to protect your clothes

Disposable gloves for cleanliness


You're ready to begin when you're sure you have all the necessary tools!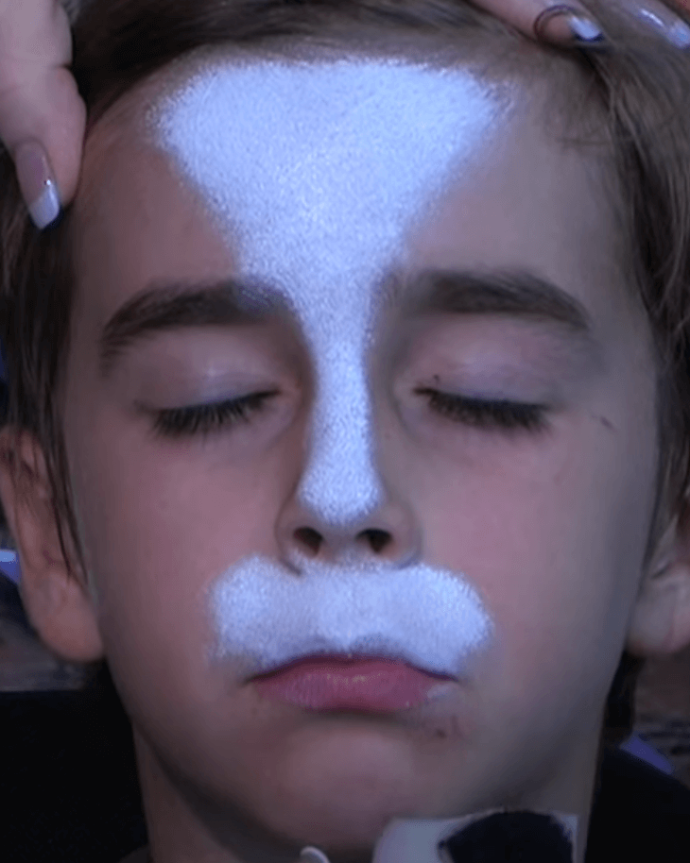 ​STEP ONE | COLOUR BASE
Begin by using a sponge loaded with white paint, and applying that in a upside-down triangular pattern on the forehead, along the bridge of the nose, and around the upper lip.


STEP TWO | COLOUR PATCHES
Using a sponge and black paint, dab on a patch around one of the eyes, and around the outer eye area of the other.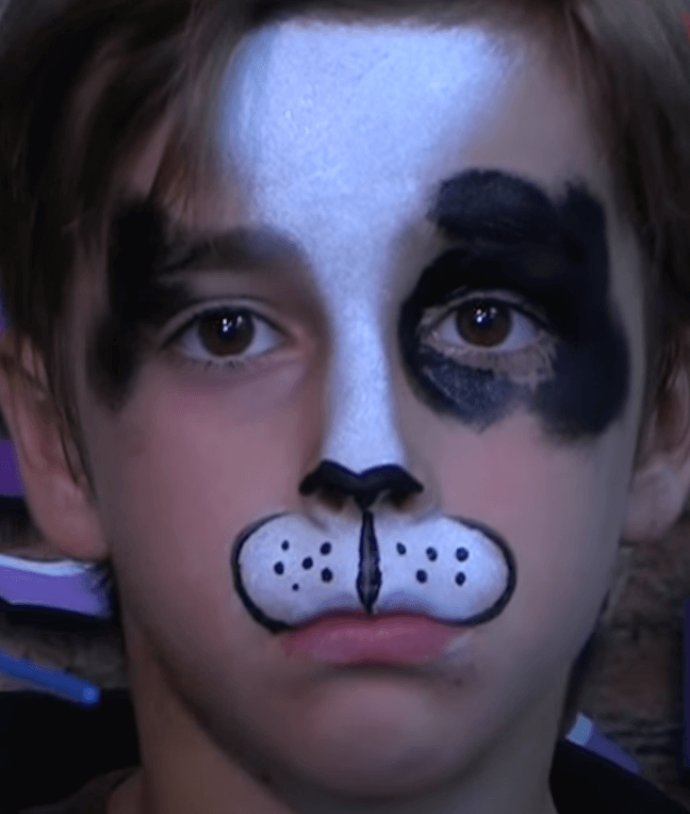 ​STEP THREE | NOSE AND MOUTH
Using a round brush loaded with black paint, outline the white area above the top lip, and create a vertical line between the lip and nose. Then, spot five or six dots around the white area above the lips, and fill in the tip of the nose and the outsides of the nostrils.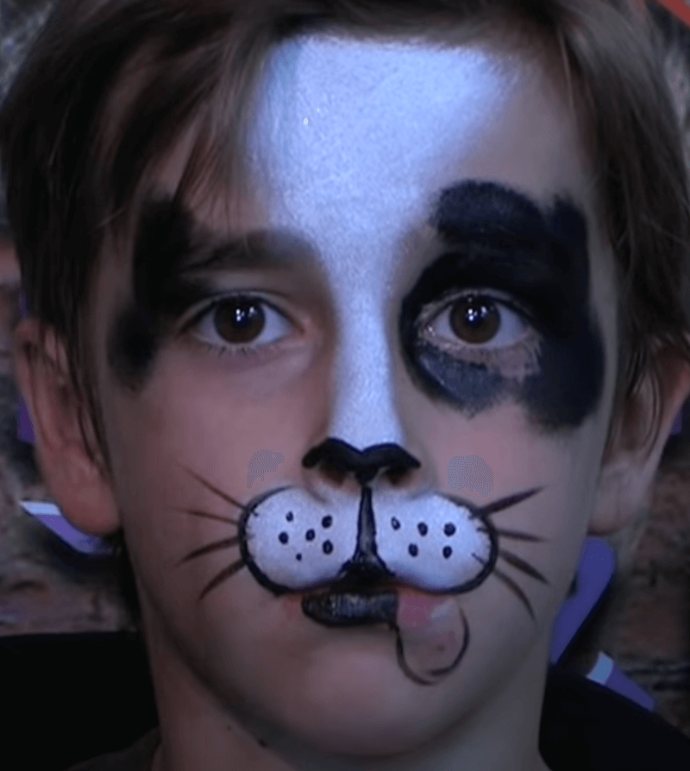 STEP FOUR | WHISKERS AND TONGUE
Using this round brush, fill in half of the bottom lip and the centre of the top lip. On the unpainted side of the lip, paint an oval or tongue shape.
Paint long strokes outwards from the outline around the upper lip area, creating whiskers for the puppy dog.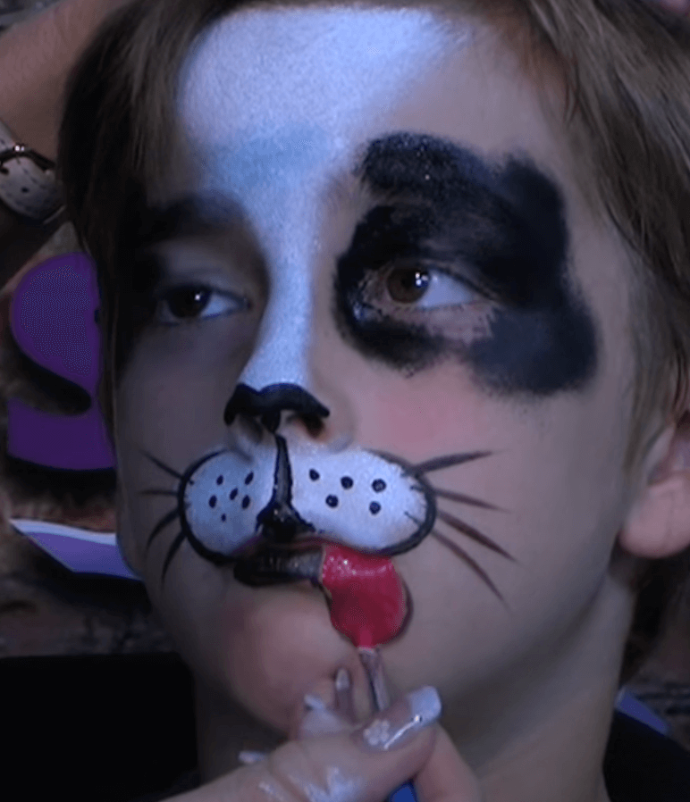 ​STEP FIVE | FINISHING TOUCHES
Use a chisel brush to fill in the tongue outline with red paint, and wait a moment for this to dry. Once this is dry, paint a small white line at the centre of the tongue that goes halfway down. This will add depth and highlight to the design.

Tips to make your next puppy dog face paint design even better
There are plenty of ways to improve your next puppy dog face paint design. For example, using different colours depending on your preference or the presence of a customer.
Practice your puppy dog designs
As you can see, creating a puppy dog face paint design isn't difficult, but it does take some practice. If you follow the tips and steps outlined in this guide, you'll be a pro in no time. With a bit of practice, you'll be able to easily create the cutest puppy dog face paint designs.