​DRAGON FACE PAINT DESIGN
This awesome design can be a really cool addition to any occasion, even football games and event, and with a little practice, any team colours can be used for the detail to add extra interest to this design. While this design can seem complex and daunting at first glance, this guide will take you step by step through how to create this look with ease and simplicity. With a little practice and patience, you'll be creating awesome dragon face paint designs in no time, whether you're a beginner or a seasoned professional.
The simplicity of this design makes it perfect for occasions such as halloween or dress up parties, or even as a cool addition to an outfit.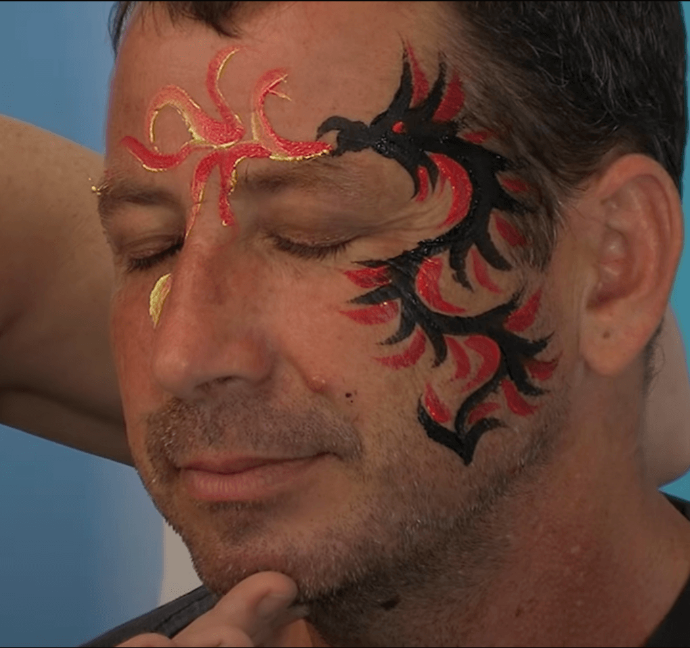 YOU WILL NEED
Before starting your dragon face paint design, ensure you have all the necessary supplies.
A clean, well-lit workspace

A disposable surface to protect your workspace

A mirror for easy visibility

Smock or apron to protect your clothes

Disposable gloves for cleanliness


Black face paint 40mL

Yellow face paint 40mL

Red face paint 40mL

You're ready to begin when you're sure you have all the necessary tools!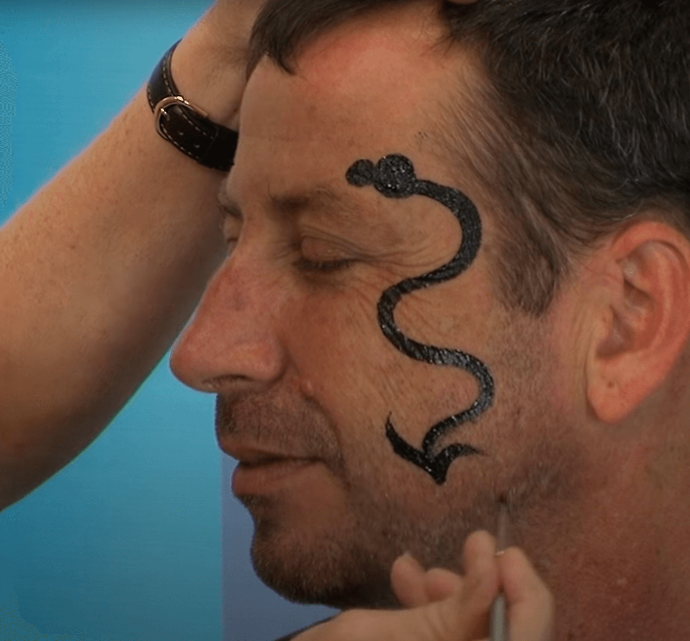 ​STEP ONE | DRAGON BODY OUTLINE
Start the design off by creating two circles, one larger than the other, with a round brush loaded with black paint. Then, create a long, turning line coming down from the larger circle. At the bottom of this line, paint two small strokes to establish the base.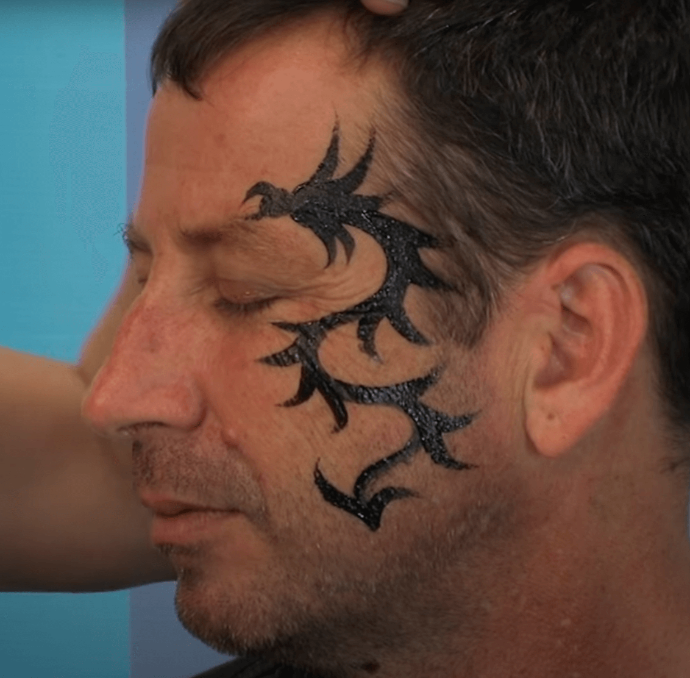 STEP TWO | DRAGON SPIKES
Using the same brush, create spikes coming from the established base by pressing and quickly releasing the brush throughout the stroke. Use this technique to complete the details of the dragon head, including the spikes and mouth.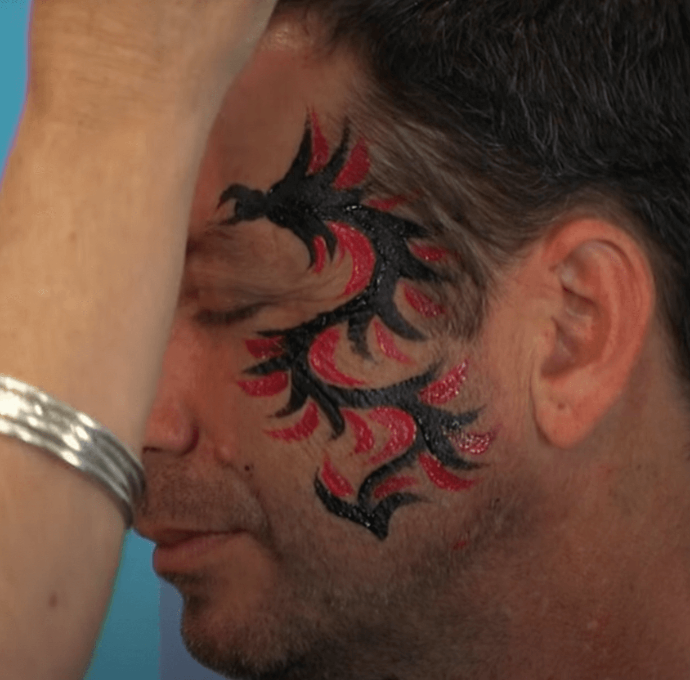 ​STEP THREE | RED DETAIL
Using the same technique, create colourful strokes on the inside of the base lines and between the spikes. This will add extra detail and make the design stand out. Use this same brush and paint to give the dragon an eye on the bigger head circle.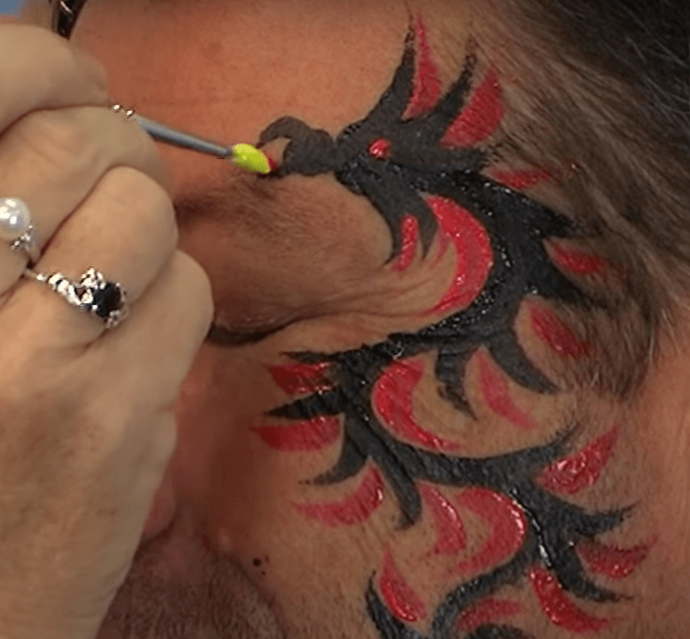 STEP FOUR | PREPARE YOUR BRUSH
Using a double loading technique, load the round brush with yellow paint, and then lightly dip the end in red paint.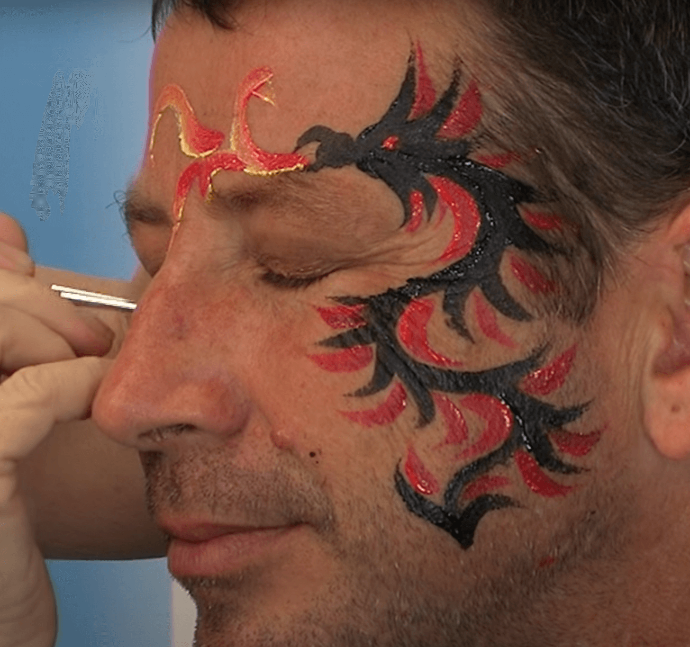 ​STEP FIVE | DRAGON FLAMES
Using the double loaded brush, repeat the stroke technique used earlier to create flames coming from the mouth, dipping the brush in red paint occasionally when needed.

Tips to make your next dragon face paint design even better
There are plenty of ways to improve your next dragon face paint design. For example, a longer dragon design that continues down the neck or face can add complexity, along with changing the colours used for different occasions, like sports games, can add customisation and interest to the design.
Practice your dragon designs
As you can see, creating a dragon face paint design isn't difficult, but it does take some practice. If you follow the tips and steps outlined in this guide, you'll be a pro in no time. With a bit of practice, you'll be able to easily create really cool dragon face paint designs.