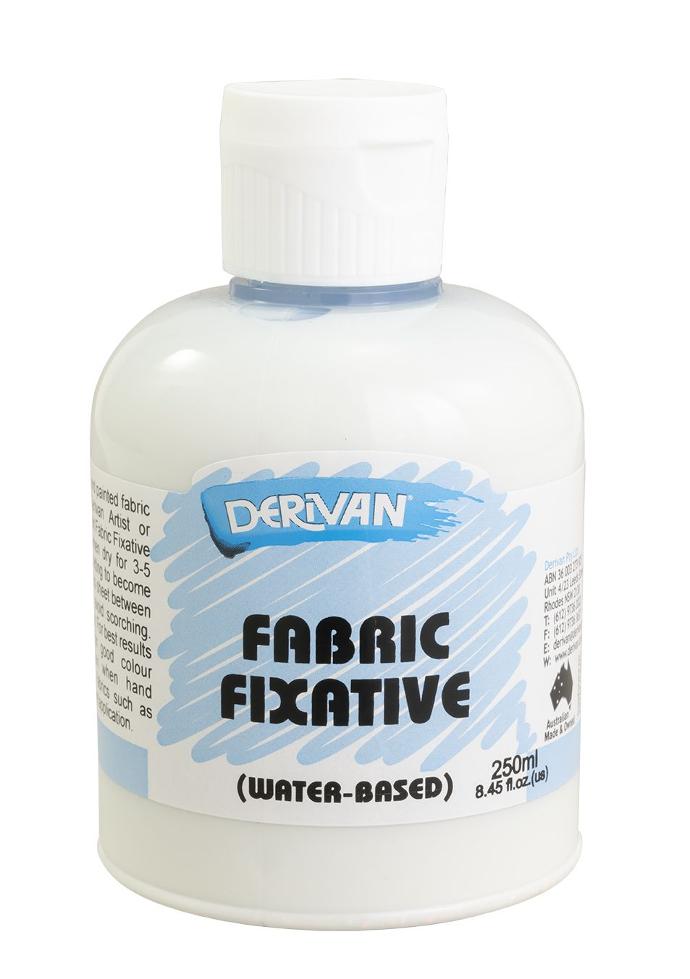 FABRIC FIXATIVE KEY FEATURES
Available in 250ml and 500ml

Turns acrylic paint into fabric paint

Easy to use

Makes your design machine washable

keeps your designs colourful and bright
DOWNLOAD FABRIC MEDIUM SAFETY DATA SHEET HERE

WHAT IS FABRIC MEDIUM?
Derivan Fabric Fixative is a fabric medium also known as a textile medium which you can use to turn your acrylic paint into fabric paint. Acrylic fabric medium is a liquid acrylic polymer mixed with acrylic paints that will give you a soft feel and render the fabric washable without the colours fading.
Want to put fabric paint through an airbrush? Thin acrylics to a milk consistency using Derivan fabric medium to thin it down.
Derivan fabric medium is an excellent medium for all-around artists who want to try fabric painting without buying an extensive range of fabric paints. It allows you to use your existing acrylic colours to paint a lasting artwork on fabric. fabric medium mixed with Derivan Acrylic will become permanent on T-shirts or other garments after heat fixing.
Using a fabric medium for acrylic paint is simple mix the fabric medium with the paint it will make your artwork wash-fast and durable. It also will give you a smooth application and help with brush flow and will help with making the colours bleed less. You can use acrylic paint without a medium, but it won't be as permanent as it would be if you used the medium, also acrylic paint on its own is very stiff so by using a medium with the paint you will achieve a softer result. And you will find you get a very smooth application.

Fabric Medium Application
BEFORE YOU START PAINTING

As you will be probably painting on fabric that is porous you will find the paint will bleed through so if you are fabric painting a garment like a t-shirt you should put a piece of card inside the t-shirt. If you are painting a flat piece of fabric it is a good idea to put a cover down to protect the table that you are working on.
It's always a good idea to wash your fabric first. By doing this you will remove the sizing and help the paint to adhere. Also, if there is any shrinkage this will make it less likely to pucker around the painted areas of your design.
Tools needed:
Paintbrush, stencils, fabric fixative, Derivan acrylic
HOW TO USE FABRIC MEDIUM WITH ACRYLIC PAINT ?
1. MIXING
Mix one part fabric fixative with two parts Derivan Acrylic paint to create your fabric paint. You can adjust the ratio if you wish, but a standard mixture is 1 part fabric fixative to 2 parts Derivan Acrylics. Gently blend the Derivan acrylics with the fixative, ensuring a smooth consistency. This combination will allow you to transform regular acrylic paint into a specialised fabric paint suitable for various textile applications.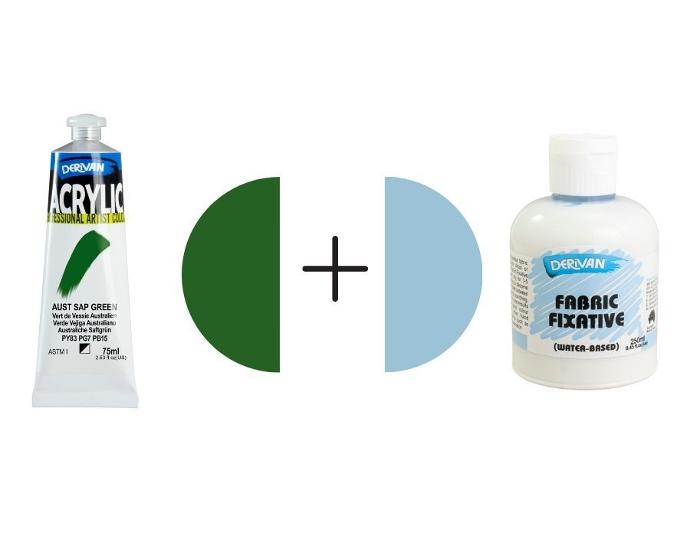 2. ABSORBENCY
It's always a good idea to test the absorbency o the fabric before you start your project. Once you have prepared your mix you can now use a brush, roller, or Derivan pouncer to paint your design, use a thin layer to so you can get cracking the thicker you apply it the less flexible it becomes.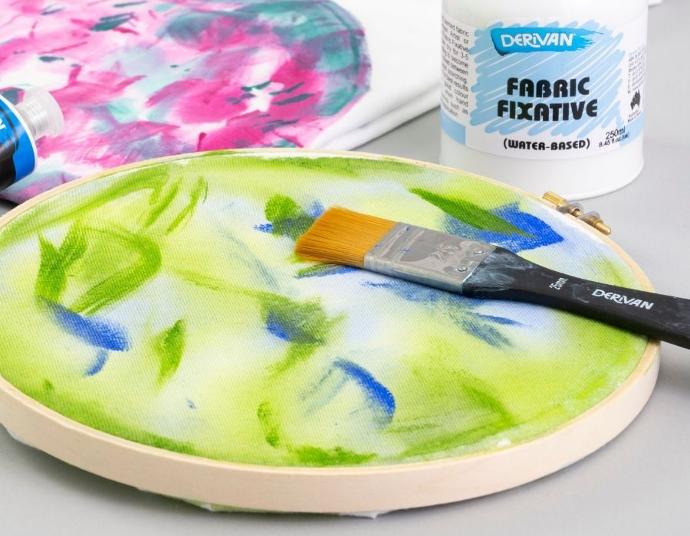 HEAT SETTING FABRIC MEDIUM
Paints used in fabric printing require heat fixing in order to become wash-proof. Any type of heat can be used for this purpose. Heat tunnels or ovens may be used, but the most common form of heat fixing is the use of household iron. The main points to be observed are:
Ensure your design has completely air dried before it is heat fixed.
When heat fixing, apply heat evenly and continuously for the required time over the image.
Be sure not to scorch or burn the image or garment by keeping the iron moving constantly. Remove the iron briefly if the garment is getting too hot before continuing.
Use a tea towel or another piece of cotton cloth over the image to iron on. Do not use the iron in direct contact with the image.
Heat fix times and temperatures: Please note heat fixing times and temperatures are subject to vary depending on the accuracy of the settings in the appliance to be used. The following is a guide only:


• Cotton, calico, linen, rayon 4-5mins at 140°C -180°C
• Synthetics, nylon, polyester, tetron , acrylic 5-8mins at 115°C -130°C


It is important to remember that valuable projects always warrant a test. Heat fixing tests should always be done on the fabric to determine the temperature and time required
to make the image fast (permanent) but without scorching the particular fabric. Test by heat
You'll need to set the fabric paint with heat. In order for the paint to set permanently into the fabric, it has to be set with heat. Check ahead of time that the fabric you are using can be treated with heat since this step ensures that your design will last much longer than without it.