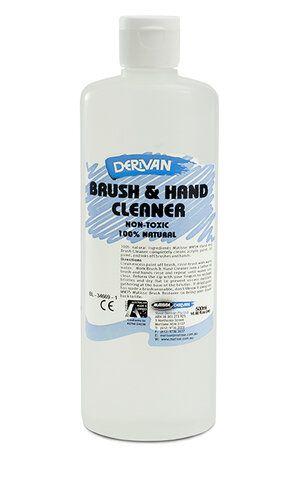 WHAT IS PAINT BRUSH CLEANER?
Just as many artists are sensitive to their environment, we at Derivan are also sensitive to our impact on the environment. We have always endeavoured to develop art products that help keep our world as pretty as a picture through minimising waste and environmentally aware manufacturing processes.
We created Derivan Brush Cleanser in response to requests for a gentle cleanser that can remove paint from both brushes and hands. Derivan Artist Brush Cleaner is a naturally derived hand soap made from replenishable natural resources and contains no hazardous toxic, or polluting ingredients. It is also greywater and septic tank safe and completely biodegradable without effluent treatment processes.
HOW TO USE PAINTBRUSH CLEANER


Cleaning Hands/Skin:
Wet skin and apply a small amount of Matisse Mult-E-Clean Brush Cleanser to the skin.

Lather and massage hands to remove all traces of paint.


Cleaning Brushes:
Rinse excess paint from the brush. If the paint is very thick, wipe away excess with newspaper.

Mix a small amount of Derivan Brush Cleaner and water into a lather and massage into the bristles. Rinse with water. Reform the tip with your fingers and dry the brush flat to prevent excess moisture from gathering at the base of the hairs.

Dry brushes can be stored either upright or flat in a cool, dry place out of direct sunlight.

Do not leave brushes standing tip down in a water container for an extended period. The bristles may become permanently distorted and loose.

If dried paint has made a brush unusable, don't throw it away. Either end may be suitable for use as a tool for scratching and scraping paint to achieve interesting effects.


Storage Derivan Brush Cleaner
Store in a cool, dry place.