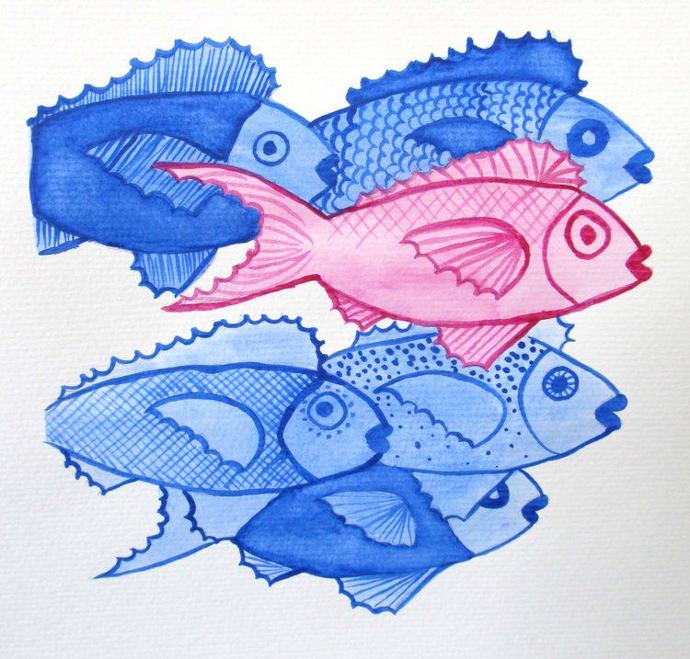 ​

STEP 1
Using the template* and HB pencil, trace the fish
design onto the watercolour paper.
Alternatively, you can also photocopy or scan/print the
design if preferred. Place small
amounts of the watercolour paint into separate compartments
in the palette. Mix with water. The aim is to have one dark shade and one lighter shade of each colour.
​

STEP 2
The No. 8 brush is for painting larger parts of
the fish and the No.1 brush for adding details.
Using the No. 8 brush, wet the top two fish with
clean water only. Dip the rush into the lighter
Cobalt Blue Hue blend and apply to the whole
fish.
​

STEP 3
Repeat this process with the bottom three fish.
Allow to dry.
​

STEP 4
Repeat the step 2 with Magenta watercolour
for the centre fish.
​

STEP 5
Using the No.1 brush, paint over the outlines
of the fish design with the darker shade of the
base colour. You can also fill in specific areas if
desired.
​

STEP 6
When all fish are dry use the No.1 brush to
paint on the details for each fish using the
same darker version of the base colour. How
you do this is up to you, but you may want
to consider detailing different parts of each
fish to add variety. Repeat this process for the
Magenta fish. Allow to dry.
Previous
Next