DERIVAN 75ML BLOCK INK MEDIUM & EXTENDER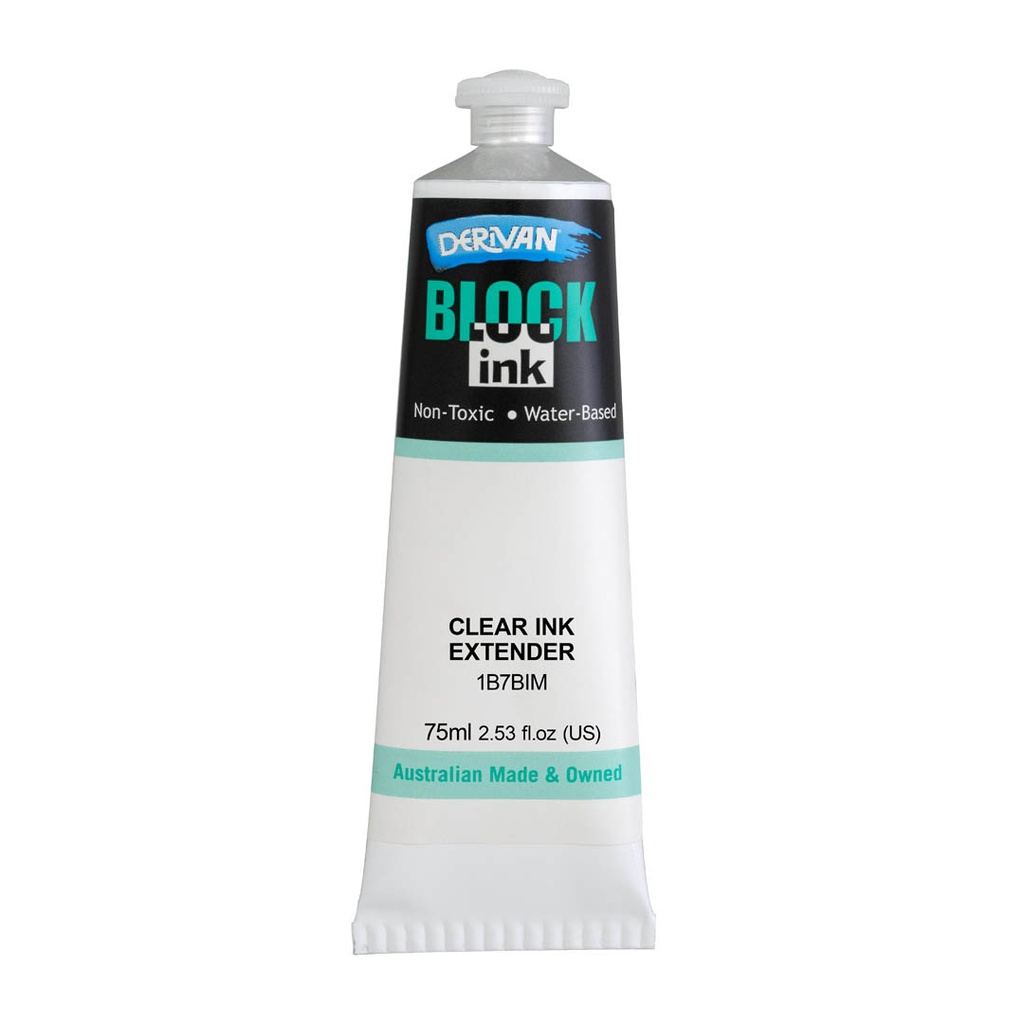 DERIVAN 75ML BLOCK INK MEDIUM & EXTENDER
https://erp.derivan.com.au/shop/1b7bim-derivan-75ml-block-ink-medium-extender-19562
https://erp.derivan.com.au/web/image/product.template/19562/image_1920?unique=1862cb6
(0 review)
Block Ink Medium 75ml

DERIVAN
Printmaking / Lino and Block Ink
Printmaking / Lino Printing Tools and Supplies
Meet the 75ml Derivan Block Ink Medium & Extender: Small but Mighty
 This 75ml tube of Derivan Block Ink Medium & Extender is a powerhouse in a small package. Perfect for artists on the move or those dipping their toes into the world of Print Making. Looking for more? Check out our Block Ink Medium 250ml jar and 1L Block Ink Medium options.   Are you curious to learn more about our diverse selection of printmaking mediums?

Small but Mighty: Your 75ml Tube of Wonders
 Let's get one thing straight: size isn't everything. Especially when it comes to Derivan Block Printing Medium. This 75ml tube may be small, but it packs a punch. Perfect for artists on the go or those just dipping their toes into the world of block printing ink.
The Ultimate Medium Transformer
 Ever wish you could turn your Derivan Acrylic colours into block ink? Well, now you can. This nifty tube serves as a medium transformer, allowing you to mix and match to your heart's content.
Flexible Ratios: The Artist's Best Friend
 Say goodbye to waste and hello to experimentation. Derivan Block Printing Medium offers flexible ratios, from 1:9 to 9:1, for extending lino ink. Whether you're looking to dilute your ink or make it more intense, the choice is yours.
Ratios for Extending Ink: A Deep Dive
When it comes to extending your ink, you've got options. A 1:9 ratio will give you a mixture that's mostly ink with just a smidge of the extender. Perfect for when you want to keep the ink's primary characteristics. On the flip side, a 9:1 ratio will give you a mixture that's mostly extender, ideal for when you're looking to make the ink more transparent or less intense
The 6:4 Ratio: Transforming Acrylics
If you're using the  block Ink medium for your Derivan Acrylics, a 6:4 ratio is your golden ticket. 
This means you'll mix six parts of Block Ink Medium with four parts of Derivan Acrylics. In simpler terms, if you're using 10 ml of paint, you'd mix 6 ml of Block Ink Medium with 4 ml of Derivan Acrylics. This specific ratio is designed to transform your regular acrylic paints into a specialized form of block ink. The benefit here is that your acrylics will maintain their vibrant colours while gaining new properties like improved tackiness and transferability.
Why Derivan Block Printing Medium 75ml is an Artist's Dream
 Artistic Flexibility
Think of Derivan Block Printing Medium as the Swiss Army knife of printmaking mediums. It opens up new realms of artistic possibilities, allowing you to diversify your medium without compromising on quality.
Waste Minimization
The small tube size lets you experiment without the fear of waste. Because, let's face it, nobody likes to waste good ink.
Control Over Ink Properties
Fine-tune your ink's opacity, colour intensity, and tackiness. With Derivan, you're in the driver's seat. So whether you're a seasoned artist or a beginner, Derivan Block Ink Medium offers unparalleled flexibility and quality. So go ahead, unleash your creativity and make your next masterpiece.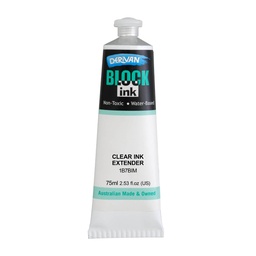 DERIVAN 75ML BLOCK INK MEDIUM & EXTENDER
Not Available For Sale