DERIVAN ACRYLIC 1LT AUSTRALIAN SAP GREEN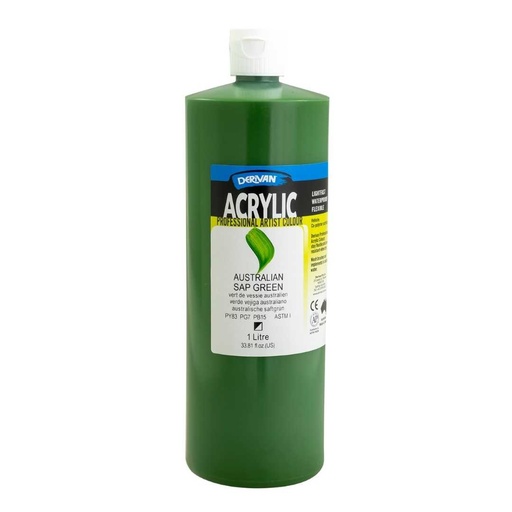 DERIVAN ACRYLIC 1LT AUSTRALIAN SAP GREEN
https://erp.derivan.com.au/shop/derivan-acrylic-australian-sap-green-1lt-7777
https://erp.derivan.com.au/web/image/product.template/7777/image_1920?unique=891c93e
(0 review)
Acrylic Paints / Professional Artist Acrylic Paint
Derivan Acrylic 1Lt Australian Sap Green: The Perfect Shade for Nature Lovers
Introduction to Australian Sap Green
Our Australian Sap Green is a rich, earthy hue that brings depth and life to your artwork. Ideal for professional artists, this 1Lt pot will keep your creativity flowing. This colour is your secret weapon for creating realistic landscapes or adding a touch of nature to any piece.
Colour Description: The Essence of the Australian Outdoors
Australian Sap Green is a deep, lush shade that perfectly captures the heart of the Australian outdoors. It's a colour full of life, echoing the vitality of the Australian wilderness. Whether painting a detailed landscape or adding a touch of green to your abstract masterpiece, this colour brings fresh air to any piece.
Colour Mixing Tips: Unleash the Potential of Australian Sap Green
Australian Sap Green is a versatile colour that can be mixed with various other hues to create a wide range of shades. Here are a few tips to help you get the most out of this vibrant colour:
Mix with Cadmium Yellow: When mixed with yellow, Australian Sap Green becomes a bright, lively green shade perfect for depicting sunlight filtering through leaves or grass under the bright summer sun.
Mix with Phthalo Blue: When combined with blue, it transforms into a deep, cool green ideal for painting shadows or deep forest scenes.
Mix with Pyrol Red or Burnt Sienna: 
Adding a red or Burnt Sienna to Australian Sap Green can help neutralise the colour, creating a more muted, naturalistic green perfect for painting more subdued or realistic scenes.
Mix with Titanium White: Adding white to Australian Sap Green creates a range of lighter, pastel greens that can be used to add highlights or depict softer, more delicate foliage.
Application Tips: Making the Most of Australian Sap Green
Our Australian Sap Green is a heavy-bodied acrylic that retains brush strokes and facilitates colour blending, making it ideal for impasto techniques. It's also highly pigmented, providing excellent coverage and allowing you to achieve vibrant, true-to-colour results.
When using Australian Sap Green, keep in mind that acrylics dry quickly. To extend the working time of your paint, consider using a palette-wetting spray or a stay-wet palette. You can also mix your paint with a slow-drying medium.
Safety and Clean Up: Easy and Safe to Use
Like all our acrylic paints, Australian Sap Green is non-toxic and water-based, making clean-up a breeze. Rinse your brushes and tools in warm water immediately after use. If the paint dries on your brushes, remove it using a brush cleaner and restorer.
Remember to always paint in a well-ventilated area and avoid contact with eyes and mouth. While our paints are non-toxic, they are not intended for use by children under the age of 3 without adult supervision.
Conclusion: Why Choose Australian Sap Green?
Whether you're a professional artist or a hobbyist, our Australian Sap Green is a versatile addition to your colour palette. Its vibrant hue and excellent blending properties make it a joy to work with, while its high pigment load ensures rich, lasting results. So why wait? Dive into a world of colour with our Australian Sap Green today!

Specifications
| | |
| --- | --- |
| Colour Group | Green |
| Colour | AUSTRALIAN SAP GREEN |
| Size | 1LT |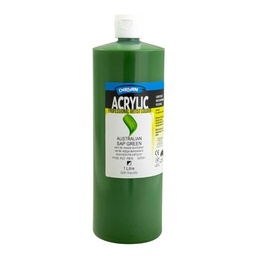 DERIVAN ACRYLIC 1LT AUSTRALIAN SAP GREEN
Not Available For Sale