DERIVAN ACRYLIC 75ML TITANIUM WHITE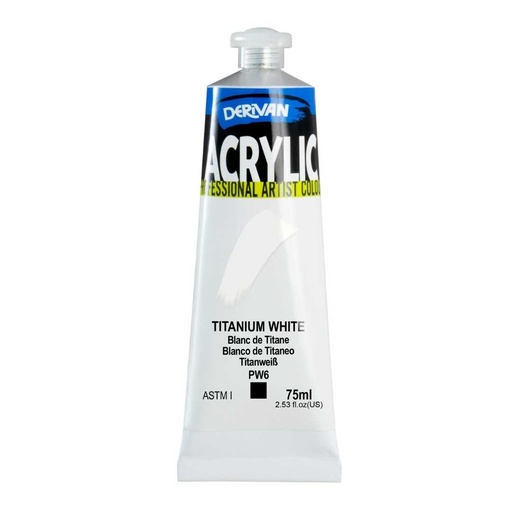 DERIVAN ACRYLIC 75ML TITANIUM WHITE
https://erp.derivan.com.au/shop/derivan-acrylic-titanium-white-75ml-7845
https://erp.derivan.com.au/web/image/product.template/7845/image_1920?unique=891c93e
(0 review)
Acrylic Paints / Professional Artist Acrylic Paint
Derivan's 75ml Titanium White Acrylic Paint: A Timeless Classic
If you're searching for high-quality acrylic paint, look no further than Derivan's 75ml Titanium White Acrylic Paint. Thanks to its exceptional pigment concentration and blending capabilities, this timeless classic is a must-have for every artist's collection. We offer many brush sets, art pads and surfaces, and acrylic mediums to complement your painting needs. Whether you're creating large-scale masterpieces or small sketches, our Titanium White paint guarantees consistent coverage and lasting vibrancy. So, if you're ready to unleash your creativity, keep reading. Looking for inspiration? Check out our painting project page. Unleash Your Creativity with 24 Vibrant Colours



Unleash Your Creativity with 24 Vibrant Colours
Derivan's professional acrylic paints come in 24 vibrant colours, including unique shades inspired by Australia. From Titanium White to Burnt Sienna, our colour range is designed to inspire. Lemon Yellow for your sunsets, Cobalt Blue for your oceans, and Australian Leaf Green for landscapes that breathe life. Our superior pigment concentration allows for brilliant blending and creativity in every stroke. Why settle for the ordinary when you can have the extraordinary?
Professional vs. Student-Grade Paints: Know the Difference
When you buy professional acrylic paint, you're investing in quality. Unlike student-grade paints, our professional range offers unparalleled application, mixing colour, clean-up, and removal of paint stains. Our colours are known for their lightfastness, performance, health, and safety. Whether you're a seasoned artist or a budding painter, our professional acrylic paints provide the consistency and quality you deserve.
Mastering Color Mixing with Titanium White: Tips and Techniques
Titanium White is a powerhouse when it comes to colour mixing. Its high opacity, and high tinting strength make it essential for lightening hues and creating tints. Want to soften a bold colour? A touch of Titanium White can do the trick. Mixing it with other shades can produce a broad spectrum of pastel tones, adding depth and dimension to your artwork. But remember, a little goes a long way! Start with a small amount and gradually add until you achieve the desired shade. Whether blending soft gradients or creating striking contrasts, Derivan's 75ml Titanium White Acrylic Paint offers the flexibility and control you need to master your colour palette.
Choosing the Right Size: From 75ml to 1L Options
How much paint will you need? That's a question every artist faces. With Derivan's Acrylic Paint, you have options to suit every project. Our 75ml Titanium White is perfect for smaller works or those experimenting with this essential shade. Need more? Our Titanium white 250ml size offers a generous amount for larger canvases or multiple pieces. For the prolific artist or those working on grand scales, our titanium white 1L option ensures you'll always have this versatile colour. Whether you're just starting or stocking your professional studio, Derivan offers the flexibility to choose the size that fits your artistic journey.

Specifications
| | |
| --- | --- |
| Colour Group | White |
| Colour | TITANIUM WHITE |
| Size | 75ML |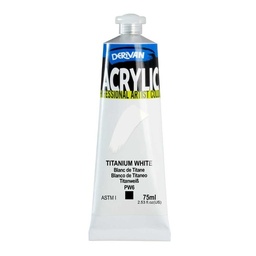 DERIVAN ACRYLIC 75ML TITANIUM WHITE
Not Available For Sale