DERIVAN FACE PAINT FAKE BLOOD 500ML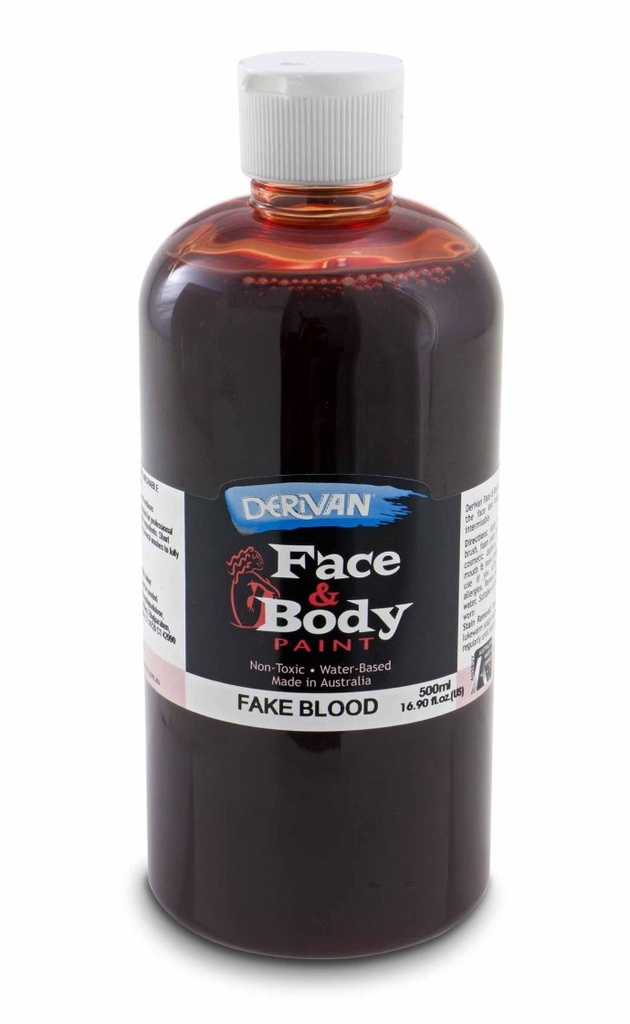 DERIVAN FACE PAINT FAKE BLOOD 500ML
https://derivan.com.au/shop/derivan-paint-fake-blood-500ml-8017
https://derivan.com.au/web/image/product.template/8017/image_1920?unique=891c93e
(0 review)
Face And Body Paint
Face And Body Paint / Fake Blood
Derivan Fake Blood 500ml: Because Size Does Matter
Regarding fake blood, 500ml of Derivan's is the sweet spot. Not too little that you're left wanting, not too much that you're drowning in the red stuff. It's the Goldilocks of fake blood sizes, and here's why.
The Perfect Balance Between Quantity and Quality
You might think all fake blood is created equal—until you try Derivan's 500ml bottle. This isn't your run-of-the-mill fake blood. It's a masterclass in realism, and with 500ml, you have ample room for creativity without the commitment of a larger size.
Elevate Your Look with Derivan Face Paint Projects
Already got your hands on our fake blood and love it? Why not take your makeup game to the next level with our specialised face paint projects? Unleash your inner Joker or transform into a Harley Quinn with vibrant colours that perfectly complement our fake blood range.

Explore Other Sizes for Every Occasion
Is 500ml the right fit? No worries. Derivan Fake Blood comes in various sizes to suit your every need. From pocket-sized vials to heavy-duty bottles, your fake blood requirements are covered.
Pocket Blood: The 12ml On-The-Go Solution
Need just a dab for that perfect vampire bite? Our 12ml Fake Blood is your portable friend for quick touch-ups. It's the perfect size to slip into your pocket or purse for those bloody emergencies.
Learn More About Fake Blood 12ml
Stepping It Up: The 36ml Bottle
Got a small project or a themed party? Our 36ml bottle offers just the right amount to get the job done without any waste. Ideal for first-timers or those who want to test the waters.
Discover the Fake Blood 36ml Bottle
The Versatile Choice: 135ml
For the hobbyist and aspiring special effects artist, the 135ml bottle gives you room to experiment. It's great for medium-sized projects requiring more than just a dab.
Check Out the Fake Blood 135ml Size
Go Big or Go Home: The 2L Bottle
Our 2L bottle is a fake blood bonanza for professionals and serious enthusiasts. Whether you're outfitting a zombie army or shooting a horror film, this size will not disappoint.
Explore the Fake Blood 2L Options
How to Get the Most Out of 500ml
A 500ml bottle offers the right amount for those more complex makeup projects or a small horror film shoot. You can apply it using fingers, sponges, and even cotton swabs. And guess what? The built-in nozzle ensures you get just the right amount where you need it, without spillage.
Gravity and Volume: A Love Story
One of the hidden gems of having a 500ml bottle is the control you get in the application. Need to simulate a wound on a lying subject? The nozzle and bottle size give you the power to make it look real, thanks to good ol' gravity.
Special Effects? Meet Your New Best Friend
For those who love to go big with splatter effects or layered wounds, this size allows for multiple applications without running out mid-project. Paired with a hairdryer on a low setting, your horror masterpiece will be dry in no time.
Safety and Cleanup Tips for the 500ml Size
Being a substantial size, you might get carried away with the application. Remember, while it's safe for skin, it's not for ingestion. 
Skin Stains? Sugar It Away!
Sometimes fake blood can leave a temporary stain on your skin. No need to panic! A couple of teaspoons of sugar mixed into your handwash can effectively rub away any lingering redness.
Protect Your Surroundings
Planning to go big with the 500ml or 2L sizes? A smart move is to apply it outdoors or in a well-ventilated area to minimise any accidental spills on your floor and furniture.
Why 500ml is the Smart Choice
Whether you're a pro-make-up artist or a Halloween enthusiast, the 500ml Derivan Fake Blood offers a balanced approach to realistic gore. It's the bottle you'll reach for when you want to go big but not too big.
So there you have it. Derivan Fake Blood 500ml: the choice for those who want to get it right from the start.

Specifications
| | |
| --- | --- |
| Colour Group | Red |
| Colour | FAKE BLOOD |
| Size | 500ML |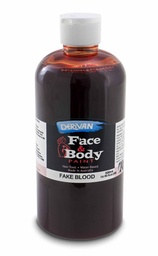 DERIVAN FACE PAINT FAKE BLOOD 500ML
Not Available For Sale