DERIVAN WOOD PANELS 30X30CM(12X12")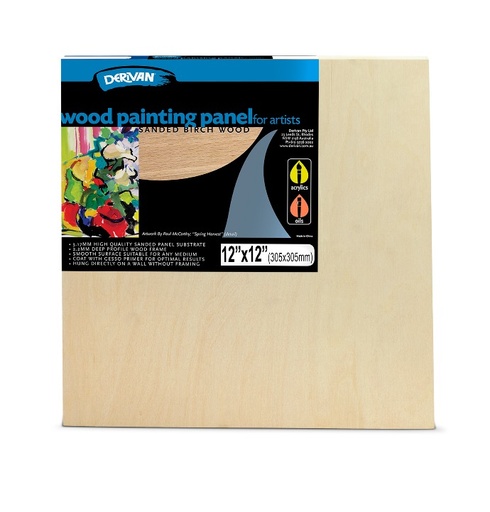 DERIVAN WOOD PANELS 30X30CM(12X12")
https://derivan.com.au/shop/derivan-wood-panels-30x30cm-12x12-13539
https://derivan.com.au/web/image/product.template/13539/image_1920?unique=891c93e
(0 review)
Wood Art Board 30 X 30 cm
Art Pads And Surfaces / Wooden Painting Panels
Derivan Wooden Painting Board: A Timeless Surface for Artists 30X30cm

​The 30X30cm Derivan Wood Painting Board is more than just a canvas—it's an invitation to creativity. Suitable for various painting and drawing techniques, this size provides stable and rigid support for prints, photos, canvas, or mixed-media works
Explore Our Range of Sizes


Quality You Can Feel: Sanded Birch Surface with Solid Pine Wood Frame
Featuring a 3mm sanded birch surface finished with a solid pine wood frame, our 30X30cm panels are carefully crafted for detailed work. Whether you're a beginner, hobbyist, or experienced artist, this size offers an affordable and stable substrate for all your artistic endeavours.
Versatility Unleashed: From Egg Tempera to Acrylics and Watercolours
Our classic wood panels are ideal for delicate media like egg tempera, encaustic, frescoes, or traditional acrylic, oils, collage, pastels, charcoal, and graphite. The stability and smoothness of this 30X30cm panel are perfect for mounting art paper for watercolour painting or finished watercolour artwork.
Optional Priming: Customize Your Panel's Surface
Choosing the right background for your art is as essential as the art itself. With Derivan's range of surface preparation products, you can personalize your panel to suit your artistic vision. Whether you're looking to create a smooth and traditional base with our gesso, explore the vibrant potential of watercolours with our specialized watercolour gesso, or unleash creativity with a writable surface using our innovative chalkboard paint, we have the tools you need. Visit our surface preparation page to discover the perfect foundation for your next masterpiece.
Historical Legacy: From Ancient Greece to the Modern Artist's Studio
Panel painting is familiar; it dates back to the 6th century in Greece, Egypt, and Rome. Wood was a preferred support medium until the 16th century. Our 30X30cm panel continues this tradition, offering a surface combining historical richness and modern quality.
Traditional Construction, Modern Convenience
Derivan's 30X30cm wood panel echoes the traditional construction of wood panels, minus the laborious process. We provide a smooth, hard surface that mimics ivory, ready for your artistic touch.
 Explore our range of sizes and find the perfect canvas for your masterpiece:
 DERIVAN WOOD PANELS 30X30CM (12X12"): A compact canvas for quick sketches and miniature masterpieces.
DERIVAN WOOD PANELS 30X30CM (12X12"): Perfectly square, and doubly so – a harmonious choice.
DERIVAN WOOD PANELS 30X30CM (12X12"): A versatile size for landscapes, portraits, and everything in between.
DERIVAN WOOD PANELS 30X30CM (12X12"): Your current adventure! Explore below.
DERIVAN WOOD PANELS 30X30CM (12X12"): Embrace symmetry with this equally proportioned panel.
From the hobbyist's favourite to the professional's go-to, we have a size that fits your style.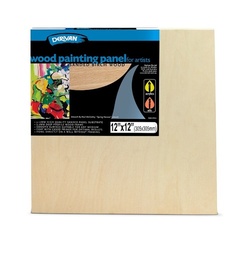 DERIVAN WOOD PANELS 30X30CM(12X12")
Not Available For Sale