FACE PAINT 36ML GLITTER CRYSTALINA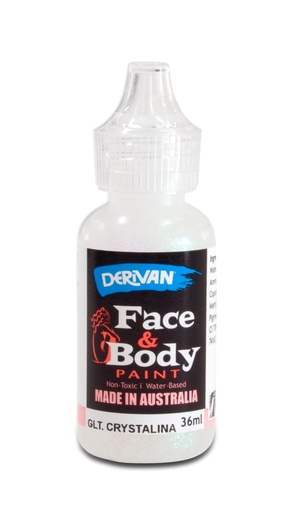 FACE PAINT 36ML GLITTER CRYSTALINA
https://derivan.com.au/shop/face-paint-glitter-crystalina-36ml-8073
https://derivan.com.au/web/image/product.template/8073/image_1920?unique=891c93e
(0 review)

DERIVAN
Face And Body Paint / Body Glitter
Experience the Magic of Crystalline Face Glitter
Unveil a world of enchantment with our Crystalline Face Glitter. Transform your look with the captivating charm of this exquisite glitter. Whether heading to a festival, or a glamorous party, or want to shine on any occasion, our Crystalline Face Glitter is your key to radiant beauty.
Discover the Brilliance of Crystalline Face Glitter
Indulge in the brilliance of Crystalline Face Glitter, available in a spectrum of captivating colours. 
Why choose our Crystalline Face Glitter:
Cosmetic-Grade Shimmer: Elevate your makeup game with our cosmetic-grade Crystalline Face Glitter, perfect for dazzling highlights and stunning accents.
Festival Fantasy: Embrace the festival season with our festival-ready Crystalline Face Glitter. Create mesmerising looks that stand out in the crowd.
Effortless Application: Applying Crystalline Face Glitter is a breeze. The built-in fine nib ensures precision and control for stunning detailing.
Long-Lasting Sparkle: Dance, celebrate, and shine all night. Our Crystalline Face Glitter is designed to stay vibrant for hours.
Skin-Friendly Elegance: Rest assured, our Crystalline Face Glitter is dermatologist-tested and hypoallergenic, ensuring safe and comfortable wear.
Gentle Removal: When the party's over, a gentle cleanse with water effortlessly removes the magic, leaving no traces behind.
Explore the Body Glitter Collection 
Dive into the world of shimmering possibilities with our Crystalline Collection. Each shade is a unique gem that allows you to express your style, whether it's the sophistication of Crystal Diamond, the allure of Crystal Sapphire, or the playfulness of Crystal Rose.
Your Radiant Journey Begins Here
Discover the Shades of Derivans Face and Body Glitters
Explore our Crystalline Collection, where each shade is a unique gem that allows you to express your style. Choose from a palette that includes:
Crystalina: face and body glitter: A dazzling crystals 
Unleash your inner sparkle with a Crystalline Face Glitter. Illuminate your features, capture attention, and define your beauty with elegance. Choose the shade that resonates with your mood, and watch the world become enchanted by your radiance.

Specifications
| | |
| --- | --- |
| Colour Group | Clear |
| Colour | GLITTER CRYSTAL |
| Size | 36ML |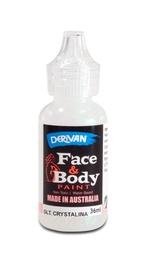 FACE PAINT 36ML GLITTER CRYSTALINA
Not Available For Sale