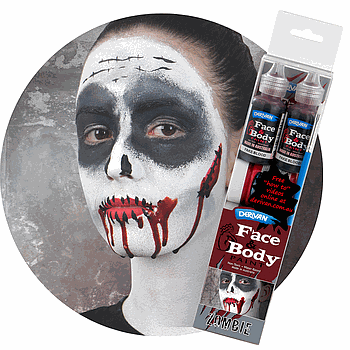 FACE PAINT SET ZOMBIE
https://erp.derivan.com.au/shop/face-paint-set-zombie-9206
https://erp.derivan.com.au/web/image/product.template/9206/image_1920?unique=11be6df
(1 review)
Zombie face painting ideas
Art Sets And Kits / Face And Body Paint Sets
Face And Body Paint / Face And Body Paint Sets
Crafting the Perfect Zombie Face: It's Easier Than You Think
What sets our face paint apart? It's as easy to apply as it is to scare the living daylights out of your neighbour's Chihuahua. Our kit has everything you need for an easy zombie face paint experience: white, yellow, and red water-based paint, two containers of fake blood, and a sponge and fine brush for easy Looking for more inspiration check out our face paint projects 
Non-Toxic, Water-Based, and Easy to Clean
We get it; life as a zombie can be messy. But clean-up doesn't have to be a nightmare. Our water-based, non-toxic face paint washes off as easily as it goes on. No need to fear the dawn; simply wash off your gory glory with water.
Face Paint Zombie Looks for Every Occasion
Whether it's Halloween, a themed party, or you're just prepping for the inevitable zombie apocalypse, we've got you sorted. Our kit even comes with a handy set of instructions for creating three jaw-dropping zombie looks.
What's Inside Your Ultimate Zombie Transformation Kit
Included in the Zombie Set are essential colours of face paint—white, red, and black—and two 36ml containers of Derivan's signature fake blood for that extra gore factor. To make application a breeze, the kit also comes with a sponge applicator and a pair of brushes.
Green Zombie Face Paint: For the Eco-Friendly Zombie
While our kit comes with primary colours, we've got to shout out the popular choice for that sickly, rotten look—green zombie face paint. All you need extra is a 40ml green face paint to your basket, and you can make any zombie you like 
Zombie Transformation Made Easy: Our All-Inclusive Face Paint Set
Regarding zombie transformations, our Zombie Face Paint Set has you covered—literally. With ample-sized 40ml tubes and specialised tools, becoming the living dead has never been easier or more convincing!
What's Inside:
FACE PAINT 40ML - WHITE: Your base for that hauntingly pallid complexion.
FACE PAINT 40ML - RED: Ideal for gruesome wounds and bloody effects.
FACE PAINT 40ML - BLACK: Perfect for hollowed eyes and decaying features.
DERIVAN FACE PAINT 36ML - FAKE BLOOD: A lifelike finishing touch for your undead look.
SPONGE - SQUARE SPONGE: For even application and blending.
FACE PAINT BRUSH - DERIVAN CHISEL FACE PAINT BRUSH: For precise lines and details.
FACE PAINT BRUSH - DERIVAN ROUND FACE PAINT BRUSH: For smaller, intricate designs.
Why Our Zombie Set is a No-Brainer:
🧟 All-Inclusive: Everything you need, all in one set.
🩸 Realistic Fake Blood: So convincing, you'll scare yourself.
🎨 Quality Brushes: Specialised tools for a professional look.
🌱 Skin-Friendly: Designed with your skin's safety in mind.
Unleash your inner zombie today with our all-inclusive Zombie Face Paint Set!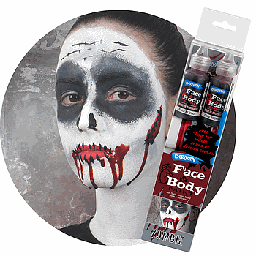 FACE PAINT SET ZOMBIE
Not Available For Sale