FACE PAINT STENCIL AUSSIE SINGLE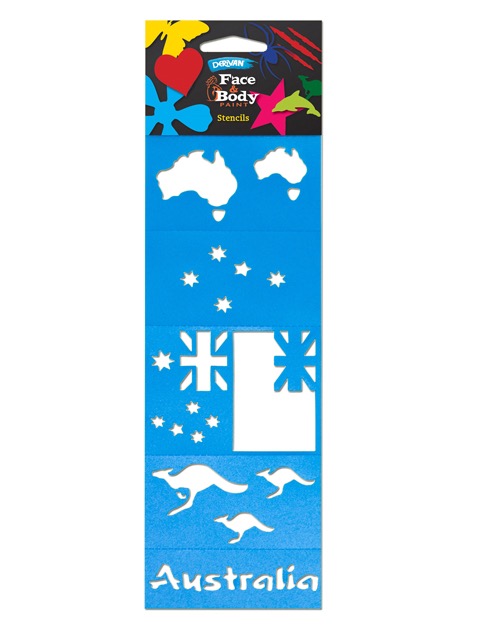 FACE PAINT STENCIL AUSSIE SINGLE
https://erp.derivan.com.au/shop/face-paint-stencil-aussie-single-13477
https://erp.derivan.com.au/web/image/product.template/13477/image_1920?unique=891c93e
(0 review)
Face And Body Paint / Stencils
Transform Your Face Painting Game with Aussie Supporter  Stencils
Why settle for the ordinary when you can have extraordinary? Our face painting stencils offer a plethora of designs to suit every imagination. We've got you covered whether you're in the mood for animal adventures, heart-filled expressions, mystical fairies, Celtic intricacies, animal stencils or spine-chilling Halloween themes. And let's not forget—our stencils are proudly Australian-made.

Show Off Your Aussie Pride with Our Supporter Stencils
From Flags to Kangaroos: A True Blue Aussie Collection
Why go with the run-of-the-mill when you can go full Aussie? Our Supporter face painting stencils are all about celebrating Australia. These stencils are your go-to for any Aussie-themed event, featuring iconic designs like the national flag, kangaroos, maps of Australia, and the Southern Cross. And yes, they're made with love and pride in Australia.
Stencils for Every Aussie, Artist or Not
Do you think you need to be a pro to get in on the face-painting fun? Think again! Our Aussie Supporter stencils are designed for easy use, making them perfect for first-timers and seasoned artists. Line up the stencil, dab on your favourite face paint, and unveil your Aussie masterpiece. Easy as!
Why Choose Our Aussie Supporter Stencils?
Quick as a Kangaroo. We know time is of the essence, especially when you've got a line of eager little Aussies waiting. Our stencils are designed for speedy application, so you can get more faces painted in less time.
Dinky-Di Quality We're not about cutting corners—quality is our commitment. Crafted from durable, skin-friendly materials, our stencils are easy to clean and built to last. So go on, let your Aussie spirit shine!
Exclusive, Unique Designs Stand out from the crowd with our exclusive range of designs. From fairy-themed stencils to unique Australian motifs, we offer something for everyone, making your face-painting experience truly one-of-a-kind.
Perfect Pairing: Our Spouncer Set and Face Painting Stencils
Looking to elevate your face painting experience? Say hello to our Spouncer set—the perfect companion to our diverse range of face painting stencils. Designed for precision and ease, our Spouncer set allows you to apply paint effortlessly, ensuring crisp lines and vibrant colors every time. Whether you're filling in the intricate details of a fairy wing or adding the finishing touches to a roaring lion, this dynamic duo makes face painting a breeze. It's the ultimate toolkit for artists of all levels, making your creative journey as enjoyable as the end result.
Flags, Kangaroos, and Maps, Oh My! The Ultimate Aussie Stencil Collection
When showing off your Aussie pride, nothing does it better than our Supporter face painting stencils. This collection is about Australia, featuring iconic designs like our national flag, the beloved kangaroo, detailed maps of Australia, and the celestial Southern Cross. It's the perfect way to wear your Aussie heart on your sleeve—or your face! And of course, each stencil is crafted with love and pride in Australia.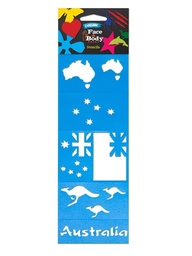 FACE PAINT STENCIL AUSSIE SINGLE
Not Available For Sale