FACE PAINT STENCIL CELTIC SINGLE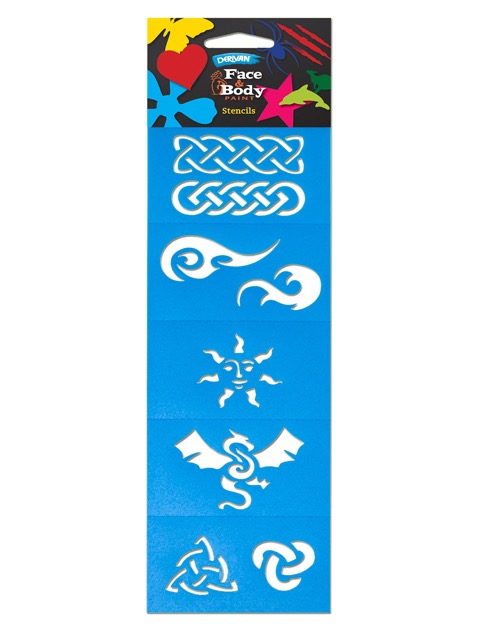 FACE PAINT STENCIL CELTIC SINGLE
https://derivan.com.au/shop/face-paint-stencil-celtic-single-13479
https://derivan.com.au/web/image/product.template/13479/image_1920?unique=891c93e
(0 review)
Face And Body Paint / Stencils
Transform Your Face Painting Game with our Celtic Face Paint stencils. 
Why settle for the ordinary when you can have extraordinary? Our face painting stencils offer a plethora of designs to suit every imagination. We've got you covered whether you're in the mood for animal adventures, heart-filled expressions, mystical fairies, animal stencils or spine-chilling Halloween themes. And let's not forget—our stencils are proudly Australian-made.

Embrace the Mystic with Our Celtic Face Painting Stencils
From Knots to Spirals: A Collection Steeped in Tradition
Why settle for ordinary when you can go timeless? Our Celtic face painting stencils tap into ancient designs to bring a touch of magic to any event. Featuring iconic motifs like Celtic knots, spirals, and triquetras, this set is perfect for those who appreciate age-old beauty. And yes, each stencil is intricately crafted in Australia.
Stencils for Every Enthusiast, Beginner to Druid
You don't need to be a scholar in Celtic art to engage in the face-painting fun. Our Celtic stencils are designed for easy application, making them suitable for novices and seasoned artists alike. Just align the stencil, apply your preferred face paint, and reveal your Celtic masterpiece.
Why Choose Our Celtic Face Painting Stencils?
Swift as a Gaelic Wind. Time's precious, especially when you're stepping back in time. Our stencils are designed for quick application, letting you paint more faces in less time.
Quality Craftsmanship. No shortcuts here—our commitment to quality ensures durable, skin-friendly materials that are easy to clean and designed to last. Experience the magic!
Unique, Timeless Designs. Stand out with our exclusive range of Celtic designs. From ancient knots to mystical spirals, we offer something for everyone, making your face-painting journey truly enchanting.
The Perfect Synergy: Our Spouncer Set and Celtic Face Painting Stencils
Looking to elevate your mystical face-painting experience? Our Spouncer set is the perfect companion to our Celtic face painting stencils. Designed for precision and ease, the Spouncer set enables smooth paint application, ensuring intricate lines and vivid colors every time. Whether you're detailing a complex knot or a simple spiral, this combo makes face painting a magical experience.
Knots, Spirals, and Triquetras, Oh My! The Ultimate Celtic Stencil Collection
When it comes to traditional artistry, our Celtic face painting stencils offer an unparalleled experience. This collection captures the spirit of ancient Celtic designs, featuring motifs like intricate knots, spirals, and triquetras. It's the perfect way to wear your love for Celtic culture on your face. And of course, each stencil is meticulously crafted in Australia.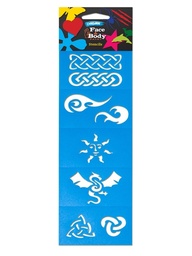 FACE PAINT STENCIL CELTIC SINGLE
Not Available For Sale