FACE PAINT 250ML WHITE
https://erp.derivan.com.au/shop/face-paint-white-250ml-8068
https://erp.derivan.com.au/web/image/product.template/8068/image_1920?unique=891c93e
(0 review)
Face And Body Paint
Face And Body Paint / Face And Body Paint
Derivan's 250ml White Face Paint | More Face Paint, More Creativity
Step into a world of limitless artistic opportunities with Derivan's 250ml White Face Paint. Specifically formulated for performances, group events, or any occasion that calls for a burst of creative flair, this larger volume ensures you will always have inspiration.
👩‍🎨 Need Some Artistic Guidance?
Make sure to check out our Face Paint Project Page for a treasure trove of project ideas, how-to guides, and artistic tips that will take your face painting to the next level. Get inspired now! 🌈

🤔 Love the Quality but Need Less Quantity?
If our 250ml jar feels like a bit too much for your needs, don't worry—we've got you covered. Check out our 40ml White Face Paint for the same vibrant colours, exceptional coverage, and safety compliance in a smaller package. Perfect for those one-off events or smaller gatherings. Discover the quality of Derivan in a size that fits your needs. 🌟
🛡️ Your Safety, Our Priority
Proudly crafted in Australia and fully Australian-owned, Derivan Face & Body Paint meets and exceeds stringent governmental standards, including both Australian and EC cosmetic regulations, as well as the Australian Standard 1647.3. You can paint with confidence, knowing there are zero hidden harmful substances or toxic pigments in our product
An Expanded Palette Awaits
Why stop at just white? Our 250ml jars also come in a dazzling array of colours, from electrifying brights to luxurious metallics, giving you a full spectrum of artistic choices.
Australian Craftsmanship, Global Standards
Handcrafted with pride in Australia, every jar of our face paint goes through rigorous quality assessments to ensure it exceeds both local and global safety benchmarks.
The Artist's Advantage: Experience the Derivan Quality
Drawing upon our experience in creating the Matisse range of fine art acrylics, our 250ml White Face Paint promises vibrant hues, superior coverage, and a formula that's easy to remove.
🎭 Go Big or Go Home: Our 250ml size is perfect for bigger events and performances.
🌈 Artistic Freedom: A spectrum of colours to complement the classic white.
🇦🇺 Aussie Craftsmanship: Quality and safety, Aussie-style.
🛡️ Safety Net: EN71-3 compliance for ultimate peace of mind.
💡 Limitless Creativity: With 250ml at your disposal, the sky's the limit.
So why settle for less? Elevate your art with Derivan's 250ml White Face Paint and let your creativity know no bounds! 🌟

Specifications
| | |
| --- | --- |
| Colour Group | White |
| Colour | WHITE |
| Size | 250ML |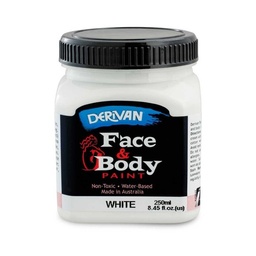 FACE PAINT 250ML WHITE
Not Available For Sale