FACE PAINT 40ML WHITE
https://erp.derivan.com.au/shop/face-paint-white-40ml-8099
https://erp.derivan.com.au/web/image/product.template/8099/image_1920?unique=891c93e
(0 review)
White Facepaint 40ml Jar

DERIVAN
Face And Body Paint
Face And Body Paint / Face And Body Paint
White Face Paint 40mls | Derivan
Perfect for the Stage, Safe for Play

Key Features 🌟
🎭 Perfect for theatre and parties
🌈 Wide range of colors
🇦🇺 Australian-Made
🎨 Artist-quality hues and coverage
🛡️ EN71-3 safety standard compliant
Your Face, Your Canvas


Why Choose Derivan?
When it comes to face paint, Derivan offers a full spectrum of possibilities. But if you find that 40mls just isn't enough for your grand visions, don't worry—we've got you covered with our larger 250ml White Face Paint jars. Perfect for more significant events or when you can't get enough of a good thing! Plus, if you're searching for inspiration, be sure to visit our extensive Face Paint Project for endless creative ideas.
Where Art Meets Assurance
Whether you're stealing the limelight or adding fun to a children's gathering, our White Face Paint's vivid coverage and effortless application will surely win hearts.
Colours That Pop
Why stop at white? Derivan's palette extends far beyond, offering bright hues, metallic finishes, and sparkling glitters. Your creative journey knows no bounds.
100% Australian-Made & Quality-Tested
Crafted with pride in Australia, our face paints undergo comprehensive quality tests to ensure they meet and exceed your expectations.
The Derivan Edge: From Artists, For Artists
Drawing from our expertise in creating the Matisse range of professional acrylics, every jar of Derivan face paint offers vibrant colours, exceptional coverage, and easy wash-off.
With Derivan's White Face Paint 40mls, you're not just buying a product but investing in a promise of quality, safety, and endless creativity. So go ahead, let your imagination soar; we've got the safety bit well and indeed covered.
🎭 Be the Star of the Show: Our White Face Our White Face Paint is your ticket to the spotlight, whether it's a theatre performance or a birthday bash.
🌈 Color Your World: Derivan offers a spectrum of colours to fuel creativity, from brights and metallics to sparkling glitters.
🇦🇺 Australian-Made Excellence: Crafted right here in Australia, each jar of face paint meets rigorous quality and safety standards.
🎨 Artist's Choice: Inspired by our Matisse range of professional acrylics, expect vibrant hues and excellent coverage.
🛡️ Safety First: Adhering to the EN71-3 standard, our face paint ensures peace of mind, letting you focus on the fun.
💡 Your Imagination, Unleashed: With Derivan's White Face Paint 40mls, the only limit is how far your creativity can take you.
So dive into a world of colour and imagination with Derivan's White Face Paint 40mls. Your next masterpiece awaits! 🌟
Why Choose Derivan Face Paint White 40ml?
Are you wondering why Derivan Face Paint White 40ml is the ideal choice for your creative endeavors? Let us paint you a picture of why:


Australian-Made Excellence
All our products, including the Face Paint White 40ml, are proudly Australian-made and Australian-owned. We uphold the highest manufacturing standards, adhering to government regulations and requirements, including Australian and EC cosmetic regulations, and Australian Standard 1647.3.
Safety and Purity
With Derivan Face Paint White 40ml, there are no hidden nasties or toxic pigments. We prioritize safety, especially when it comes to sensitive young skin.
The EN71-3 Standard
As of July 2013, a new global standard for face paint safety, known as EN71-3, was introduced via the Toys Safety Directive. This standard ensures that toxic materials used in the manufacturing of products, including face paints, are limited to safe levels, especially in products meant for children.
A Step Above Previous Standards
The EN71-3 standard goes beyond previous regulations. While harmful ingredients have long been regulated in children's products, these new regulations require even lower toxicity levels. This standard covers more than paint and toys; it extends to products used on the skin.
Derivan's Commitment
Derivan Face & Body Paint White 40ml has met and exceeded the conditions set by the EN71-3 standard. When you choose Derivan Face and Body Paint products, you can trust that you're using a quality Australian-made range that adheres to the highest, most recent national and international safety standards.



Specifications
| | |
| --- | --- |
| Colour Group | White |
| Colour | WHITE |
| Size | 40ML |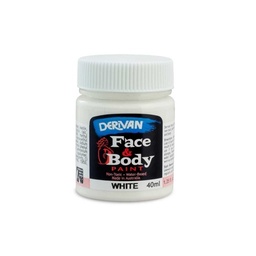 FACE PAINT 40ML WHITE
Not Available For Sale