HORSE ANTI CRIBBING PAINT 10LT BLACK GLOSS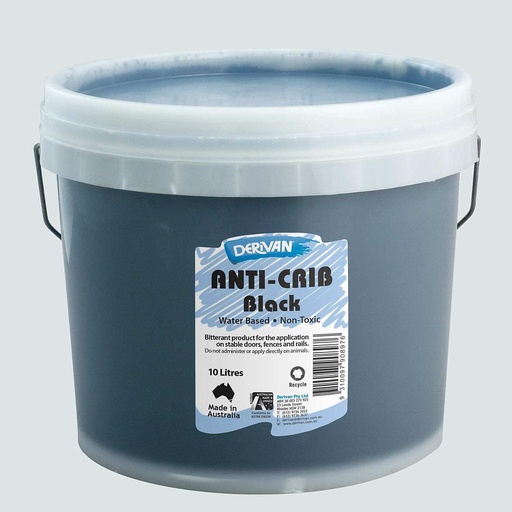 HORSE ANTI CRIBBING PAINT 10LT BLACK GLOSS
https://derivan.com.au/shop/horse-anti-cribbing-paint-black-gloss-10lt-8115
https://derivan.com.au/web/image/product.template/8115/image_1920?unique=891c93e
(0 review)
BUY BLACK ANTI CRIB PAINT 
 Derivan black Anti Cribbing paint has an environmentally preferable water-based formula of bitterants and a naturally derived oleoresin.
How To Apply Black Anti Cribbing Paint 
Derivan black Anti Crib Paint can be used straight from the container. It does not need to be thinned or diluted with water. The product must be thoroughly stirred before use and can be applied to stable doors and fences with a standard paintbrush, roller or spray gun. Also, Derivan AntiCrib is a great way to prevent tree chewing on your property, the best method is to apply with a spray gun.  Protective clothing and equipment must be worn when spraying. Do not administer or apply directly on animals.
Surface Preparation
Derivan AntiCrib paint is only suitable for application over raw wood, as the anti cribbing ingredients need to penetrate the surface in order to be effective. If the surface is already painted, any loose, flaking paint will need to be removed. Unpainted surfaces do not require sanding or priming.
New timber must also be exposed to the elements for approximately 4-6 weeks to encourage the release of any resins, oils or excess moisture, all of which may hinder the absorption of Derivan AntiCrib. Surfaces should be clean and free of dust and any plant materials.  As the fence must also be as dry as possible, we recommend a waiting period of at least four weeks after heavy rain and avoid applying during wet or humid seasons.
Wood freshly painted with oil-based paints cannot be coated with Derivan AntiCrib Paint as the paint will not adhere correctly to the surface. The only exception is if the timber has been
Drying Time
Derivan Anti-Crib will take approximately 6 hours before re-coating under normal conditions, although additional coats are best applied after 24 hours. Horses can be exposed to the painted finish 24 hrs after application. Once dried, it will not wash or rub off.
Cleaning up
This product is easily cleaned up with soap and water. However, for a superior clean, we recommend the use of Derivan Brush & Hand Cleaner.  
About Us 
We are a second-generation family business and have been proudly making paint here at the Derivan Factory for over 50 years – located in Rhodes, Sydney Australia. We are never out of stock as we make it on site.
 
Where do we ship to?
Online ordering is only available in Australia at the moment for international orders please contact us @ [email protected]
 
What payment methods do you accept for online orders?
 
We accept Visa and MasterCard on our website.
Our sales staff can also process other payment types manually, contact us and we can do your order over the phone.  
 
How can I track my internet order 
Our staff will be more than happy to provide you with a tracking number, call us on 02 97362022 or email us with your order number and we will send you your tracking number.
 
When will my order be dispatched?
For all orders received before noon, your order is dispatched the same day and next day after 12 pm. It is the utmost importance to get your order to you as swiftly as possible.
 
Is your product Australian Made?
All our paint is made here on-site at the Derivan Factory our customers are often surprised to hear that we manufacture our paint in Australia. Yes, it is proudly Australian made, and you can be confident your online order is factory fresh with quality raw materials.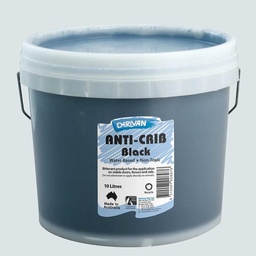 HORSE ANTI CRIBBING PAINT 10LT BLACK GLOSS
$ 

378.00

$ 

378.00
$ 

171.82
Not Available For Sale