Face And Body Paint / 12ml Applicator Tubes
FACE PAINT APPLICATOR
These Derivan Face and Body Supporter Sticks are Australian-owned and made, using the highest quality cosmetic ingredients.  Quick to apply by adults and children alike. No mess or extra tools are necessary (although you can use a brush or sponge to get creative).
With this new unique 12ml applicator, you can get fast, easy supporter designs in minutes. Derivan Face and body paint conform to the highest and all Australian regulations, standards and requirements for cosmetic products.
Derivan Face Paint is non-toxic and safe to use on children. The range is full of bright, vibrant colours with superior coverage that dry quickly and wash off easily in warm soapy water. NB suitable clothing should be worn as some staining may occur.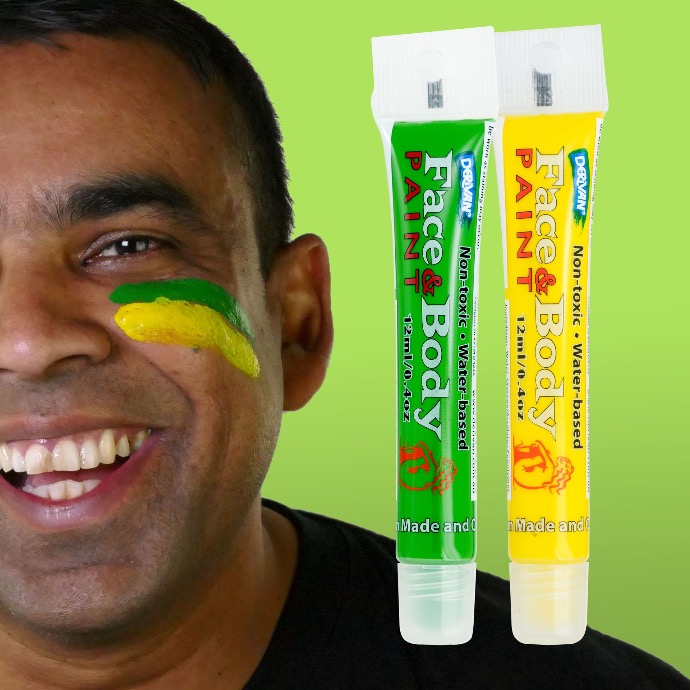 Looking for Face Paint Inspiration?
 Creating a face-paint project using our step-by-step tutorials can be finished in minutes, and we provide plenty of inspiration on ourFace Paint Projects page. Designed for When you don't have the time or inspiration for a fresh look, Using our tutorials, you can get inspiration and design your own face-paint projects at home.