DERIVAN WATERCOLOUR 12ML PURPLE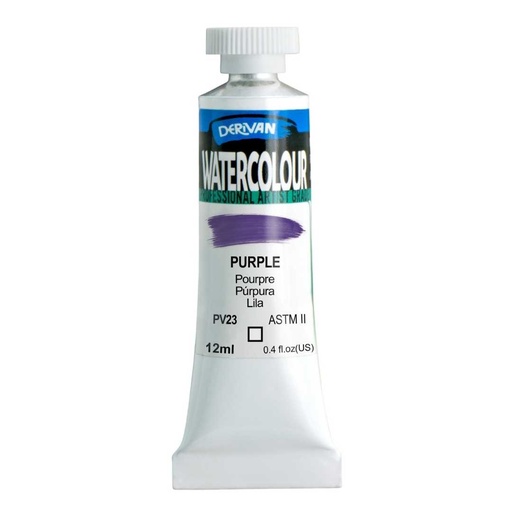 DERIVAN WATERCOLOUR 12ML PURPLE
https://erp.derivan.com.au/shop/derivan-watercolour-purple-12ml-13523
https://erp.derivan.com.au/web/image/product.template/13523/image_1920?unique=891c93e
(0 review)
Watercolour / Watercolour Paints
Enter the Realm of Purple Watercolour: A Royal Palette Awaits
Elevate Your Art with Purple Watercolour
Hey artists and creators! Want to dabble in the color of royalty? Our Purple Watercolour, available in 12ml tubes, is the crowning glory of your palette. Need more artistic ventures? Don't forget our Painting Project Page.
Complete Your Watercolour Journey with Our Quality Supplies
Searching for a comprehensive watercolour experience? Look no further! Our wide range of Watercolour Palettes, Watercolour Sets, and Watercolour Brushes covers you. Perfect for artists at any level, these quality supplies will elevate your watercolour game.
Discover the Artistic Potential of Purple Watercolour - The Must-Have for Every Artist
Why is Purple Watercolour Paint with Pigment Number PV23 So Unique?
Regarding artistic expression, our Purple Watercolour Paint (Pigment Number PV23) is more than just a colour; it's an experience. This pigment has gained an almost cult-like following among artists for its rich, versatile, and unadulterated shade.
The Science Behind Our Purple Watercolour
Our Purple Watercolour features the Pigment Number PV23, a powerhouse in the world of colourants. Its ASTM II Lightfastness Rating ensures that your artwork stands the test of time, while its transparent nature offers an unmatched depth and luminosity.
The Versatility of Purple in Modern Art
In an era where artists have an almost overwhelming array of colours, Purple remains a cornerstone. It's not just about the hue; it's about its capacity to warm blue pigments and tone whites in various applications—from plastics and textiles to house paints and automotive coatings.
Colour Mixing Magic with Purple
Elevate your colour palette by mixing Purple with other shades from our watercolour range. Purple is the ideal base whether you're aiming for softer lavenders or eye-catching magentas. Mix it with Ultramarine Blue watercolour for a cooler tint, or enhance its warmth with Magenta water colour 
A Color With History
Before the abundance of pigments we see today, artists had to make do with limited choices. Purple has defied those limitations to become an industry standard, especially since the Impressionists began using it to create brighter, more dynamic shadows in their artwork.
Why Choose Our Purple Watercolour?
An artist's choice of colour is never random, and with our Purple Watercolour, you're not just choosing a shade but a legacy. Not all purples are created equal, and ours sits at the top end of ASTM II colours, making it a pigment you can use confidently.  Rich in pigment and eco-friendly, it's your palette's royal decree.

Purple Watercolour: The Royal Hue in Art History
From Byzantine mosaics to modern canvases, Purple Watercolour has been a symbol of luxury and imagination throughout art history.
Questions About Purple? We've Got Royal Replies!
Got inquiries about Purple Watercolour or any of our other majestic hues? Email us at [email protected].
Specifications
| | |
| --- | --- |
| Colour Group | Purple |
| Colour | PURPLE |
| Size | 12ML |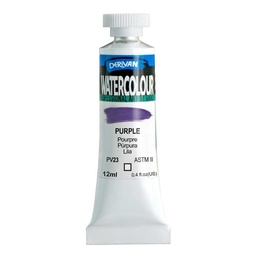 DERIVAN WATERCOLOUR 12ML PURPLE
Not Available For Sale