FACE PAINT 40ML METALLIC GOLD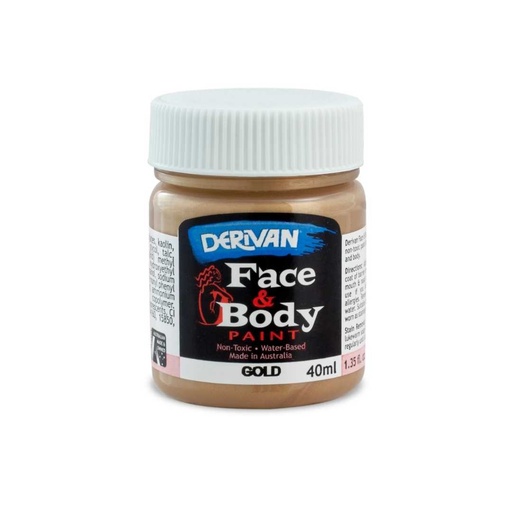 FACE PAINT 40ML METALLIC GOLD
https://erp.derivan.com.au/shop/face-paint-metallic-gold-40ml-8093
https://erp.derivan.com.au/web/image/product.template/8093/image_1920?unique=891c93e
(0 review)
Metallic Gold Facepaint 40ml Jar

DERIVAN
Face And Body Paint
Face And Body Paint / Face And Body Paint
Metallic Gold Face Paint 40mls | Derivan
Shimmer and Shine in Liquid Gold

Key Features 🌟
🎭 Perfect for luxurious and glamorous events
🌈 Glimmering color variety
🇦🇺 Proudly Australian-Made
🎨 Lustrous pigment quality
🛡️ EN71-3 safety standard compliant
Glow Like Gold with Derivan
Why Derivan Metallic Gold?
Transform into a golden goddess or a shimmering knight with Derivan Metallic Gold Face Paint. More glam needed? We've got gold face paint 250ml jars!
Golden Opportunities
Elevate any look with the opulent and radiant shades of our Derivan Metallic Gold Face Paint. check our our face paint project page for inspiration 
A Spectrum of Brilliance
Derivan's color range extends beyond gold. Shine in every hue!
Quality Meets Glamour
Crafted in Australia, our face paints are quality-tested to meet the highest standards.
Luxe in Every Jar
Inspired by our Matisse range, expect colors that dazzle and coverage that impresses.
Derivan's Golden Promise
With our Metallic Gold Face Paint, you're investing in quality, safety, and endless shimmer.
🎭 Be the Golden Star: Shine bright with the glamour of Derivan Metallic Gold.
🌈 Dazzling Palette: From metallics to mattes, Derivan offers a world of options.
🇦🇺 Aussie Excellence: Crafted and tested locally for top-tier quality.
🎨 Artist's Dream: Expect luxurious pigmentation and striking effects.
🛡️ Safety & Shine: EN71-3 certified for your peace of mind.
💡 Glimmer & Glow: With Derivan Metallic Gold, your creative sparkle knows no limits.


Elevate Your Artistry with Metallic Gold Face Paint 40ml by Derivan
Let's explore why Derivan Metallic Gold Face Paint 40ml is the perfect choice for adding a touch of elegance to your creative projects:


Proudly Australian-Made
Derivan embodies Australian craftsmanship at its finest. As an Australian-owned brand, we adhere to the highest manufacturing standards. Our products, including Metallic Gold Face Paint 40ml, strictly comply with government regulations, including Australian and EC cosmetic regulations, and Australian Standard 1647.3.
Safety and Purity
Safety is paramount, especially for delicate skin. Derivan Metallic Gold Face Paint 40ml contains no hidden nasties or toxic pigments, ensuring a safe and enchanting artistic experience.
Embracing the EN71-3 Standard
In July 2013, the Toys Safety Directive introduced the EN71-3 global standard for face paint safety. This standard ensures that toxic materials in products, such as face paints, are kept within strict limits, especially in items designed for children.


Setting New Safety Standards
The EN71-3 standard sets higher safety standards compared to previous regulations. It demands even lower levels of toxicity and extends its reach to encompass a broader range of products, including those applied directly to the skin.
Derivan's Dedication
Derivan Metallic Gold Face Paint 40ml exceeds the conditions set by the EN71-3 standard. When you choose Derivan, you select a product that aligns with the most recent national and international safety standards.


Artistic Brilliance
Derivan's legacy in creating professional artist-quality acrylics in the Matisse range shines through in our Metallic Gold Face Paint 40ml. It offers a stunning, shimmering gold shade with exceptional coverage, quick drying, and effortless removal with warm soapy water.
With Derivan Metallic Gold Face Paint 40ml, you're not just choosing a color; you're choosing safety, quality, and the radiant world of Australian artistry.

Specifications
| | |
| --- | --- |
| Colour Group | Gold |
| Colour | METALLIC GOLD |
| Size | 40ML |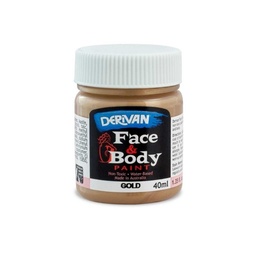 FACE PAINT 40ML METALLIC GOLD
Not Available For Sale