FACE PAINT 40ML METALLIC SILVER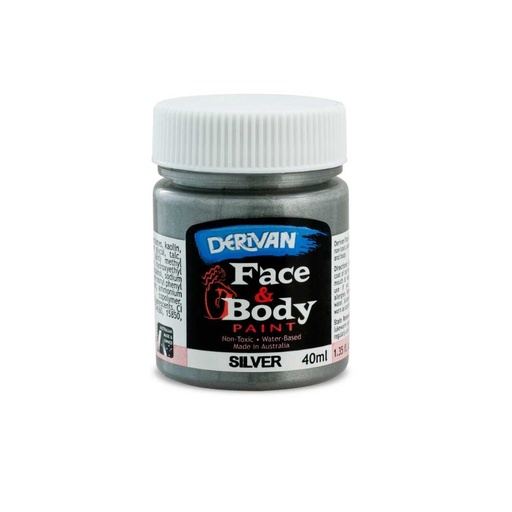 FACE PAINT 40ML METALLIC SILVER
https://erp.derivan.com.au/shop/face-paint-metallic-silver-40ml-8095
https://erp.derivan.com.au/web/image/product.template/8095/image_1920?unique=891c93e
(0 review)
Metallic Silver Facepaint 40ml Jar

DERIVAN
Face And Body Paint
Face And Body Paint / Face And Body Paint
Metallic Silver Face Paint 40mls | Derivan
Step into the Spotlight with Liquid Luster

Key Features 🌟
🎭 Ideal for futuristic and cosmic themes
🌈 High-shine metallic finish
🇦🇺 Proudly Made in Australia
🎨 Lustrous pigmentation
🛡️ EN71-3 safety standard compliant
Shine Like a Star with Derivan Metallic Silver
Why Derivan Metallic Silver?
Get ready to dazzle, whether you're going cosmic or keeping it sleek. Need more shine? Opt for our metallic silver face paint 250ml jars!
Futuristic Flair
Elevate your creative game with the sleek and modern shades of our Derivan Metallic Silver Face Paint.
Unlimited Shades of Glam
Derivan offers a galaxy of colors, not just silver. Your creative journey has no bounds.
Quality You Can Trust
Formulated in Australia, our face paints are subjected to strict quality control.
Luxe and Luster
Inspired by our Matisse range, experience colors that captivate and coverage that endures.
Derivan's Silver Lining
Our Metallic Silver Face Paint isn't just a product; it's a promise of quality, safety, and infinite creativity.
🎭 Go Galactic: Ignite your imagination with the sleekness of Derivan Metallic Silver.
🌈 Shine in Every Hue: From metallics to mattes, Derivan offers endless possibilities.
🇦🇺 Aussie Crafted: Manufactured and tested locally for unparalleled quality.
🎨 Artist's Paradise: Expect high-shine pigments and lasting impact.
🛡️ Safety and Shine: Rest easy with our EN71-3 certified safety standards.
💡 Spark Your Creativity: With Derivan Metallic Silver, the sky—or galaxy—is the limit!
Elevate Your Creations with Metallic Silver Face Paint 40ml by Derivan
Let's explore why Derivan Metallic Silver Face Paint 40ml is the perfect choice for adding a touch of sophistication to your artistic projects:
Proudly Australian-Made
Derivan embodies the essence of Australian craftsmanship. As an Australian-owned brand, we uphold the highest manufacturing standards. Our products, including Metallic Silver Face Paint 40ml, strictly adhere to government regulations, including Australian and EC cosmetic regulations, and Australian Standard 1647.3.
Safety and Purity
Safety is paramount, especially for delicate skin. Derivan Metallic Silver Face Paint 40ml is free from hidden nasties or toxic pigments, ensuring a safe and delightful artistic experience.
Embracing the EN71-3 Standard
In July 2013, the EN71-3 global standard for face paint safety was introduced through the Toys Safety Directive. This standard ensures that toxic materials in products, such as face paints, are strictly controlled, particularly in items designed for children.
Setting New Safety Standards
The EN71-3 standard sets higher safety standards compared to previous regulations. It demands even lower levels of toxicity and extends its reach to encompass a broader range of products, including those applied directly to the skin.
Derivan's Dedication
Derivan Metallic Silver Face Paint 40ml not only meets but exceeds the conditions set by the EN71-3 standard. When you choose Derivan, you're selecting a product that aligns with the most recent national and international safety standards.
Artistic Excellence
Derivan's legacy in creating professional artist-quality acrylics in the Matisse range shines through in our Metallic Silver Face Paint 40ml. It offers a radiant, shimmering silver shade with exceptional coverage, quick drying, and effortless removal with warm soapy water.
With Derivan Metallic Silver Face Paint 40ml, you're not just choosing a color; you're choosing safety, quality, and the captivating world of Australian artistry.

Specifications
| | |
| --- | --- |
| Colour Group | Silver |
| Colour | METALLIC SILVER |
| Size | 40ML |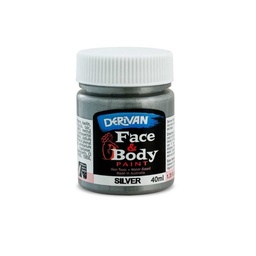 FACE PAINT 40ML METALLIC SILVER
Not Available For Sale