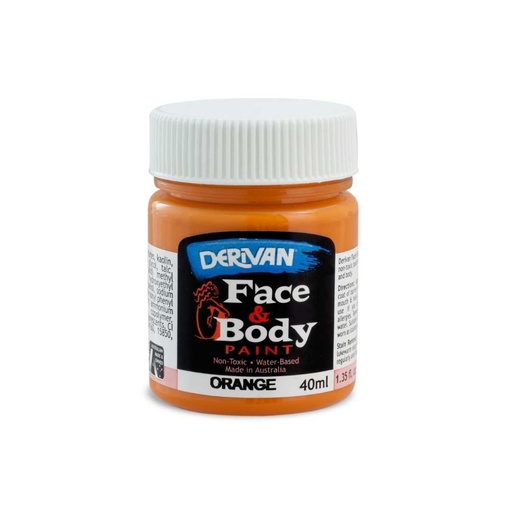 FACE PAINT 40ML ORANGE
https://derivan.com.au/shop/face-paint-orange-40ml-8096
https://derivan.com.au/web/image/product.template/8096/image_1920?unique=891c93e
(0 review)
Orange Facepaint 40ml Jar

DERIVAN
Face And Body Paint
Face And Body Paint / Face And Body Paint
Orange Face Paint 40mls | Derivan
Add a Zesty Twist to Any Event

Key Features 🌟
🎭 Ideal for themed parties
🌈 Versatile color options
🇦🇺 Crafted in Australia
🎨 Premium pigment quality
🛡️ Certified to EN71-3 safety standards
Orange You Glad You Chose Derivan?
Why Pick Derivan Orange?
From Halloween events to themed birthdays, Derivan Orange Face Paint adds a pop of playful color. Looking for more? Check out our Orange Face Paint 250ml jars.
Unleash Your Inner Tiger
Go wild with the vibrant and easy-to-apply Derivan Orange Face Paint.  Needs some inspiration check out our face paint project page 
Color Beyond Orange
Our palette extends beyond orange, offering shades from neon to earthy.
Made Down Under
Proudly produced in Australia, each jar goes through strict quality control.
Artists Rejoice
Drawing from our Matisse range, expect rich, vibrant colors and superior coverage.
A Commitment to Excellence
Derivan's Orange Face Paint is a commitment to quality, safety, and an endless color journey.
🎭 Party-Ready: Derivan Orange Face Paint is your go-to for standout looks.
🌈 A Spectrum of Possibilities: Derivan offers colors that inspire creativity.
🇦🇺 Aussie Quality: Rigorously tested for safety and quality.
🎨 For the Artist in You: Expect nothing less than vibrant, rich colors.
🛡️ Safety First: Derivan paints are EN71-3 compliant, so you can create worry-free.
💡 Create Without Limits: With Derivan Orange, unleash your imagination.
Discover the Excellence of 40ml Orange Face Paint by Derivan
Let's dive into why Derivan 40ml Orange Face Paint stands out from the crowd:
Proudly Australian-Made
Derivan's commitment to Australian craftsmanship shines through in every product, including our 40ml Orange Face Paint. We're Australian-owned and adhere to the highest manufacturing standards, complying with government regulations, including Australian and EC cosmetic regulations and Australian Standard 1647.3.


Safety and Purity
Safety always comes first, especially when it comes to sensitive skin. With Derivan 40ml Orange Face Paint, you can trust that it contains no hidden nasties or toxic pigments.
Embracing the EN71-3 Standard
In July 2013, the EN71-3 global standard for face paint safety was introduced through the Toys Safety Directive. This standard ensures that toxic materials in products, such as face paints, are restricted to safe levels, particularly in items designed for children.
Raising the Bar
The EN71-3 standard sets higher safety standards compared to previous regulations. It requires even lower levels of toxicity, extending its reach beyond paints and toys to include products applied directly to the skin.
Derivan's Dedication
Derivan 40ml Orange Face Paint goes above and beyond to meet and exceed the conditions set by the EN71-3 standard. Choosing Derivan means selecting a product that aligns with the most recent national and international safety standards.
Artistic Brilliance
Derivan's legacy in creating professional artist-quality acrylics in the Matisse range shines through in our 40ml Orange Face Paint. It offers a spectrum of vibrant colours with exceptional coverage, quick drying, and effortless removal with warm soapy water.
With Derivan 40ml Orange Face Paint, you're not just choosing a colour; you're choosing safety, quality, and the vibrant spirit of Australian creativity.
Specifications
| | |
| --- | --- |
| Colour Group | Orange |
| Colour | ORANGE |
| Size | 40ML |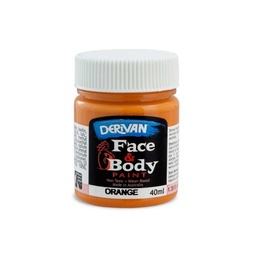 FACE PAINT 40ML ORANGE
Not Available For Sale