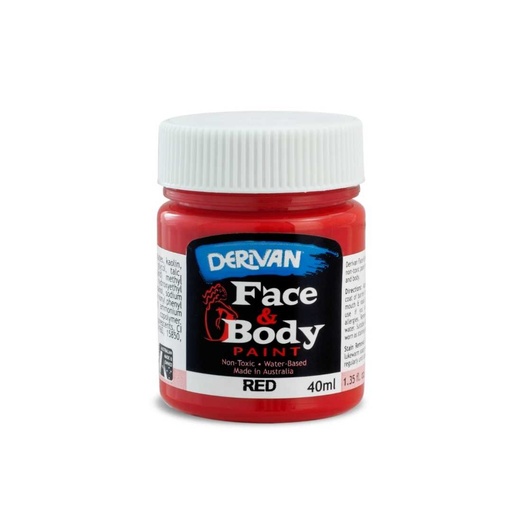 FACE PAINT 40ML RED
https://erp.derivan.com.au/shop/face-paint-red-40ml-8098
https://erp.derivan.com.au/web/image/product.template/8098/image_1920?unique=891c93e
(0 review)
Red Facepaint 40ml Jar

DERIVAN
Face And Body Paint
Face And Body Paint / Face And Body Paint
Red Face Paint 40mls | Derivan
Ignite the Stage, Spark Up Your Event

Key Features 🌟
🎭 Ideal for drama and dance
🌈 Vivid color selection
🇦🇺 Made in Australia
🎨 High pigment concentration
🛡️ EN71-3 safety certified
Paint the Town Red with Derivan
Why Choose Derivan Red?
Perfect for performances, Derivan Red Face Paint is your stage essential. Need more than 40ml? Try our Red face paint 250ml jars.
Set the Stage on Fire
Make a statement with the vibrant and easily applied Derivan Red Face Paint. Looking for some inspiration check out our face paint project page 
A Palette Beyond Red
Discover Derivan's full color spectrum, from pastels to neons.
Quality from Down Under
Manufactured in Australia, each jar passes through stringent quality tests.
Artist's Palette
Leveraging our Matisse range expertise, expect rich colors and excellent coverage.
Trust in Derivan
Our Red Face Paint is a promise of quality, safety, and unlimited creative freedom.
🎭 Be a Showstopper: Turn heads with Derivan Red Face Paint.
🌈 Endless Creativity: From reds to purples, Derivan offers a world of colors.
🇦🇺 Aussie-Crafted: Our face paint is safety and quality-tested in Australia.
🎨 Artist-Grade: Experience the quality of our Matisse range in every jar.
🛡️ Safe and Sound: Our face paint meets EN71-3 safety standards.
💡 Unlimited Imagination: With Derivan Red, the sky's the limit.
Discover the Brilliance of Red Face Paint 40ml by Derivan
Let's delve into what makes Derivan Red Face Paint 40ml an exceptional choice:
Proudly Australian-Made
Derivan is a flag bearer for Australian craftsmanship. We're Australian-owned and uphold the highest manufacturing standards. Our products, including Red Face Paint 40ml, meet government regulations, including Australian and EC cosmetic regulations and Australian Standard 1647.3.
Safety and Purity
Safety is paramount, especially for sensitive skin. Rest assured, Derivan Red Face Paint 40ml contains no hidden nasties or toxic pigments, making it a safe choice for all.
Embracing the EN71-3 Standard
In July 2013, the EN71-3 global standard for face paint safety was introduced through the Toys Safety Directive. This standard ensures that toxic materials in products, such as face paints, are limited to safe levels, particularly in items for children.
Raising the Bar
The EN71-3 standard sets higher safety standards compared to previous regulations. It demands even lower levels of toxicity, covering a broader range of products, including those applied directly to the skin.
Derivan's Dedication
Derivan Red Face Paint 40ml surpasses the conditions set by the EN71-3 standard. Choosing Derivan means choosing a product that aligns with the latest national and international safety standards.
Artistic Excellence
Derivan's legacy in creating professional artist-quality acrylics in the Matisse range shines through in our Red Face Paint 40ml. It offers a vibrant red shade with excellent coverage, quick drying, and easy removal with warm soapy water.
With Derivan Red Face Paint 40ml, you're not just choosing a colour; you're choosing safety, quality, and the artistic spirit of Australian craftsmanship.
Specifications
| | |
| --- | --- |
| Colour Group | Red |
| Colour | RED |
| Size | 40ML |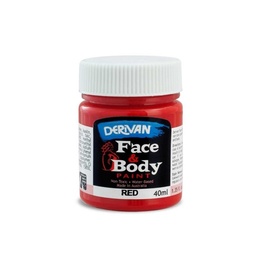 FACE PAINT 40ML RED
Not Available For Sale