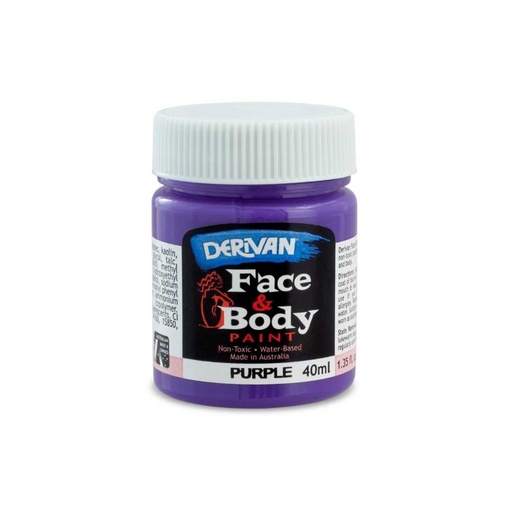 FACE PAINT 40ML PURPLE
https://erp.derivan.com.au/shop/face-paint-purple-40ml-8097
https://erp.derivan.com.au/web/image/product.template/8097/image_1920?unique=891c93e
(0 review)
Purple Facepaint 40ml Jar

DERIVAN
Face And Body Paint
Face And Body Paint / Face And Body Paint
Purple Face Paint 40mls | Derivan
Transform Your Look, Enchant Your Crowd

Key Features 🌟
🎭 Perfect for fantasy themes
🌈 Diverse color choices
🇦🇺 Authentically Australian
🎨 Pigment-packed quality
🛡️ EN71-3 safety certified
Unveil the Magic with Derivan Purple
Why Derivan Purple?
From cosplay to fairytale parties, Derivan Purple Face Paint adds a touch of magic. Need more? We have purple face paint 250ml jars too!
Unlock Your Fantasy
Immerse in a dreamy experience with our vivid and smooth Derivan Purple Face Paint.  Looking for face paint inspiration check out our
More Hues, More Fun
Our range isn't just about purple; explore the full spectrum of Derivan colors.
Australian Craftsmanship
Produced in Australia, our face paint is quality-tested to ensure top-notch results.
Inspired by Artists
Utilizing our Matisse range expertise, our Purple Face Paint offers rich shades and excellent coverage.
Quality You Can Trust
Derivan Purple Face Paint is more than a product; it's a promise of quality, safety, and boundless creativity.
🎭 Be Mystical: Become the center of attention with Derivan Purple Face Paint.
🌈 Color Wonderland: From purples to golds, Derivan offers an array of options.
🇦🇺 Aussie Made: Our face paint is crafted and tested in Australia for your safety.
🎨 Artist's Dream: Expect nothing less than vibrant, rich colors.
🛡️ Safety First: Our face paints are EN71-3 certified for peace of mind.
💡 Limitless Imagination: With Derivan Purple, your creativity knows no boundaries.
Explore the Magic of Purple Face Paint 40ml by Derivan
Let's unravel why Derivan Purple Face Paint 40ml is a magical choice for your creative adventures:
Proudly Australian-Made
Derivan takes pride in its Australian heritage. We're Australian-owned and dedicated to upholding the highest manufacturing standards. Our products, including Purple Face Paint 40ml, comply with government regulations, including Australian and EC cosmetic regulations, and Australian Standard 1647.3.
Safety and Purity
Safety is paramount, especially for delicate skin. With Derivan Purple Face Paint 40ml, you can trust that there are no hidden nasties or toxic pigments, ensuring a safe and worry-free artistic experience.
Embracing the EN71-3 Standard
Introduced in July 2013, the EN71-3 global standard for face paint safety via the Toys Safety Directive ensures that toxic materials in products, such as face paints, are strictly controlled, particularly in items designed for children.
Setting New Safety Standards
The EN71-3 standard elevates safety requirements to a new level compared to previous regulations. It demands even lower levels of toxicity and extends its reach to a wider array of products, including those applied directly to the skin.
Derivan's Commitment
Derivan Purple Face Paint 40ml goes above and beyond to meet and exceed the conditions set by the EN71-3 standard. When you choose Derivan, you're selecting a product that aligns with the latest national and international safety standards.
Artistic Brilliance
Derivan's legacy in crafting professional artist-quality acrylics in the Matisse range shines through in our Purple Face Paint 40ml. It offers a rich and vibrant purple hue with outstanding coverage, quick drying, and effortless removal with warm soapy water.
With Derivan Purple Face Paint 40ml, you're not just choosing a color; you're choosing safety, quality, and the enchanting world of Australian artistry.

Specifications
| | |
| --- | --- |
| Colour Group | Purple |
| Colour | PURPLE |
| Size | 40ML |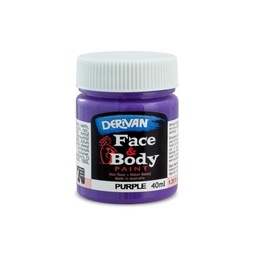 FACE PAINT 40ML PURPLE
Not Available For Sale