FACE PAINT STENCIL ANIMALS SINGLE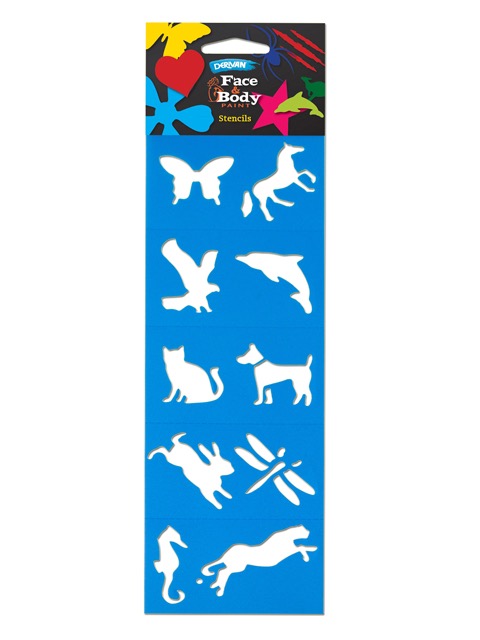 FACE PAINT STENCIL ANIMALS SINGLE
https://erp.derivan.com.au/shop/face-paint-stencil-animals-single-13476
https://erp.derivan.com.au/web/image/product.template/13476/image_1920?unique=891c93e
(0 review)
Face And Body Paint / Stencils
Transform Your Face Painting Game with Aussie Supporter  Stencils
Why settle for the ordinary when you can have extraordinary? Our face painting stencils offer a plethora of designs to suit every imagination. We've got you covered whether you're in the mood for, heart-filled expressions, mystical fairies, Celtic intricacies, animal stencils or spine-chilling Halloween themes. And let's not forget—our stencils are proudly Australian-made.

Unleash Your Wild Side with Our Animal Face Painting Stencils
From Panthers to Butterflies: The Ultimate Animal Kingdom Collection
Why settle for ordinary when you can go wild? Our Animal face painting stencils are perfect for any event where fun is the main agenda. Featuring iconic designs like tigers, elephants, and dolphins, this range is your ticket to a zoo of possibilities. And yes, crafted with care in Australia.
Stencils for Every Animal Lover, Novice or Expert
No need to be an art whiz to join the face-painting jungle. Our Animal stencils are designed for effortless application, making them ideal for beginners and skilled artists alike. Just align the stencil, apply your chosen face paint, and reveal your animal-themed masterpiece.
Why Choose Our Animal Face Painting Stencils?
Fast as a Cheetah. We know you don't have time to monkey around, especially when you've got a queue of excited kids. Our stencils are created for quick application, letting you paint more faces in less time.
Top-Quality Craftsmanship. We're committed to quality, not quick fixes. Made from durable, skin-friendly materials, our stencils are easy to clean and designed to last. Let your inner animal roam free!
Distinctive, Custom Designs. Be the talk of the jungle with our unique range of animal-themed designs. We offer a variety for every taste, making your face-painting adventure truly special.
The Perfect Combo: Our Spouncer Set and Animal Face Painting Stencils
Want to take your face painting to the next level? Meet our Spouncer set, the ideal partner to our diverse Animal face painting stencils. Engineered for precision and comfort, the Spouncer set helps you apply paint seamlessly, guaranteeing sharp outlines and vivid hues every time. Whether you're detailing the scales of a fish or the stripes of a zebra, this set makes face painting a walk in the park.
Tigers, Elephants, and Dolphins, Oh My! The Ultimate Animal Stencil Collection
There's no better way to express your love for animals than with our Animal face painting stencils. Featuring a range of designs from the adorable to the majestic, this collection lets you wear your animal passion on your face. And as always, each stencil is made with love and care in Australia.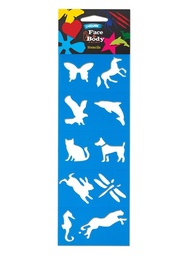 FACE PAINT STENCIL ANIMALS SINGLE
Not Available For Sale