FACE PAINT STENCIL BEASTS SINGLE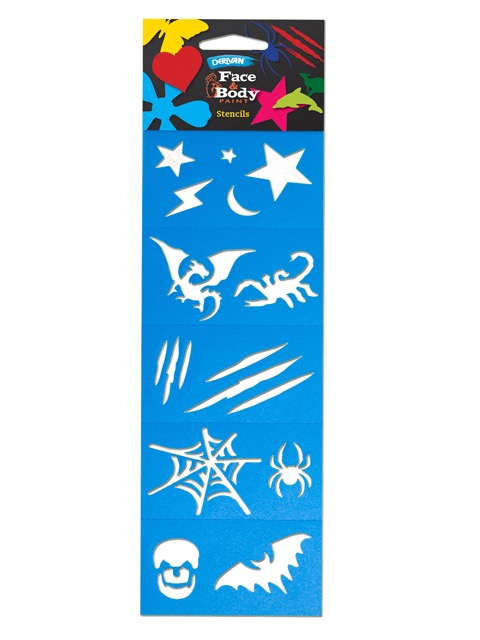 FACE PAINT STENCIL BEASTS SINGLE
https://derivan.com.au/shop/face-paint-stencil-boy-single-13478
https://derivan.com.au/web/image/product.template/13478/image_1920?unique=004554b
(0 review)
Face And Body Paint / Stencils
Transform Your Face Painting Game with Halloween Face Painting stencils 
Why settle for the ordinary when you can have extraordinary? Our face painting stencils offer a plethora of designs to suit every imagination. We've got you covered whether you're in the mood for animal adventures, heart-filled expressions, mystical fairies, Celtic intricacies, animal stencils or spine-chilling Halloween themes. And let's not forget—our stencils are proudly Australian-made.



Get Spooky with Our Halloween Face Painting Stencils
From Spiderwebs to Scar Marks: The Ultimate Haunt-tastic Collection
Why stick to the ordinary when you can go spine-chillingly extraordinary? Our Halloween face painting stencils are a must-have for any creepy celebration. Featuring iconic designs like spiderwebs, scar marks, and ghosts, this set is perfect for hauntingly good fun. And yes, they're spookily crafted in Australia.
Stencils for Every Ghoul and Goblin, Beginner to Pro
You don't need to be a makeup artist to nail that eerie look. Our Halloween stencils are designed for easy and effective application, suitable for newbies and seasoned artists. Just place the stencil, add a touch of face paint, and unveil your haunting masterpiece.
Why Choose Our Halloween Face Painting Stencils?
Quick as a Bat. We get it, time flies when you're having fun—or getting scared. Our stencils allow for rapid application, so you can transform more faces in less time.
Supreme Quality, No Tricks. Made from durable, skin-friendly materials, our stencils are easy to clean and built for multiple scares. No compromises, just high-quality frights!
Exclusive Spooky Designs. Stand out from the haunting crowd with our unique array of Halloween-themed designs. From classic spiderwebs to chilling scar marks, we've got something for every scare-seeker.
The Perfect Match: Our Spouncer Set and Halloween Face Painting Stencils
Want to elevate your spooky game? Our Spouncer set pairs perfectly with our Halloween face painting stencils. Designed for precision and ease, the Spouncer set lets you apply paint effortlessly for crisp lines and vivid colors. Whether you're adding intricate spiderwebs or chilling scar marks, this combo makes face painting frighteningly easy.
Spiderwebs, Scar Marks, and Ghosts, Oh My! The Ultimate Halloween Stencil Collection
For those looking to bring the scare factor, our Halloween face painting stencils are your go-to. This collection is all about the creep-factor, featuring designs like spiderwebs, scar marks, and other Halloween classics. And of course, each stencil is terrifyingly crafted in Australia.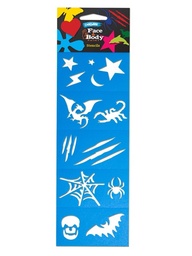 FACE PAINT STENCIL BEASTS SINGLE
Not Available For Sale