ACRYLIC ABSTRACT PAINTING TUTORIAL:
HOW TO PAINT ABSTRACTS
Abstract art can be intimidating, but it doesn't have to be!
Are you looking for some abstract painting ideas?
Abstract paintings that are done without reference or drawing from life, using one colour at a time. They are usually made up of simple shapes and lines, but they might look complicated at first glance. But we will show you how easy it is to create some unique and colourful wall art.

In this acrylic abstract painting project, we will show you how to start painting abstracts.
Learn to create some eye-catching wall art. We cover all of the basics for new artists, and we will share how to create a beautiful abstract painting on canvas step-by-step.

Create Your Own Original Acrylic Abstract Painting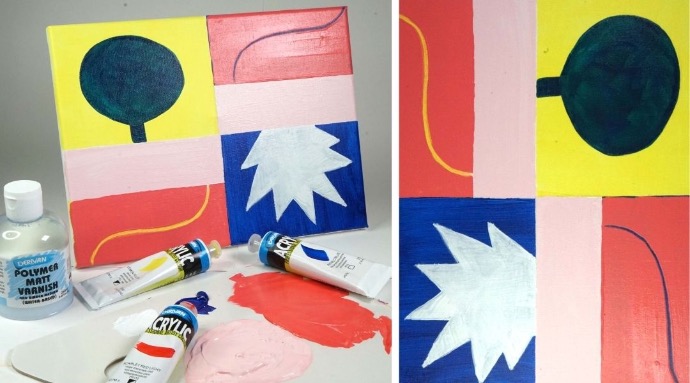 ​

YOU WILL NEED
Gather your Materials for your Acrylic Abstract artwork, you will need to prepare your workspace by putting some scrap paper down to protect your workspace.
Derivan Acrylic : White, Phthalo Blue, Scarlet Red Light and Lemon yellow

1 X 9 x 12 inch canvas

jar of water

a pencil & Ruler

x2 cotton buds

Low-tac Painters tape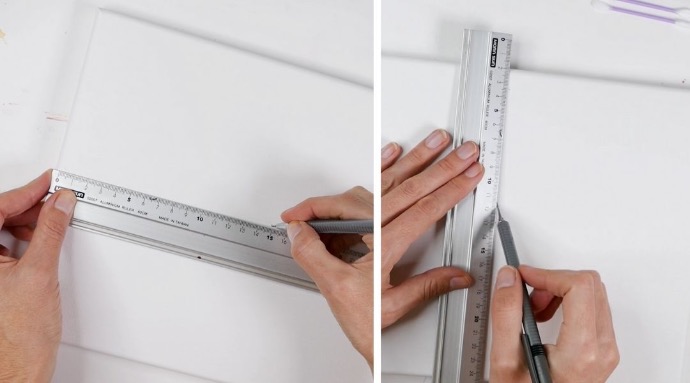 STEP ONE
This abstract acrylic design suits a rectangle size canvas, we have used a nine by twelve-inch canvas. (you can do a bigger size if you wish ) and what we're going to do is we're just going to mark the middle of the canvas long ways and draw a line from the top to the bottom halving the canvas.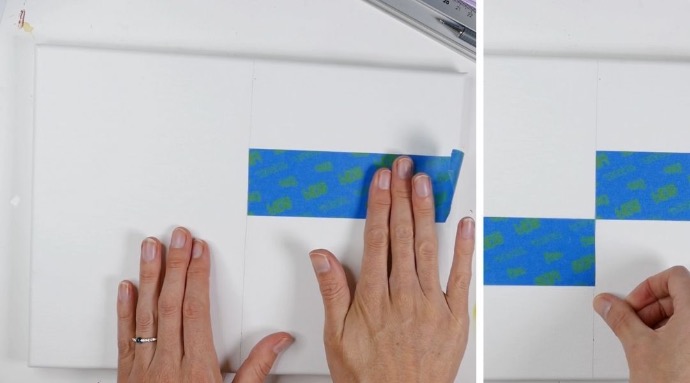 STEP TWO
Cut two pieces of low-tack painters tape and stick to either side of the centre line. line up the tip of the end of one strip to the end of the other strip. * See images for references.
TIP: apply some Polymer Gloss varnish to the edges of the tape and wait to dry, this will help prevent paint bleeding underneath the tape so creating a nice clean line.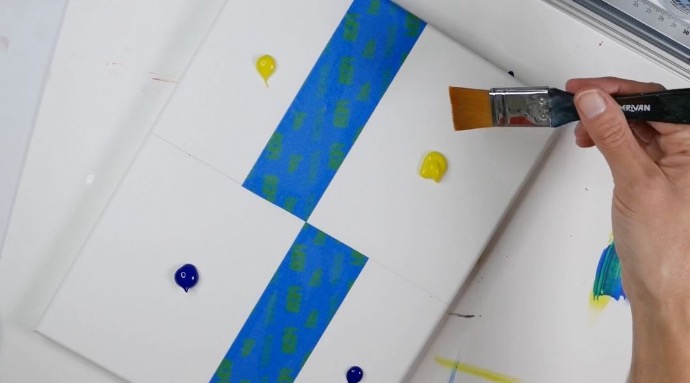 STEP THREE
Using Derivan Acrylics phthalo blue and apply to two rectangles and with the Lemon Yellow, Derivan Acrylics do the same.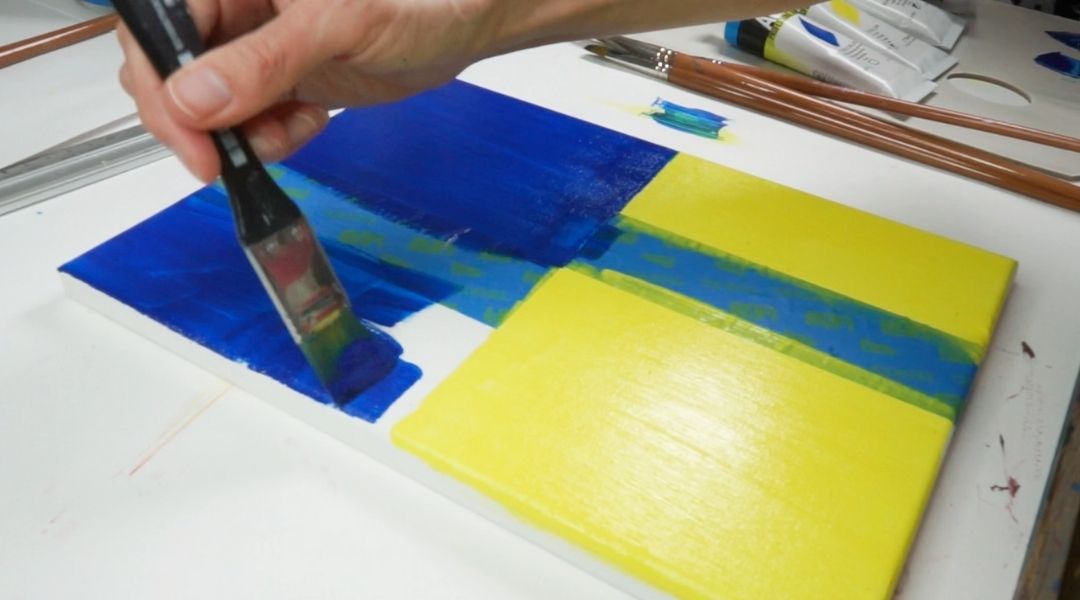 STEP FOUR
Using the 25mm flat brush, fill the colour in these sections. You use a flat brush because it helps you keep a straight line on the edges. It also enables you to apply the paint with limited brush strokes, so you get an excellent flat field of colour. Pull the tape off to reveal the two sections of canvas that the tape was masking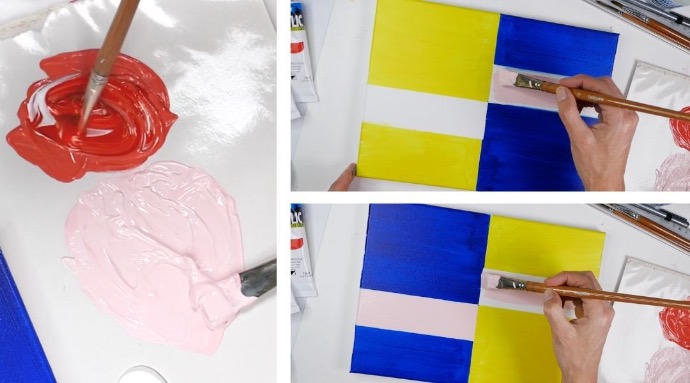 STEP FIVE
Now you want to mix up two warm pinks using the Derivan acrylic scarlet red and titanium white. We're going to make two shades; the first is a soft pink nine parts white to one part white and make a darker shade of that pink 1 part white to 9 parts Scarlet Red light. Use two brushes so that you have got a brush allocated to each tone of colour. Use the soft pink to fill in the white rectangles you masked out in step four.
Use the flat brushes from this brush set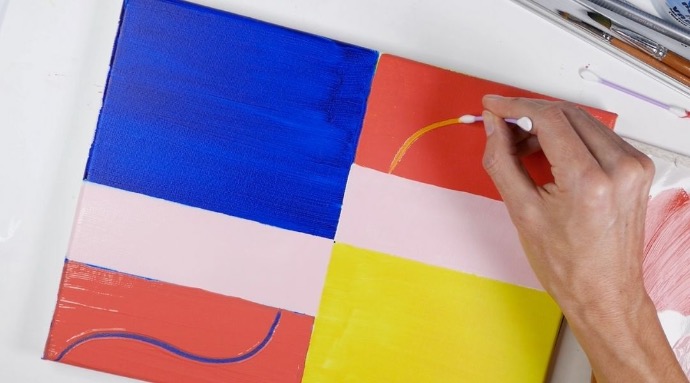 STEP SIX
Using that darker shade of pink that you made up and apply it over that top blue rectangle. But hang on, why are you painting over the blue, I hear you ask? While the pink paint is still wet, get yourself a cotton bud - you can use that to scribe back into the paint. See how you get an exciting blue line from the blue coloured section underneath. Next, use the dark pink again on top of the yellow to do the same thing, so again grab your cotton bud and draw into the wet pink paint, but this time, it'll be the yellow that jumps out.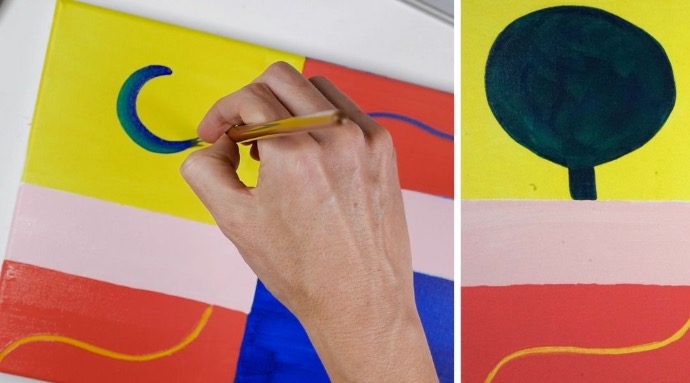 STEP SEVEN
We need to put a shape in that yellow square, so what we're going to do is we're going to use Derivan Acrylics phthalo blue, and we're going to paint a circle. See how you get that lovely green tinge coming through by painting the phthalo blue on top of the lemon yellow. It's like colour mixing in layers. Once you've got that perfect circle you need to anchor it to that line underneath to give that shape a bit more interest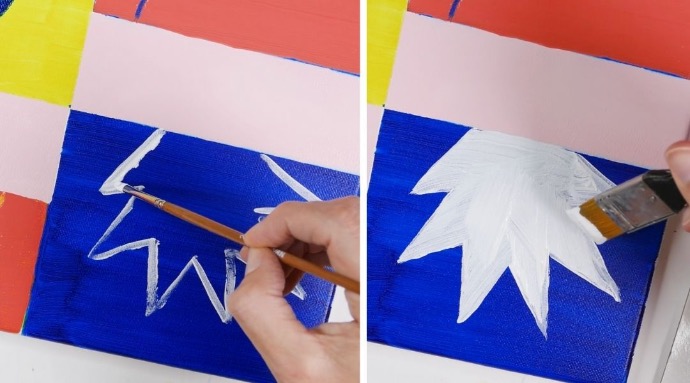 STEP EIGHT
We have one more blue rectangle we will paint in one more exciting shape with the Derivan Acrylic titanium white. Draw in this shape with one of the smaller brushes. After you have drawn in the star bust shape and then you can fill it in with the larger flat brush 25mm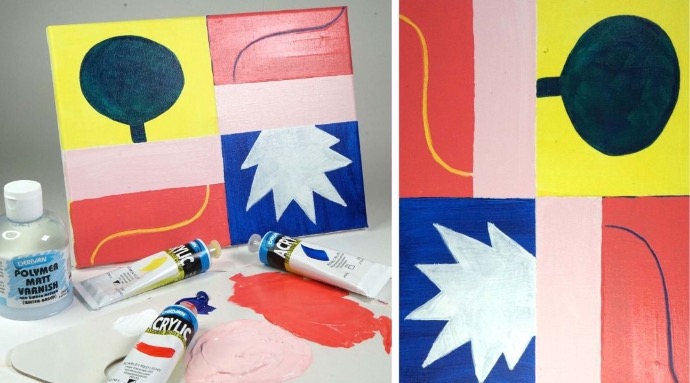 STEP NINE
Abstract painting with acrylics is a type of style that has an unplanned, spontaneous, or random quality to the artwork. That means it doesn't need to look like anything at all! But it's also a little bit risky, and sometimes people can feel unsure about their abstract work. We're so happy that you took the chance, and we hope this project got you started on your painting abstract acrylics. We have many more projects tips and tricks, have a look at some of our other projects

MORE ACRYLIC PAINTING PROJECTS