MARDI GRAS COSTUME IDEAS | RAINBOW FACE PAINT

Get ready to add colour and excitement to your Mardi Gras celebration with Derivan Fluro Face Paint! Whether you're looking for a bold and daring costume or want to add some extra sparkle to your outfit, our high-quality face paint will help you stand out from the crowd. With a wide range of vibrant colours, you're sure to find the perfect hue to match your Mardi Gras spirit. So why wait? Start exploring our collection of Mardi Gras costume ideas and let the good times roll.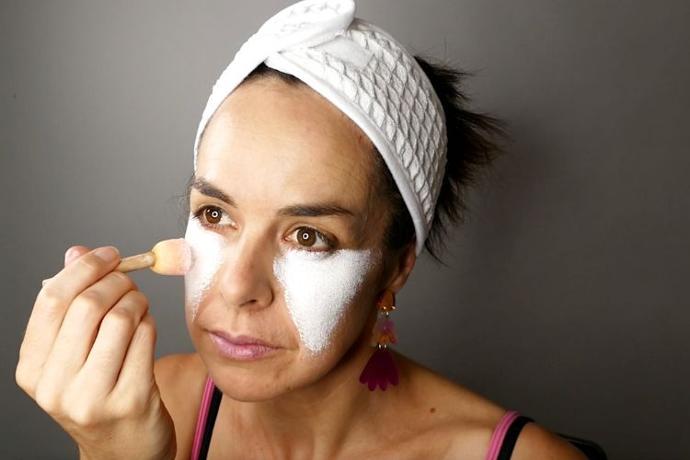 STEP 1 APPLYING THE BASE LAYER FOR A BOLD AND DARING LOOK
Before bringing your Mardi Gras Costume Ideas to life with Derivan Fluro Face Paint, ensure you have a clean and well-lit workspace and all the necessary tools: a disposable surface, a mirror for easy visibility, and a mixing palette or plastic plate. Start by applying a base layer of white face and body paint to a medium-sized spouncer and gently dab it onto each cheek to create a triangle shape.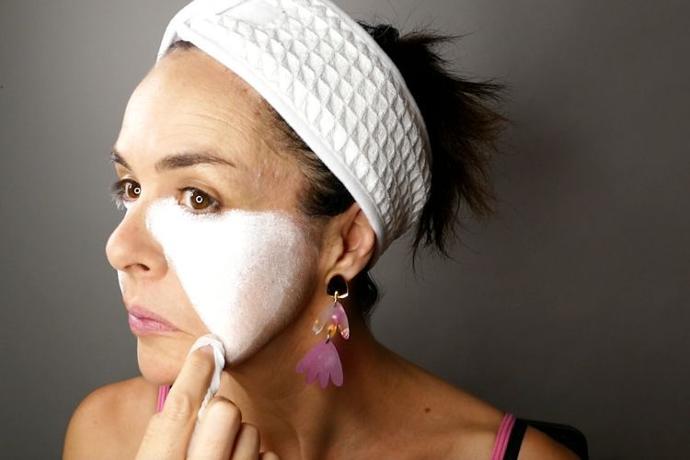 STEP 2 CLEANING UP FOR A SHARP AND VIBRANT LOOK
To achieve a clean and precise look, use a face and body wipe to gently remove any smudges or excess paint around the mouth and nose until the desired cleanliness is achieved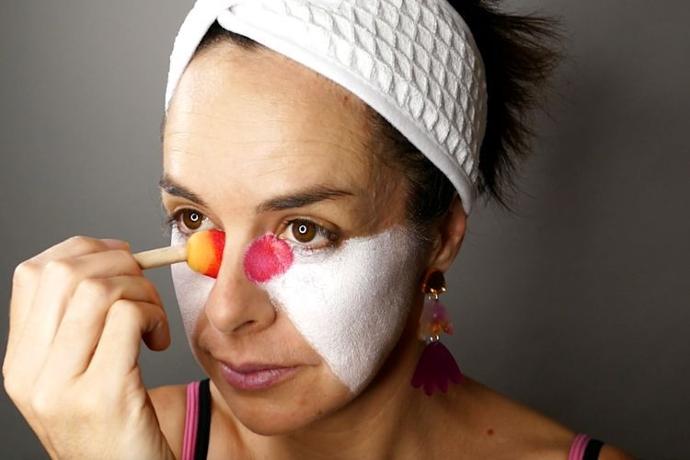 STEP 3 ADDING VIBRANT RED COLOUR
Using a clean and dry spouncer, start with a pop of colour with vibrant red face paint by applying it to two small round areas around the eyes until the desired intensity is achieved.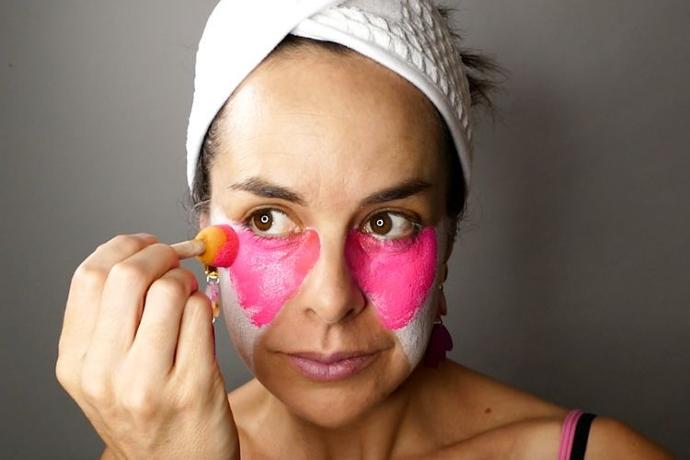 STEP 4 BRINGING VIBRANCE WITH FLURO PINK FACE PAINT
Apply fluro Pink to your face paint design. Start at the nose and spread out to the cheeks on either side, repeating until the desired intensity is achieved. This vibrant shade will enhance your look and bring a radiating pop of colour to your bold vision. Don't go all the way as we are going to blend in the Fluro Yellow in the next step.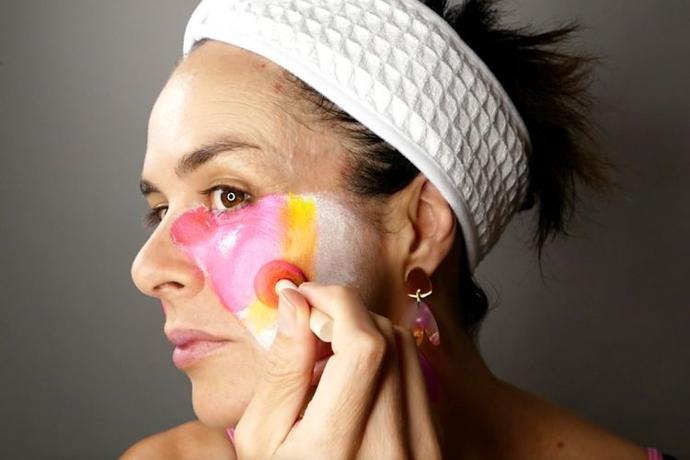 STEP 5 BLEND FLURO YELLOW AND PINK FOR A VIBRANT ORANGE HUE
Create a vibrant orange hue by applying the Fluro Yellow face paint evenly on the designated area of your skin. Then, slowly blend the pink face paint into the yellow, taking care not to overmix or overpower the yellow base. Continue blending until you have reached a bright and consistent Orange colour. Remember, the key to getting the perfect orange shade is a steady and gradual blending process, so take your time and have fun with it!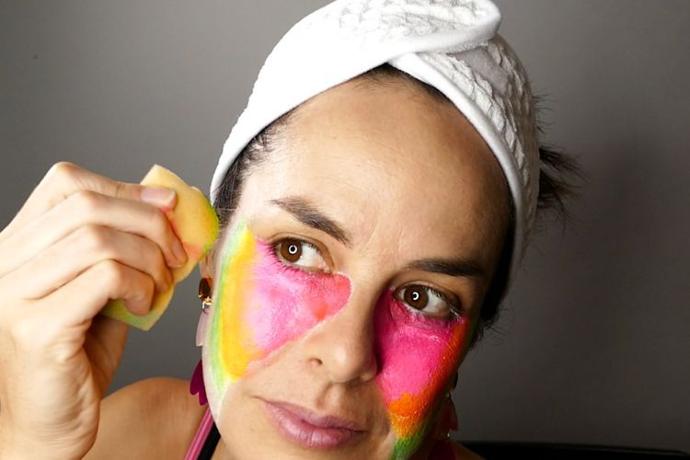 STEP 6 ENHANCE YOUR DESIGN WITH A POP OF FLURO GREEN
Enhance with Fluro Green: Use a sponge to apply the Fluro Green face paint, starting at the outer edges and gradually blending towards the orange. This will add a pop of colour to your Rainbow Face Painting design while creating a soft, natural look. Blend the green thoroughly to achieve a seamless finish.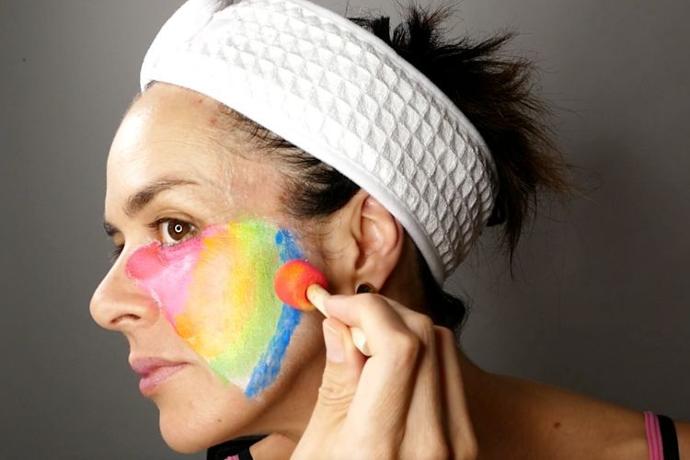 STEP 7 ADD A FLURO BLUE TOUCH TO YOUR DESIGN
Add the Fluro Blue Touch: Apply the Fluro Blue face paint along the jawline, blending well for a seamless finish. This will complete your Rainbow Face Painting design with a bold blue line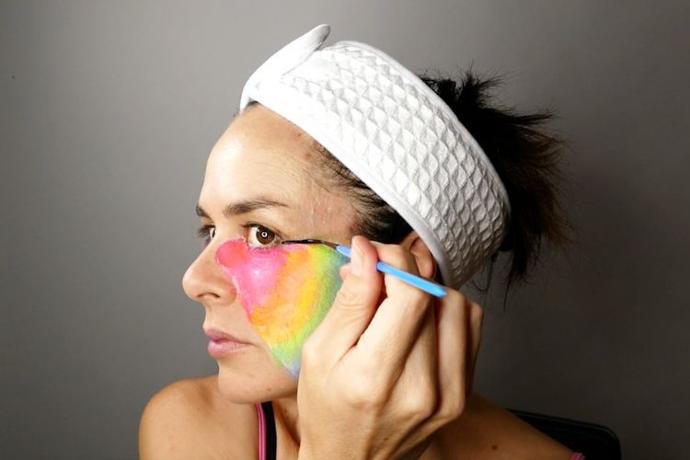 STEP 8 ENHANCE YOUR EYES WITH BOLD BLACK LINES
Add Definition to the Eyes with Black Liner: With a liner brush, apply long black lines extending from the eyes across the top of the rainbow design. These lines will enhance and accentuate the eyes, making them the Rainbow Face Painting focal point. Be precise with the brush to create even lines, and take your time to ensure a polished finish.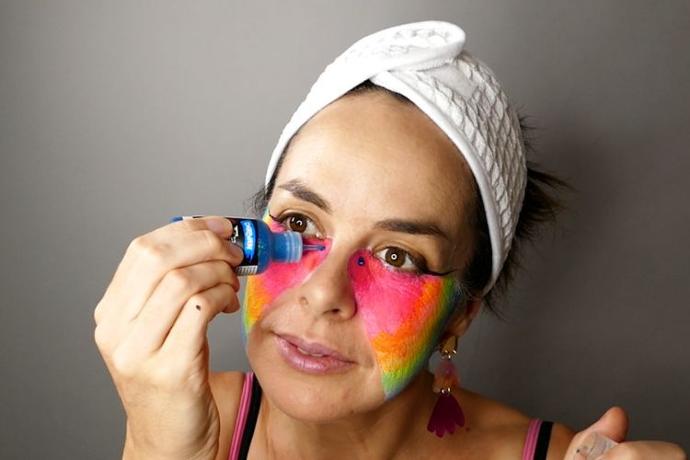 STEP 9 MAKE YOUR DESIGN SPARKLE WITH DERIVAN FACE & BODY BLUE GLITTER
Add Some Sparkle with Derivan Face & Body Blue Glitter: To finish your Rainbow Face Painting design in style, it's time to add some glitter. Take the Derivan Face & Body Blue Glitter and apply small dots around either side of the cheeks. This will create a fun and sparkly final touch that will make your Rainbow Face Painting stand out. The blue glitter will perfectly complement the blue line you added in Step 7, and its bright and eye-catching colour will add excitement to your design. Get creative and have fun with this step - the possibilities are endless!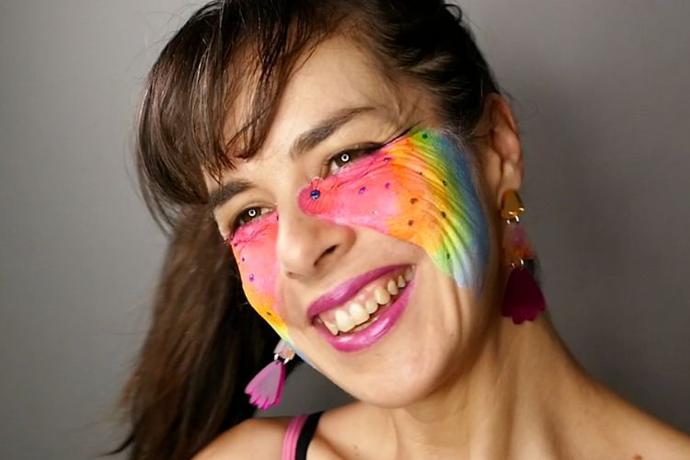 STEP 10
Add the Final Touches and Get Ready to Party! It's time to add some extra bling to your Rainbow Face Painting design and hit the town. Put on your Mardi Gras costume, grab your friends, and get ready to celebrate. Your Rainbow Face Painting will be the talk of the party, and you'll be sure to make a statement wherever you go. Have fun, be bold, and enjoy your Rainbow Face Painting to the fullest