FATHERS DAY CARD TO MAKE
POP UP CARD
SURPRISE DAD WITH A POP UP CARD! (DIY TUTORIAL)
With Derivan Kindy Glitz (Glitter Glue)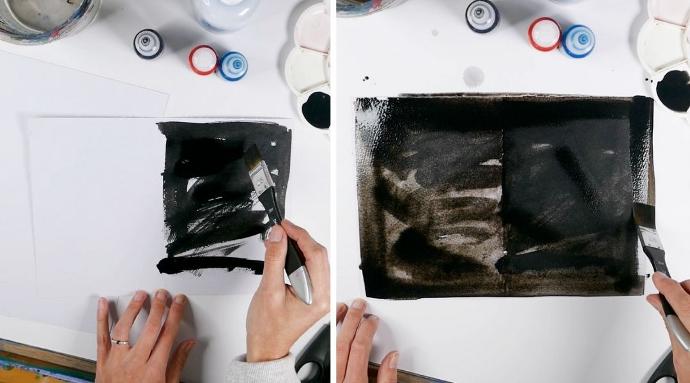 STEP ONE
Fold 1 A4 watercolour Sheet in Half, open up and then paint all over with Derivan Black Ink.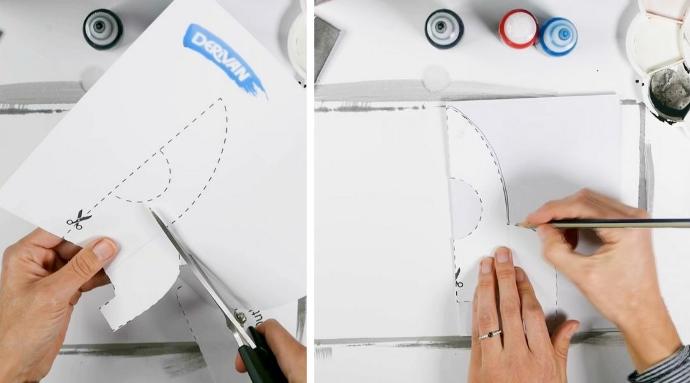 STEP TWO
You now have a template of the rocket with just one half of the design. Fold your other A4 sheet in half so they match up and draw the other half of the rocket on this piece of paper. When you cut it out, you will be cutting through both pieces of paper to create the full rocket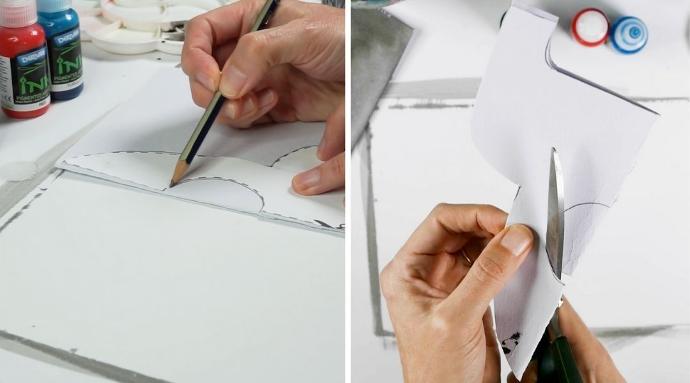 STEP THREE
Start with a paper and cut out the rocket design. Then, don't forget the window by cutting out a hole in the top of the rocket shape.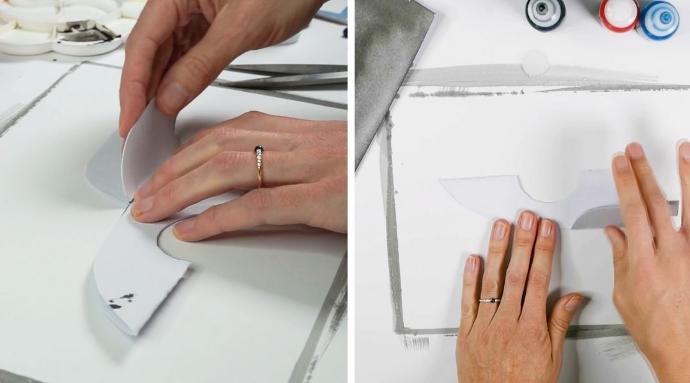 STEP FOUR
Rocket's fins are going to be the pop up component of the card. So you will need to fold them with a crease When you open the card your message from the rocket will pop out. In order to make this happen, they will need to be pre-creased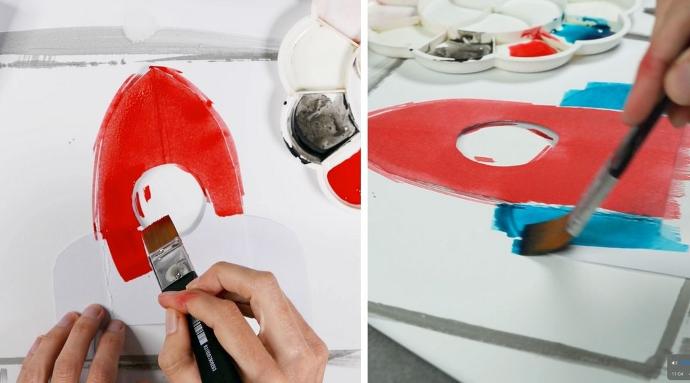 STEP FIVE
Using the Derivan red acrylic Ink paint the body of the Rocket and then paint the fins with Derivan Turquoise acrylic ink. These colours will make the rocket stand out. The red and turquoise will act as a contrast, making it pop.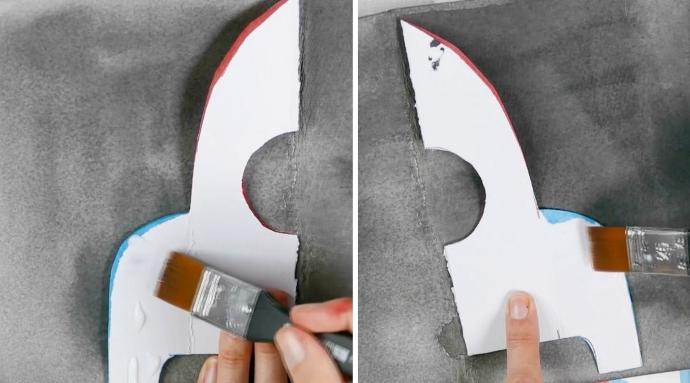 STEP SIX
The card needs to stand on its own. The fins are not a decoration - they're the rocket's stabilizers! Gluing the fins to the card is an important step. You need to make sure that they're positioned correctly so that the rocket stands vertically. To do this, you will need a Derivan Polymer gloss varnish and a paint brush. Do one fin at a time and apply the varnish then flip over, line up with with the centre line of the card and leave to dry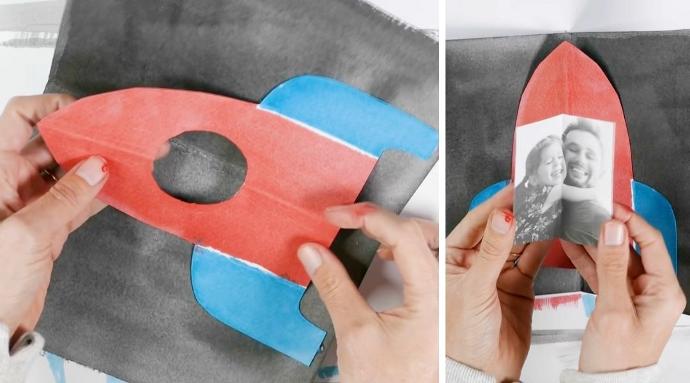 STEP SEVEN
Once your rocket is dry, open the card up and bend out the rocket. Fold the centre line outwards and find a favourite picture of you and your dad! Print the image, making sure it is big enough to fill up the window on your rocket.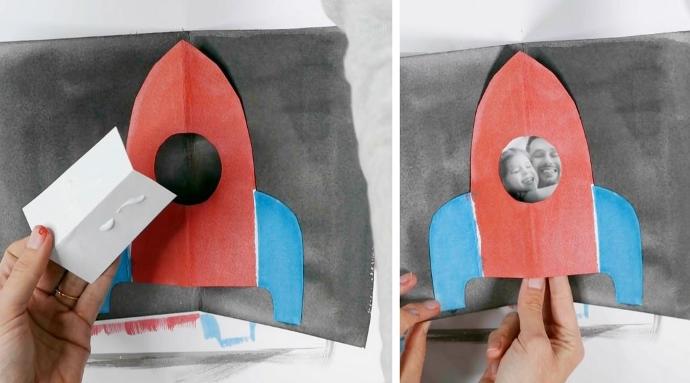 STEP EIGHT
In this step fold your chosen image in half and apply some polymer gloss varnish then slide the picture in under the round window *make sure the fold is in line with the fold in the card - press down to adhere. Now you and Dad will be able to fly around the world and explore different places without ever having to leave home!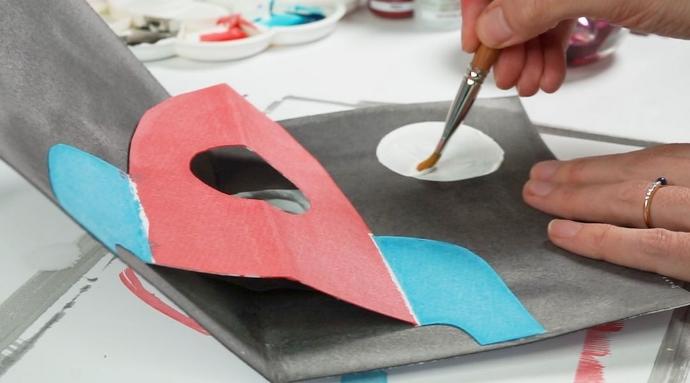 STEP NINE
In this step use Derivan Student white acrylic paint, and paint the moon using a brush to create your out space back ground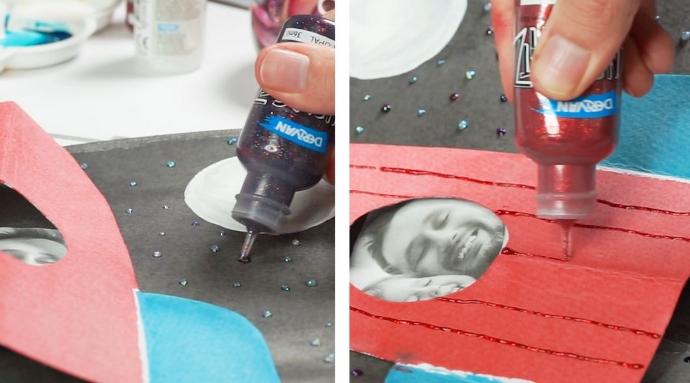 STEP TEN
Use derivan kindy glitz to create the stars to go with your moon and make sure to put some stripes on the rocket to make it go faster. The derivan glitter glue will really make your rocket pop.
Make your own crafts with glitter glue, card and paint.
For kids who are excited about art projects, there is no need to rely on the boxed craft kits that are available. The best part about these projects is all you need is glitter glue paper and paint to make anything your heart desires. You will be surprised by how many cool things you can create with just a few materials have a look at these cool projects